What sweet treat comes to mind when you think Valentine's Day? Chocolate, of course! Turns out, there's a good reason.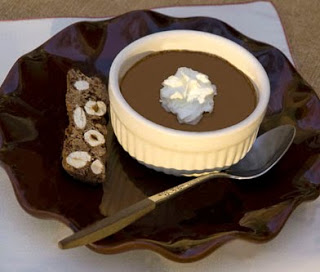 For literally centuries, chocolate has been linked with romance, sex and overindulgence. The Aztecs associated it with Xochiquetzal, a goddess of earth, moon, fertility and love. When the explorer Cortez arrived at the court of the Aztec emperor in 1519, he found Montezuma downing large quantities of a bitter, heavily-spiced chocolate brew every day—especially before visiting his harem.
Cortes reported back to King Carlos I that chocolate was"… the divine drink which builds up resistance and fights fatigue. A cup of this precious drink enables a man to walk for a whole day without food." When the conquistadors returned home, they took cocoa beans, recipes and more stories of chocolate's special properties with them. Gradtually the passion for chocolate drinks, then eventually confections and desserts spread across Europe and the world.
Chocolate really does function as a stimulant, partly due to theobromine, an energy booster somewhat like caffeine. Another chemical in chocolate causes the body to produce phenylethylamine, a mood lifter associated with euphoria and falling in love. And one of chocolate's chemicals revs up the body's production of serotonin, known for producing a feeling of well being.
If you don't already have your Valentine's chocolate indulgence at the ready, here's a favorite of mine. It's elegant, yet easy, too. Or another heavenly option that's healthful, too try my luscious, tempting lower-fat brownies.
Chocolate Pots de Crème
Pots de crème is an apt name for these classic little French desserts. Baked and served in individual custard pots, or cups, they are as rich as chocolate mousse, softer and creamier than good pudding and more elegant than old-fashioned baked custard. These particular "pots of cream" also have a deep, satisfying chocolate flavor.
Tip: Chocolate has a natural starch that makes it tricky to mix with liquids. That's why the recipe calls for adding the hot milk mixture into the chocolate in several batches.
6 ounces bittersweet (not unsweetened) or semisweet chocolate, chopped into 1/4-inch or smaller pieces
1 cup whole milk
1 1/2 cups heavy cream
Generous 1/3 cup granulated sugar
7 large egg yolks
1 1/2 teaspoons vanilla extract
Whipped cream for garnish (optional)
Preheat the oven to 325 degrees F. Set out 8 3- to 4-ounce pots de crème baking cups or similar oven-proof custard cups or ramekins. Also set out a roasting pan large enough to hold the baking cups. Lay a double thickness of paper towels flat in the bottom of the roasting pan.
In a medium heat-proof bowl, microwave the chocolate on high power 1 minute. Stir, then microwave on 50 percent power 30 seconds. Combine the milk and cream in a 2-quart or larger saucepan over medium-high heat and bring almost to a full boil. Immediately remove pan from heat. Pour 1/4 cup hot cream mixture over the chocolate, stirring vigorously until thoroughly blended. Add 1/4 cup more hot mixture over the chocolate, stirring until well blended and smooth. Stir 1/2 cup more hot liquid into chocolate until completely incorporated and smooth. Reserve the remaining cream mixture in the saucepan.
In a medium-sized bowl, whisk together sugar and egg yolks until well blended. Whisking continuously, slowly add about 1/2 cup hot cream mixture to yolk mixture until well blended. Pour the yolk mixture back into the hot cream mixture in the saucepan. Whisk the chocolate, then the vanilla back into saucepan until thoroughly incorporated.
Pour the custard mixture through a fine sieve into a 4-cup measure. Divide the custard evenly among 8 cups (which should be no more than two-thirds or at most three-fourths full). Set the cups in the roasting pan. Transfer it to the oven. Carefully add enough hot water to the roasting pan to come half way up sides of cups. Bake (middle rack) for 18 to 23 minutes or until the custards look almost set when the cups are jiggled (don't tap the tops as the surface will be marred). Transfer the cups to wire racks until thoroughly cooled. (Let the pan of water cool in the oven before removing it from the oven.) Cover custards with plastic wrap and refrigerate for at least 4 hours and up to 4 days, if desired. Let warm up slightly before serving. Garnish with small dollops of whipped cream, if desired. Makes 8 servings.
Perhaps you'd prefer the molten lava chocolate mini-cakes here.