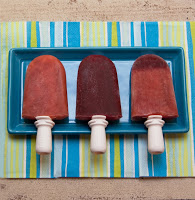 I've been having a ball making—and, yes, eating—popsicles all summer. I guess it's because they speak to my inner child, that secret being with a huge sweet tooth and major weakness for sugary, brightly colored treats. That said, these are completely food color free and have slightly sophisticated flavors –pomegranate, pom-orange, and pink grapefruit. (For more kid-friendly flavors, check out my chocolate-banana or raspberry pops here.)
Just thinking about the twin pops I used to buy with my saved-up allowance at the swimming pool concession stand is making me smile. They were the ample, two-stick kind: You know—the ones parents usually cut in half and made you split with a sibling!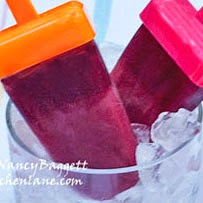 But when I was off for swimming lessons with friends (who had money for their own pops), I didn't have to share my treasure with anybody. I could just stand there in the hot sun, reveling in my greediness and devouring the whole, thirst-quenching, shivery-good treat myself. Alternately slurping and munching, I'd savor the sweetness and enjoy the cold, smooth goodness going down, then finish by licking off the last drops of icy juice from each stick.
The funny thing is, that same gloriously satisfying sense of self-indulgence I remember still grips me now. During a recent heat wave, I lost interest in meals, but trekked to the freezer for my homemade pops all day long. I kept trying to decide which flavor I liked better: pomegranate or pom-orange or pink grapefruit (bottom pic). Actually I liked them all—a lot!
I could almost hear my lovely, long-departed mother scolding me and enjoyed a momentary surge of glee that, ha-ha, now I'm grown I can do what I want! But the gloating turned to guilt later when I realized I really had ruined my appetite for supper!
I first made my pops using a simple commercial plastic popsicle mold bought in a discount department store and ordinary 3-ounce plastic cups with wooden sticks from a craft store. Both were quite satisfactory to use, and, of course, also economical.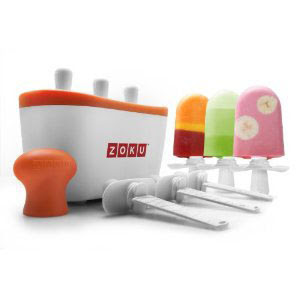 Later I bought and experimented with a Zoku quick popsicle maker. I've tested these in it, and they come out just fine, so feel free to Zoku away! If you decide to create your own recipes, note that reduced-sugar pops will usually work in commercial plastic popsicle molds and plastic cups. However, the Zoku specifically advises against diet or low-sugar recipes, warning that they stick in the molds. Since sugar is partly what keeps pops from becoming rock-hard, it's best not to go completely sugar-free in any case. Remember not to overfill the molds or cups; the mixture expands a good bit when it freezes and you don't want it to dislodge the stick or touch the foil covering the top.
Pomegranate, Pom-Orange, or Grapefruit Ice Pops (Makes 6 3-ounce pops)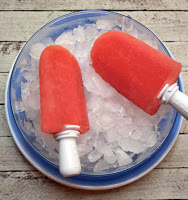 I prefer the grapefruit juice used solo, and often use the pomegranate juice solo, too. But I also like the pomegranate blended with orange juice; 2/3s pom and 1/3 oj, or half of each are both good. Even kids usually like these, though they are really geared for grownup tastes.
As the pop on the right in the top photo shows, you can make attractive two-toned pops with by layering the pom and pom-orange blend. Note that the cranberry juice just brightens up the pink grapefruit color in the pops here and is entirely optional.
Generous 1 3/4 cup ready-to-drink pink grapefruit juice, or pure pomegranate juice, or pomegranate blended with pulp-free orange juice
2 to 3 tablespoons cranberry juice cocktail, optional, for making grapefruit pops
1 to 3 tablespoons clover honey, or as desired
In a 2-cup measure very thoroughly together stir together the juice, g, and honey to taste; stir well as it takes a while to incorporate the honey.
If making ice pops using 3-ounce plastic cups or commercial plastic popsicle molds, pour the mixture into them until they are a little more than 3/4s full. If using molds, add the plastic sticks as directed. If using paper cups cover each with a small square of foil; make a slit in the center top; and insert wooden popsicle sticks into the cups. Freeze the molds or cups until the popsicles are completely frozen; depending on the freezer this may take 3 1/2 to 4 hours or longer. Remove the popsicles from the molds or cups by dipping their exteriors in warm water for 10 to 20 seconds (don't overdo it!), and/or flexing the cups or molds until the popsicles loosen from the sides. If necessary, loosen the pops from the sides using a table knife to break the vacuum.
If using a Zoku pop maker: Cover and refrigerate the fruit juice mixture until well-chilled, at least several hours. Have the Zoko maker thoroughly frozen (24 hours). Insert the Zoku plastic sticks into its molds as directed. Pour the mixture into the Zoku molds up to the fill line. When the pops are thoroughly frozen, remove them from the molds using the orange tool as directed. Do not try to pry the pops from the molds using a knife, as the interior of the molds may be damaged. Add new plastic sticks and make a second round of pops, if desired.
Eat the pops immediately or place in baggies or containers and freeze for later use.