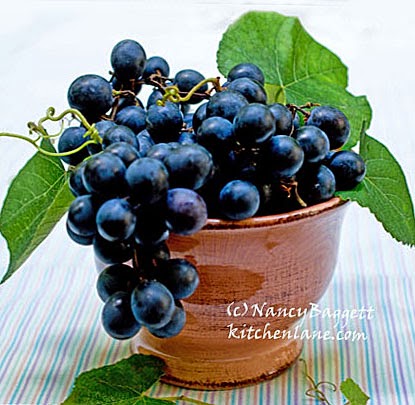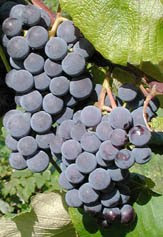 This fall my sister gave me three gallons of Concord grapes, those fragrant, deep purple grapes used in Welch's classic grape juice and jelly. The vines grow along a fence at the back of her garden, and this year she had a bumper crop. I'm so happy she shared!
I used some of the bounty to make a pie, which was quite yummy, but quite a bit of work. Another batch went into the kuchen recipe here below right; it's equally good but goes together more quickly.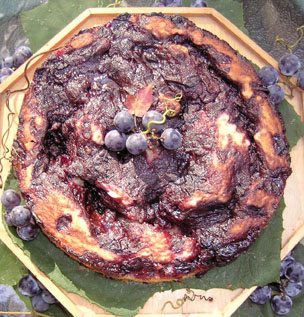 I made grape juice with the last of the stash—this required only plucking the grapes from their stems, cooking them with a little water and sugar, and then straining the juice through a sieve. I've already had a couple glasses—I think it's the fruitiest, most intensely flavorful grape juice I've ever tasted!
I saved some of the juice to make purple cow milkshakes for my grandchildren. I loved purple cow shakes and sodas as a kid and am eager to see if they like them, too. (Not familiar with these treats? They're just vanilla ice cream and grape juice frothed together in a blender to shake consistency. They taste best in those tall, old-fashioned soda fountain milkshake glasses, of course!)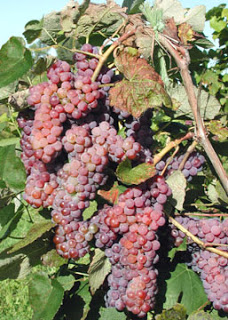 The Concord (pictured above left) and our most popular white juice grape, the Niagara, as well as the reddish Canadice (pictured right) are native North American grapes, and are part of the labrusca family. I took the photos while visiting the New York Finger Lakes town of Naples during its annual Grape Festival several years ago.
Our indigenous varieties differ from the European vinifera grapes in that they have a boldly fruity, musky flavor and aroma. Viticulturalists describe this as "foxiness" because all labrusca varieties are descendents of a wild purple variety called the fox grape. As a result the Concord and its kin are great for jelly and juice, but not so good for wine—unless you like Manischewitz.The Concord variety was developed in 1849 by Ephraim Wales Bull, a horticulturalist who experimented with thousands of seedlings on his farm near the Massachusetts town of—yup!—Concord. Our most important white juice grape, the Niagara (which actually looks green; see pic below), was developed in 1868 in Niagara County, NY by crossing the Concord with the white Cassady grape.If the name of the "father" of the Concord doesn't ring a bell, the name of the man who started the grape juice industry will. In 1869, New Jersey dentist Dr. Thomas Welch and his family cooked and strained the juice of 40 pounds of Concords into quart bottles. Dr. Welsh knew of Louis Pasteur's theory of pasteurization, so he boiled the bottles and sealed them airtight with corks and wax to prevent juice spoilage and fermentation.
Dr. Welsh's product appeared just as Prohibitionist anti-alcohol sentiment was rising (he was a teetotaler himself), so his timing was perfect. His first Welch's customer was his local Methodist church seeking unfermented sacramental "wine." Welch's has been the first name in American grape products ever since.
Concord Grape Kuchen
 The following rustically handsome kuchen recipe is adapted from one shared with me by Jeni Makepeace, a Naples, New York, home baker who won the Festival's "Best Grape Pie" contest several years running. (Her prize-winning pie is in my All-American Dessert Book.) The taste of the grapes comes through clearly in this home-style dessert and will satisfy anyone who's a fan of their foxy flavor.
Filling
2 1/2 cups stemmed, washed, and well drained whole Concord grapes (1 generous pound grape bunches)
6 to 7 tablespoons granulated sugar (use larger amount for very tart grapes)
1 tablespoon all-purpose white flour
Dough and Topping
1 1/3 cups all-purpose white flour
1/2 cup granulated sugar
1 teaspoon baking powder
Generous 1/4 teaspoon salt
5 tablespoons unsalted butter, cut into chunks
1/2 cup whole or lowfat milk
1 teaspoon vanilla extract
1 large egg
Generous 1/3 cup packed light brown sugar combined with 1/2 teaspoon ground cinnamon for topping
For the filling: Holding each grape over a large heavy non-reactive saucepan (to catch the juice), remove the skin by squeezing until the pulp-seed portion pops out into the pan. Reserve the grape skins as you work. Chop the grape skins fairly fine and thoroughly stir them together with the granulated sugar and 1 tablespoon flour in a large non-reactive bowl.
Bring the grape pulp to a boil over medium-high heat. Adjust the heat so the pulp boils gently. Cook, stirring occasionally, about 5 minutes, or until the pulp is very soft and mushy. Let cool slightly. Turn out the pulp into a fine sieve set over the sugar-grape skin mixture. Press through as much juice and pulp as possible; discard the seeds. Stir the filling mixture until blended. Use immediately or, if preferred, store, covered and refrigerated for up to 3 days. Let warm up before using.
For the dough and topping: Set out a 9-inch springform pan or a very deep-sided, large (9 1/2 to 10-inch) pie plate. Grease the pan or plate, or coat with nonstick spray. Place a rack in the middle of the oven; preheat to 375 degrees F.
Thoroughly stir together the flour, granulated sugar, baking powder, and salt in a medium bowl. Melt the butter in a microwave-safe medium bowl for 35 to 45 seconds until mostly melted. Stir until completely melted, then stir in the milk and vanilla and let cool. Using a fork, beat the egg into the milk mixture. Stir the milk mixture into the flour mixture just until evenly incorporated; for a tender dough don't overmix. Turn out the dough into the prepared pan, spreading evenly to the edges. Spoon the grape filling mixture evenly over the dough; don't stir it in. Sprinkle the brown sugar-cinnamon topping evenly over the top.
Set the pan on a rimmed baking sheet. Bake on the middle oven rack for 30 to 40 minutes, or until the top is nicely browned and a toothpick inserted in the center top comes out clean. Transfer the pan to a wire rack; let stand until cooled to warm. If a springform pan was used, run a knife around the perimeter and then remove the ring. Cut the kuchen into wedges and serve warm or at room temperature. Dollops of whipped cream may be added but are not really necessary. Makes about 6-7 servings.