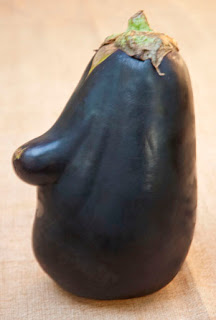 After several very heavy, serious posts the last few weeks, it's definitely time to lighten up. I'm working up a new grape recipe now (see more on that below), but in the meantime I thought I'd answer a few questions people have asked me. (Well, nobody's ever asked me about the wierdest thing I haven't blogged about, but I wanted to answer it, so that question is here, too.)
You'll also find explanation of why this eggplant is pictured, too.
Q What does a cookbook author actually do?
A
In a nutshell, the job involves coming up with a cookbook topic that people might want or need, then creating and testing all the recipes and writing all the text that will go in it. Of course, figuring out how to organize the material into chapters, coming up with a catchy title, and putting together a proposal that convinces a publishing house to buy the book are also important tasks. Finally, when the cookbook comes out, the author has to make numerous appearances to promote it. (Maybe I should mention here that celebrity cookbook authors often hire somebody to create the recipes for them; they only do the promotion part.)
Q Do you ever get tired of all the baking and cooking?

A Every once in a while I do get tired when a recipe I'm developing just won't work out—too bland, too time-consuming, or maybe just too ugly. (I once struggled with a yummy white chocolate mousse napped with mocha sauce that I finally abandoned because it kept coming out looking like mashed potatoes and gravy!) But most of the time, I think baking and cooking are fun. I'd add that if you don't think experimenting and puttering with food and recipes is fun, you probably shouldn't consider writing a cookbook.
Q How do you spend your free time?

A It depends. When I'm on deadline with a book—like right now—I often take little breaks from the computer ( in other words, stall) by working in the garden. For longer breaks I like to go to farmers' markets or shop for photo props and kitchenware at antique and junk shops.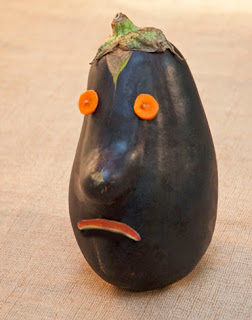 Sometimes, when I'm very punchy from a deadline I do silly stuff. I saw the eggplant in the pic at a produce store and bought it because it looked like Richard Nixon. Then I decided to name it Eggpert and decorate it. I made it look sad because it's about to become eggplant parmesan.
Q Where do you get your recipe ideas?
A From anywhere and everywhere. Sometimes ideas come from dishes I taste and think would be better done differently. Sometimes from food editors who have a particular theme or assignment in mind. Sometimes from pressure to use a foodstuff I don't want to go to waste: Right now I've got three gallons of Concord grapes my sister brought me, and I guarantee you I'll be dreaming up and probably posting some grape recipes soon.
Q What's a really weird fact you've never blogged about before?
A
I once had a pet frog living in my front hall. Well, it wasn't a pet exactly. It just happened to be hiding in a big potted fern I brought in from the garden one fall. By the time I realized Hoppy was there, it was nearly winter and I was afraid he'd freeze if I put him outside.
Everything went fine until he decided to move to the living room. A friend visiting me came into the kitchen, and she was white as a ghost. "I was admiring your very realistic ceramic frog on the coffee table," she said, "and when I went to pick it up, it jumped." I'm sorry to say I don't have a snapshot of Hoppy, but poised on that table he was quite handsome indeed!