Drizzling icing over a cake.
I'm not the first cookbook author (and won't be the last) to insist that action verbs like drizzle, stir, spoon, flip, pipe, chop, toss and nap are important when you're writing about food. Such verbs can invigorate and power sentences forward in a way that the descriptors called adjectives and adverbs never can. Verbs are the key to powerful prose (whether culinary or not) because they clarify and capture the action taking place.
But  any how-to on writing about food or writing a cookbook has to talk about descriptive words including adjectives and adverbs, too. These are especially important in what cookbook editors call recipe "headnotes," those appetite-whetting introductory sentences found at the beginning of almost all cookbook recipes (they're usually required by contracts) today. After all, headnotes are mainly designed to enticingly describe a dish to readers, and adjectives and adverbs are the parts of speech specifically designed to provide extra information and help readers visualize things. (If I sound English "teacherish," you may want to check out my Ms Grammar Lady's Writing Tips!)
Let's take a look at two headnotes: Both have good, active verbs all right. But they also serve up a whole feast of adjectives and adverbs that I think contribute a great deal to the prose. The first sample is from my Kneadlessly Simple cookbook, the second is from Baking—From My Home to Yours, by my colleague and friend, Dorie Greenspan.
"Puffy, and crusty, and faintly tangy, this big, craggy-topped loaf is such good eating it may become a standard in your repertoire. Since the dough is baked in a Dutch oven, it usually springs up a lot and is light and airy…."
"It's hard to imagine, but this sorbet offers the same satisfaction as its richer sibling, ice cream, does. It has all the same creaminess, the satiny, melt-in-your-mouth pleasure and the full, no-holds-barred taste, yet it has no eggs or cream…."
 I think you'll agree that the abundance of descriptors, like puffy, craggy-topped, and satiny in these sentences not only doesn't detract, but they paint a vivid, enticing picture. They help give a clear idea of the finished dish, and spare the reader from having to wade through the ingredients and instructions to envision it—which is what effective headnotes are supposed to do.
The key is to choose fresh, specific and thoughtfully selected adjectives and adverbs, not the generic "delicious," and "mouthwatering," that are too vague and too often used. Noted Houghton-Mifflin cookbook editor, Rux Martin, liked to remind me and her other authors that, "Remember, you only get one "delicious," per book!" And she wasn't kidding! My cookbook author friend, David Lebovitz (who wrote The Perfect Scoop) adds that if you're writing about chilled or frozen concoctions, another word you must avoid overusing is "refreshing." Be prepared to say how the dish is refreshing.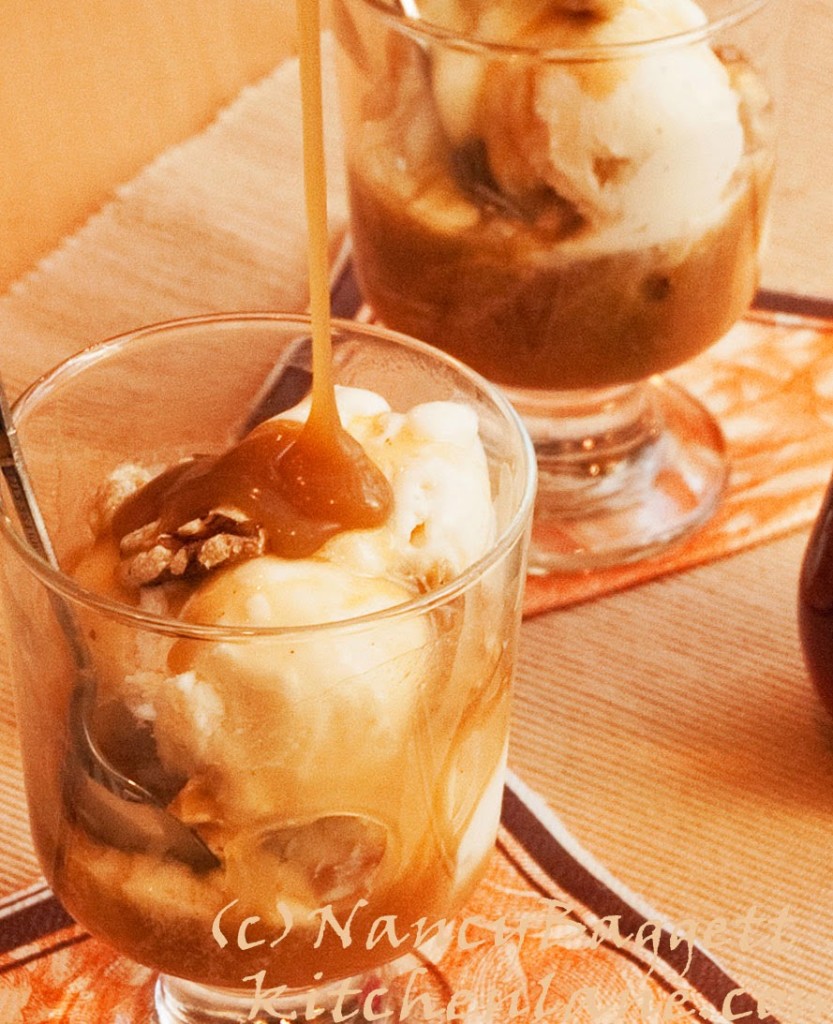 Napping ice cream with maple sundae sauce.
So, the take away here is not to avoid adjectives and adverbs when rummaging in your wordsmith's toolbox, but to chose and use them creatively and with enormous care. Tip: Try to focus very hard on exactly what it is that appeals about the dish as an aid to coming up with really meaningful descriptors.  These will make it much easier to effectively describe food.
Here are two more sample recipe intros, to show you how deadly the effect of just grabbing the first very general culinary adjectives that come to mind and automatically sticking them in here and there.
This apple crisp is quite mouthwatering and delicious and makes a great dessert.

Just scrumptious for dessert, this apple crisp is a dish everyone will love.
Do these intros makes your mouth water? Probably not, even though, ironically, they actually tell you the crisp is mouthwatering and scrumptious! In both fiction and nonfiction, straight out telling often isn't the most effective way to go.These sentences are boring and predictable, plus they provide readers no real information other than that the crisp is a dessert, which they already know! The second example does get a couple points for not falling back on the "This is" construction, which is also grossly overused in recipe intros. To see how I really introduced my apple crisp, check out the recipe below.
If you're a blogger and used to depending on photos to describe a dish, remember that only words can convey how it smells, or whether it's tart or sweet, or if it crunches appealingly with every bite. This truth is especially important to keep in mind if you aspire to write a cookbook: In most cookbooks the majority of recipes aren't pictured (too expensive); it's your prose alone that makes them come alive. (For some of my more general dos and don'ts of writing headnotes go here. )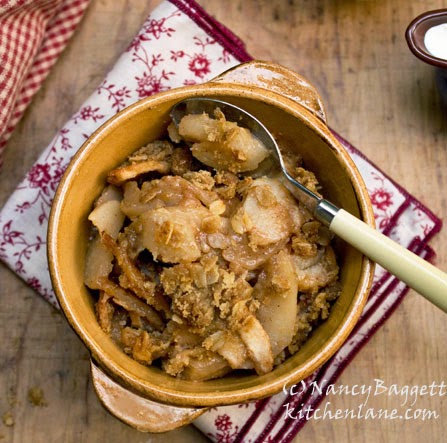 Apple Crisp
Full of cinnamon and brown sugar fragrance and the robust taste of peak-of-season fruit, this homespun, nubby-topped crisp celebrates one of autumn's most abundant and widely appreciated gifts—the apple. Actually, the dessert spotlights the wonderful variety of apples available now by calling for and combining several different kinds.
At the very least, incorporate two types, say, bracing Stayman and juicy-sweet Honey Crisp. But tossing in three or four kinds will round and deepen the apple flavor, lending lovely sweet, tart, mellow, and bold notes all at once.
1/3 cup packed brown sugar
2 1/2 tablespoons all-purpose white flour
1/2 teaspoon ground cinnamon
7 1/2 cups peeled, cored and coarsely sliced tart cooking apples, including at least 3 kinds, such as Stayman, Rome, Granny Smith, Honey Crisp, Golden Delicious, Jonathan, or York
1 tablespoon fresh lemon juice
Topping
3/4 cups all-purpose unbleached white flour
2/3 cup rolled oats
2/3 cup packed light brown sugar
1/4 cup unsalted butter, melted
1/4 cup corn oil, canola oil, or other flavorless vegetable oil
Preheat oven to 350 degrees F. Coat a 7- by 11-inch (or similar 2-quart) flat rectangular baking dish with nonstick spray. In a large bowl, stir together, sugar, flour and cinnamon until blended. Stir in apples and lemon juice. Spread mixture in baking dish.
Bake in middle third of oven for 25 minutes, stirring once or twice. Meanwhile, in a medium bowl, briefly mix flour, oats and brown sugar. Add melted butter and oil, stirring until incorporated. Sprinkle the topping evenly over apples. Press down lightly. Return to oven. Bake until well browned and bubbly, 25 to 30 minutes longer. Transfer to wire rack. Let cool to warm before serving. Serve with ice cream, if desired.
Makes 6 or 7 servings.