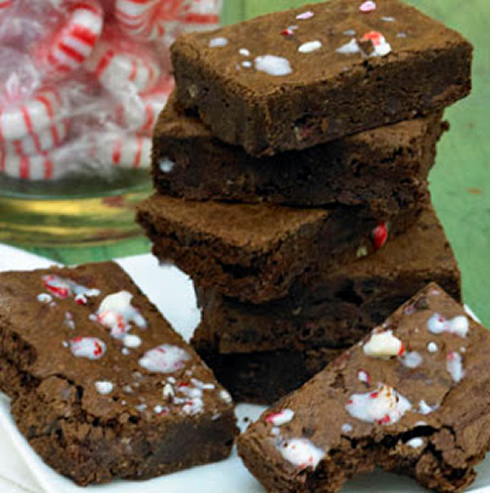 Let me start by say right off that brownies are an American invention. (Wave flag here!) Nobody knows exactly who created them, but the first recipe turned up in the 1906 The Boston Cooking-School Cook Book, followed by two more very similar versions in Lowney's Cook Book the following year.The first book was by Fannie Farmer, the second by a Boston-area chocolate purveyor, Walter Lowney (then a major competitor of Baker's). All three recipes called for unsweetened chocolate, as did most versions up though the 1950s. (Check out Lowney's brownies here–a fine classic recipe.)
Now maybe you don't really care about this, but because I'm a serious culinary history buff I'm compelled to point out that some sources wrongly say that brownies initially appeared in the 1890s. I've gone and investigated, and although several earlier goodies were named brownies, they were not the brownies we're talking about here. One so-called "brownie" was a candy, another was a cookie made brown with molasses. (Try serving the molasses 'brownie" today, and see what happens!)
Another bit of misinformation I must correct: A few sources have claimed that a well-known New England food writer named Brownie Schrumpf—I'm not making that moniker up—invented brownies. I've confirmed that Mrs. Schrumpf was actually born in 1903, so, unless she was a child baking prodigy, I'm ruling her out as the originator of the treat.
Since baking is one of my areas of expertise, I also feel obliged to squelch the story that brownies came about when somebody accidentally left the baking soda out of a cake. This is wrong! If you leave out the chemical leavening, you'll still get cake—I've tried it. On the other hand, if you mistakenly leave out the milk or other liquid from a chocolate cake, your result will be a dense, thick batter and something approximating a brownie. (Sorry, had to set that record straight, too.)
As for the following recipe, I could spin a charming yarn about how a resourceful baker ran out of nuts and threw some crushed peppermint candies into her brownie batter. And as a result, blah, blah, blah, a new, exciting chapter of browniedom is upon us. But the boring truth is that I just like chocolate and peppermint together and wanted to come up with an appealing holiday twist on the classic. I hope you'll make them anyway! (If you like brownies, but must go gluten free, see the Gluten-Free Girl's chocolate-peanut butter brownies.) Or, if you're in the mood to bake something besides brownies, you may also want to check out my Cranberry-Cherry Crumb Bars or my Cranberry-White Chocolate Cookies. Still another possibility–my Nicely Spicy Cranberry-Pear Muffins.
Chocolate-Peppermint Brownies
These easy brownies are fudgy and somewhat dense, and they stay moist for several days. If you garnish the top with peppermint candy shards these will be a little hard and crunchy at first, but will gradually soften as the bars stand.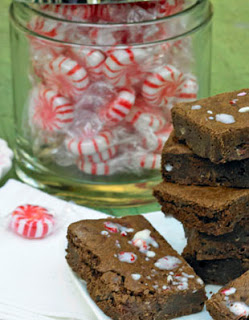 Note that if you don't incorporate the optional drops of oil of peppermint called for, the peppermint flavor in the brownies will be fairly subtle. However, don't try to add extra peppermint extract to boost the minty character; this will likely just lend a harsh quality rather than a heightened pleasant methol taste. The reason: Some of the most appealing flavor and aroma notes of mint are fat soluble so they are available in peppermint oil but absent from the water soluble peppermint extract.
Oil of peppermint is often stocked with the candy and cake-making supplies in discount department stores, craft stores, and some gourmet shops during the holidays. It can be readily purchased on line. It's much more powerful than extract, so you never need more than a few drops. (The oil keeps well and is a wonderful addition to frostings and candies, too.)
Tip: The easiest way to crush the peppermint candies is to put the unwrapped pieces in a triple layer of sturdy plastic bags and pound them with a kitchen mallet or the back of a heavy spoon. They need to be in 1/8-inch or smaller bits.
Chocolate-Peppermint Brownies
Ingredients
6 tablespoons unsalted butter, cut into chunks
4 ounces semisweet or bittersweet chocolate, coarsely broken or chopped
¼ cup finely crushed peppermint pinwheel hard candies, plus more for garnish, if desired
⅔ cup granulated sugar
2½ tablespoons American-style or Dutch-process unsweetened cocoa powder, sifted after measuring if lumpy
2 large eggs, at room temperature
¼ teaspoon peppermint extract
3 or 4 drops oil of peppermint, optional
Pinch of salt
⅔ cup unbleached all-purpose white flour
½ cup (ounces) chopped semisweet or bittersweet chocolate
Instructions
Preheat the oven to 350 degrees F. Line an 8-inch square pan with a sheet of aluminum foil, allowing it to overhang slightly on two opposing sides.
Melt the butter in a heavy medium saucepan over very low heat, stirring occasionally, until fluid. Add the chocolate and crushed candy and stir constantly until completely melted and smoothly incorporated. Immediately remove from the heat; stir in the sugar and cocoa powder until evenly incorporated. Set aside until cooled to barely warm, at least 10 minutes (if the mixture is too warm, it will cook the eggs).
Whisk the eggs, extract, oil of peppermint (if using) and salt into the cooled chocolate mixture until very smooth and glossy. Stir the flour into the mixture just until well blended. Turn out the batter into the foil-lined pan, spreading out until evenly thick all over. Then smooth out the top with the knife.
Bake, middle rack, until a toothpick inserted in the center comes out clean, about 24 to 28 minutes; if the pick comes out with wet batter clinging to it, continue several minutes longer, then check again. Continue, checking until just barely baked through. Immediately sprinkle some fine peppermint shards over top, if desired, then set the pan on a rack to cool completely.
For easiest cutting, refrigerate the brownies until chilled and firm. Lift them from the pan to a cutting board using the foil. Gently peel off and discard the foil. Trim away the edges all the way around, then cut the slab into thirds in one direction and quarters in the other direction to make 12 brownies. Or cut them as desired.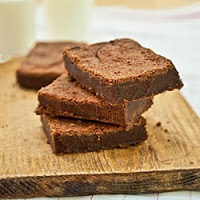 Other brownies you might like: Lowney's Classic Brownies, right.
Shauna Ahern's Gluten-Free Peanut Butter Brownies , left.