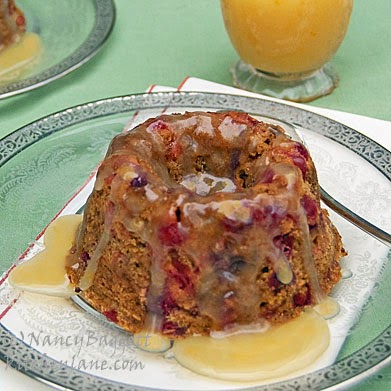 For decades I made the family Thanksgiving dinner. Everybody else flew in to celebrate the holidays at my house. It started out as a labor of love, though as the decades rolled by it eventually seemed more labor as less love!
Now, since my son and his family moved back to Maryland a few years ago, I'm usually a guest. Often my job is just to bring the desserts, which means there's time to make a whole array of sweet treats if I like. (The one required dessert is a pecan pie; it can't be omitted from the menu no matter what!) This year a dessert I'm taking especially for my G-F daughter-in-law is a fruit crisp.
But the dessert here is perhaps my personal fave –a steamed cranberry pudding with a rich butter-orange sauce. The original recipe came from octogenarian Tom Darlington who passed it along a number of years ago, when I visited his family's historic Whitesbog, New Jersey, cranberry farm. The pudding was handed down through several generations, from his aunt Elizabeth White, he said, and was always on his family's Thanksgiving menu. (For more pics of the cranberry farm and more details on my visit, click here. Tom, the family's proud patriarch, is shown here several years before his death. His son, the fifth generation in the cranberry business, nowruns the farm.)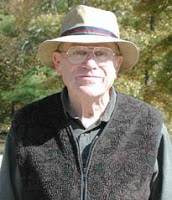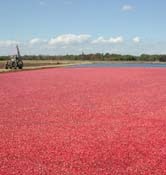 It's no wonder this dessert was one of Tom's favorites. Besides calling for an abundance of fresh cranberries (which pleased him mightily!), it's exceptionally moist, fragrant, and tasty. I demonstrated the recipe at a baking class at King Arthur Flour a few years ago, and the students went wild for it. And both my hubby and I love it, too, (We are also great fans of my Nicely Spicy Cranberry-Pear Muffins or Cranberry-White ChocolateCookies if you're interested in other cranberry options .)
Do not panic at the thought of making  a steamed pudding!  The technique is quite easy, and  it doesn't require an antique pudding mold. I use a modern Bundt pan simply covered with foil. Or for individual servings, I use pretty mini-Bundt pans or fancy metal ramekins.
Steamed Cranberry Pudding with Creamy Butter-Orange Sauce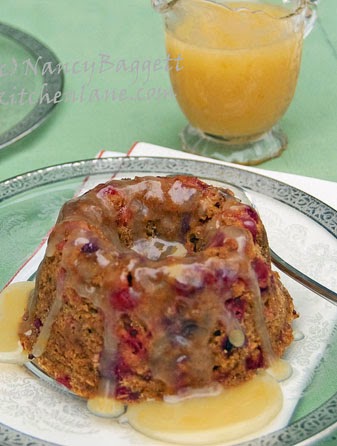 The version of this recipe that Tom Darlington gave me is in my All-American Dessert Book. Often I double the pudding, so it fits a standard-size Bundt pan and serves a crowd. (And, if I'm lucky, provides a leftover slice or two for me to bring home.)
Don't even consider serving this pudding without the sauce; they are a pair. The pudding is light, only faintly sweet and studded with bright cranberries. The sauce is rich, sweet, and sumptuous and nicely counterbalances the zingy fruits. Both components can be made well ahead and rewarmed before serving, so are quite convenient for holiday dining. Though this dessert appears to be similar to the classic Christmas or plum puddings (which I personally find too heavy), it is much fresher-tasting and more appealing to modern diners.
Tip: If you have little individual serving-size molds, like the one shown here, steam them in a large roasting pan or several deep-sided skillets tented with foil. They will take about 45 to 55 minutes.
4 1/2 cups fresh (or frozen, partially thawed) cranberries, picked over, washed, patted dry, and coarsely chopped
Generous 1 cup granulated sugar, divided
3 cups unbleached all-purpose white flour
2 teaspoons baking soda
1/2 teaspoon salt
1 teaspoon ground cinnamon
1/2 teaspoon each ground cloves and nutmeg
2/3 cup orange juice
1 1/2 teaspoons finely grated orange zest (orange part of skin)
1/2 cup light molasses
6 tablespoons unsalted butter, melted
Very generously grease (or coat with nonstick spray) a 10- to 12-cup Bundt pan or similar decorative tube pan or large ring mold. Lightly dust the pan or mold with flour; tap out the excess. Set out a large, deep pot or kettle that is large enough to hold the tube pan or mold used. Lay a folded tea towel or quadruple thickness of paper towels in the pot bottom so the pot and tube pan will not come in direct contact.
In a medium, non-reactive bowl, stir together the cranberries and 7 tablespoons granulated sugar; set aside while the remaining ingredients are readied. Thoroughly stir together the remaining sugar, the flour, baking soda, salt, cinnamon, cloves, and nutmeg in a large bowl. In a medium bowl, stir together the orange juice and zest, and molasses, until well blended. Add the molasses mixture and the butter to the dry ingredients, stirring just until evenly incorporated throughout and the sugar just dissolves. Stir in the cranberries until evenly distributed throughout. Turn out the batter into the pan, spreading to the edges. Cover the top with aluminum foil.
Fill the steaming pot 1-inch deep with hot tap water. Set the Bundt pan in the pot. Cover the steaming pot with a lid or foil. Bring the water to a simmer over medium heat. Lower the heat so the water simmers very gently. Check the pot every half hour or so and replenish the water, if needed. Gently simmer the pudding 1 3/4 to 2 1/2 hours, until a wooden skewer inserted in the thickest part of the pudding comes out clean and it springs back when pressed with a fingertip; the time will vary considerably depending on the shape and composition of the pan used. Transfer the pudding to a cooling rack. Let stand until cooled and firmed up, at least 1 hour.Carefully run the tip of a table knife around the pan and center tube and under the pudding to loosen it completely; invert and slide it onto a plate.
Store the pudding covered airtight in plastic and refrigerated for up to 4 days. Reheat, covered with foil, in a low oven until slightly warm before serving. Serve the pudding on a cake plate or other attractive serving plate. Generously drizzle some warm sauce over the pudding before serving. Cut into slices and serve. Serve the remaining sauce in a pitcher or sauceboat so diners can add more of it as desired. Makes 8-10 servings.
For the sauce: In a large, heavy, non-reactive saucepan, thoroughly stir together 1 1/3 cups granulated sugar, 1 1/3 cups heavy cream, 2 sticks softened unsalted butter, 1/4 cup light corn syrup, and 3/4 teaspoon orange zest. Cook over medium heat, stirring, until the sugar completely dissolves and the butter melts. Bring to a boil and boil gently, stirring occasionally, for 3 minutes. Remove from the heat. Stir in 2 teaspoons vanilla. Use immediately or cover and refrigerate for up to 4 days. Reheat the sauce in a saucepan over low heat, stirring, (or in a microwave oven on 50 percent power) just until the mixture is fluid, creamy, and piping hot again.