Basel Brownies are a gluten-free chocolate-spice Christmas cookie from a country that is chocolate crazy–Switzerland. This sweet treat is actually much more modern that many popular holiday cookies in the region. It began turning up "only" after Switzerland became a world class chocolate and cocoa manufacturer  in the late 19th an 20th centuries. The name Basel Brownies (or Basler Brunsli in Swiss German) roughly translates as "Basel Little Brown Cookies." As you can see, Basel Brownies are very dark, chocolate rolled cut-out cookies. Though you can't tell from the pic, they are  chewy-crispy and also made from egg whites, ground almonds and NO flour, so are completely gluten-free meringue cookies.
No, Basel  Brownies aren't related to American brownies. The name comes from the fact  that somebody who spoke Swiss German, took exactly the same approach as the English speaker who gave American brownies their name. This person decided to call some chocolate brown cookies "little brown goodies," or "brunsli." "Bruns" means "browns," and the ending "li" implies sweet little thing. (Technically, li is  called a diminutive. It serves the same function as the "ie" ending in our words dollie and cutie.)  BTW, if this  is brownie talk is making you yearn for American holiday brownies, check out my Chocolate-Peppermint Brownies.)
The "Basler" part of the name refers to the Swiss city of Basel. I've never found out why Basel gets credit for these rolled, chocolate-and-spice goodies.  Possibly because Basel was once a center of the European spice trade. But nowadays folks ready these cookies all over Switzerland, especially for the holidays. (I learned this  years ago as I traveled around Switzerland researching and trying out confections for my International Chocolate Cookbook.) Brunsli also contain almonds and egg whites but no butter and usually no flour. So, they are a fine choice for those who avoid animal fat or who have gluten allergies. (But, yay, they will pass the palatability test with "regular" eaters, too.)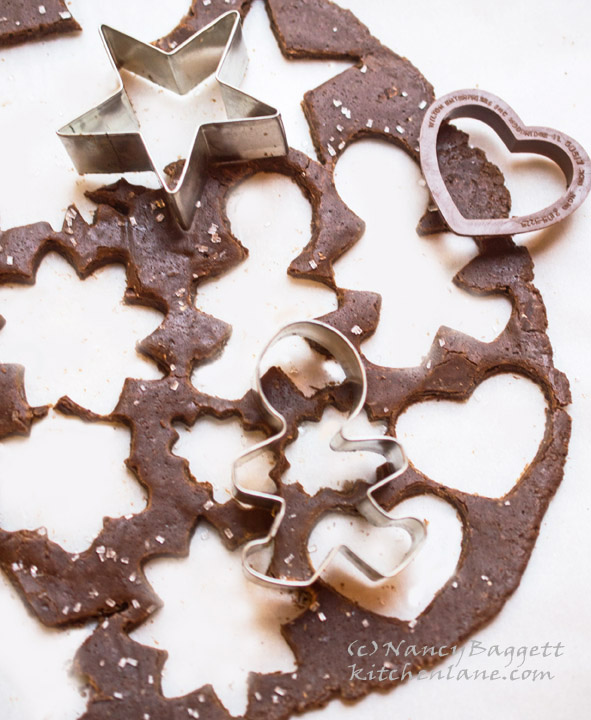 If you've never tried any meringue-and almond-based cookies other than French macarons, these cut-out cookies will be a revelation. They are just slightly puffy, and when fresh, are slightly chewy; after a few days they become crisp-crunchy. The chocolate-almond-spice taste is also unusual, and, IMO, addictive. In Switzerland Basel Brunsli are normally served plain or with a very light sprinkling of plain or coarse crystal sugar, as shown in the pic. Some Swiss bakers sprinkle them with a few bits of finely chopped almonds instead. If you wish to give them a jazzier American Christmas feel, you could use a red or green sparkling sugar, but frankly I really like the rustic, natural, dye-free look of those made and served in Switzerland.

Basel Brownies (Swiss Chocolate Spice Cookies)
Tip: Some brands of cocoa powder are much drier and more absorbent than others, so the dough may occasionally come out crumbly and dry. In this case, add a little more egg white and process until the mixture comes together smoothly.
Serves:
3 dozen medium cookies
Ingredients
1¼ cups whole blanched almonds or almond slivers (about 7 ounces)
1½ cups powdered sugar, divided, plus more as needed
¼ cup unsweetened cocoa powder, preferably Dutch process
2½ teaspoons ground cinnamon
¼ teaspoon ground cardamom or ground cloves
Generous ¼ teaspoon salt
⅔ cup (about 3½ ounces) chopped semisweet or bittersweet (not unsweetened) chocolate
2 large egg whites, at room temperature
½ teaspoon almond (or vanilla) extract
Instructions
In a food processor, chop the almonds, 1 cup powdered sugar, cocoa powder, cinnamon, cardamom (or cloves) and salt until the almonds are powder fine; stop and stir to redistribute the mixture several times. Add the chocolate and remaining ½ cup powdered sugar and process until the chocolate is finely ground. Add the egg whites and almond extract. Process, stopping and stirring once or twice, until the mixture blends and comes together in a mass.
Let stand 5 to 10 minutes until the dough firms up a bit. Place a rack in the middle of the oven; preheat to 325 degrees F. Line several large baking sheets with baking parchment. Turn out the dough onto a work surface heavily dusted with powdered sugar. Dust the dough with more powdered sugar. If the dough is too soft or sticky to roll out, gradually knead in additional powdered sugar, then roll it out ¼ inch thick. Run a spatula underneath the dough and dust the surface with more sugar if needed to prevent the dough from sticking.Cut out the cookies using 2½-inch heart or trefoil-shaped cutters to produce cookies like those shown; or use plain or scalloped rounds or whatever shapes you like. Space the cookies about 1½ inches apart on the baking sheets.Bake (middle rack) one pan at a time 10 to 13 minutes, or until puffy and almost firm when pressed in the center top.
Transfer the pan to a wire rack.Let cool completely; the cookies are too tender to handle while warm.Store the cookies airtight for up to 1 week, or freeze airtight for up to 1½ months.Yield: Makes about 35 2½-inch cookies.
Another holiday cookie that has its roots in Europe, but has been Americanized over the decades is my mother-in-law's wonderfully fruity-spicy Lebkuchen recipe. These are in fact 
iced, spiced fruitcake drops
 that are a family favorite.