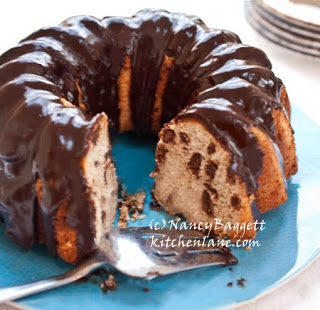 One of my all-time favorite culinary sites, Leite's Culinaria, hosted by one of my all-time favorite bloggers, David Leite, is having a birthday! And, because it's what I do on special occasions, I baked a cake.
Nothing super-fancy or tricky, mind you. Just a good, basic, chocolate-and-banana comfort-food cake that will come out fine even for those in a hurry or who never went to pastry school. And, of course, I chose a cake that I thought, virtually speaking, David and his staff would really enjoy feasting on. Notice that slices are cut, and plates are waiting.
If you are among the few foodies on the Internet unfamiliar with Leite's Culinaria (tag line: "Hot Food, Dry Wit") or its founder, David Leite, you need to go the site and get yourself up to speed right now. There are literally many weeks' worth (well, twelve years, actually) of stories and food to savor (including, I'm proud to say, some recipes of mine).
Did I mention that David is not only a justly acclaimed culinary website host but a very nice guy and an excellent–and sometimes very funny–writer? In this story about his "emotional baggage of nuts," (really!) he confesses, "….well, Brazil nuts were too weird for me then, and I still don't like them now. It's like biting into a flavorless, oily macadamia nut. (Desculpe, all my Brazilian brethren, but it's the truth.) Almonds in their shells reminded me of peach pits sucked dry by toothless octogenarians."
And he's just winding up: "No nuts of any kind can or should be added to chocolate chip cookies. Period. It's an abomination against God and the memory of Ruth Wakefield, the creator of the cookie." He goes on (read more here), but you get the idea. He really does have a nut problem!
Anyway, since the featured guest is not actually here to enjoy the cake, I will force myself to eat it for him. But in case he wants to replicate it, I've provided the recipe below.
David, may you and your pride and joy live long and prosper, my friend.
I love banana and chocolate together, and they pair perfectly in this gratifying, but not overly rich home-style cake. (The Good & Easy
Satin Chocolate Glaze is here
.) Be sure to use really soft, over-ripe bananas, and mash them very well. Oh, yes, and since David has a nut problem, never, ever, add any to this recipe.
2 1/2 cups unsifted cake flour
2 teaspoons baking powder
1/4 teaspoon salt
1/2 cup (1 stick) unsalted butter, cool but not cold and hard
1/4 cup corn or canola oil
1 1/4 cups granulated sugar
1 1/4 cups thoroughly mashed over-ripe banana (3-4 medium bananas)
1/4 cup low-fat or regular milk
2 large eggs, at room temperature
2 1/2 teaspoons vanilla extract
1 cup semisweet chocolate morsels
Glaze Recipe
Preheat the oven to 350 degrees F. Very generously grease a 10-inch Bundt pan, or a 10-inch tube pan with removable bottom; or spray with nonstick spray. Evenly but lightly dust the pan with flour all over, then tap out the excess.
Sift together flour, baking powder and salt onto a sheet of wax paper. In a large mixer bowl with the mixer on low, then medium speed, beat the butter, oil, and sugar until very light and fluffy, about 1 1/2 minutes; scrape down bowl as needed. Add the banana and beat until very smooth. With mixer on low speed, beat in half of dry ingredients. Beat in milk, eggs, and vanilla; scrape down the bowl sides. Stir in remaining half of the dry ingredients and chocolate morsels just until evenly incorporated and smooth.
Turn out batter into pan, spreading to edges until evenly distributed. Bake (middle oven rack) for 50 to 60 minutes or until the top is browned and a toothpick inserted in the thickest part comes out clean and the top springs back when lightly pressed. Transfer pan to wire rack and let stand until cake is completely cooled. Very carefully run a knife around pan edges and center tube to loosen cake from sides and bottom. Rap pan sharply against counter several times to loosen completely. Invert pan and slide out the cake, or, if a tube pan is used, run a knife under cake bottom and then invert.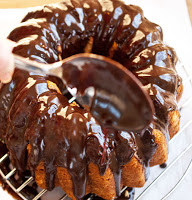 Prepare the glaze following the recipe here. Let the glaze cool and thicken, stirring occasionally, until it has enough body to slowly flow (but not run). Then spoon it over the cake, allowing it to flow attractively down the sides. The cake keeps, covered, 3 or 4 days. Makes about 12 servings.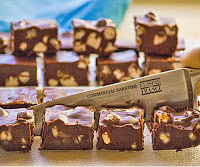 If cake just isn't your thing but the chocolate sounds good, how about chocolate pots de creme or rocky road fudge or classic brownies?