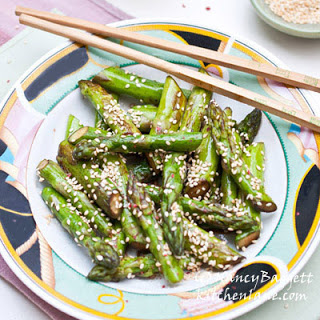 With fresh local asparagus now back in our markets, I find myself revisiting a topic I tackled when I was a newbie freelancer decades ago. After first writing for my community newspaper and the now long-defunct
Baltimore News American
for a while, I gathered my courage and pitched a seasonal feature on fresh asparagus to William Rice, then the executive food editor of The Washington Post. (He later moved to the Chicago Tribune.)
I was still greener than the topic proposed, so I offered to submit "on speculation," meaning that if he didn't like my piece he wasn't obliged to buy or even give me a kill fee. He said he'd take a look. (For more on working with editors, click
here
.)
Realizing that this was a huge opportunity to move up in the free-lance world, I slaved over my story, rewriting repeatedly, pruning and tightening, agonizing over my verb choices, and polishing every phrase. I wanted readers to be so seduced by my prose that they would be compelled to rush to their kitchens just drooling for asparagus. I submitted my masterpiece in early February, then frantically searched the Post food section every week hoping to see my baby in print.
Alas, this didn't happen. By early March I was feeling so desperate I forced myself to call him back (no e-mail in those days) to find out the status of my piece.
"We like the writing—very evocative," he said. "But the recipes just aren't that interesting, and the ones with white asparagus don't work for us. It's too hard for our readers to get." (My post on recipes that are "good enough" is
here
.)
With a feigned cheerfulness I hoped masked my panic (and wave of nausea), I offered to quickly send him some additional recipes. I hung up in a cold sweat. Of course, my next step was to race out, buy 15 pounds of green asparagus, and start cooking like crazy.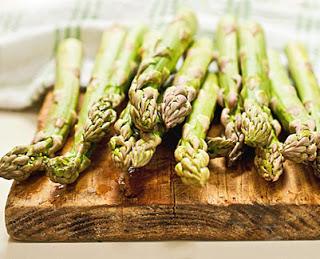 Just to underscore the hard lesson learned: This business is called food writing because it's about both the writing and the food. I'd succeeded in delivering prose that would sell readers on trying asparagus—some (but not all) editors term this the "call to action," and consider it essential for a food feature. But I hadn't followed up with recipes that would be worth the trouble if folks did heed my call.
Poor recipes are a failing food editors (whether of newspapers, magazines, or cookbooks) won't, or more accurately, can't tolerate: If their precious (literally) readers get psyched by a story and then feel they've wasted time and money on the recipes, the editors themselves have to deal with the inevitable complaints.
There are two other valuable lessons to be learned from this tale: Steer clear of inaccessible, expensive, or unusual ingredients unless given a go-ahead in advance. My assumption that Bill Rice would feel "gourmet" white asparagus was appropriate for his audience was wrong (though it probably would be okay to call for it today).
And this is vitally important if you're freelancing–always, always persevere! Listen very carefully to any criticism a busy editor takes time to give you and immediately act upon it. Devastated as I was, I could have said, "Gee, I'm sorry you don't like my recipes," and just gone away in despair. Instead, I somehow took the right tack and immediately tried to remedy what appeared to be standing in the way of publication. Three weeks later I had the thrill of seeing my first Washington Post food story in the paper. That was several decades ago, and I've been writing for the Post food section ever since.
Quick Stir-Fried Asparagus with Sesame and Toasted Sesame Oil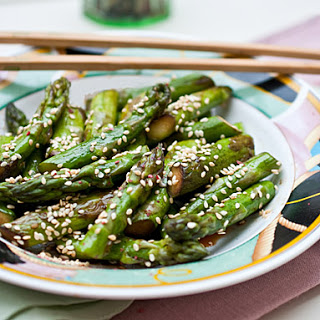 William Rice would almost certainly not have run the following recipe if I'd submitted it years ago because it calls for toasted sesame oil, an obscure ingredient at the time. Now the item is much better known, and for Washington metro area readers at least, fairly easy to obtain.
Which suggests another food writing lesson learned: Times change, tastes change, and editors do too, so it's vital to keep your culinary skills current. (Still another lesson is understanding the importance of writing good recipe introductions; see my tips here. And for tips on what editors are looking for, go here.)
I like to serve asparagus often when it's in season, usually by braising it in a little chicken broth, or roasting it with olive oil, or by readying this nothing-to-it stir-fry. It shows off the flavor, color, and slightly crunchy texture of the vegetable well, and lends a vaguely Asian touch to a meal.

Tip: Don't confuse oriental toasted sesame oil with the mild-tasting sesame oil that is available in health food stores. Asian-style sesame oil has a distinct toasty flavor and rich brown color. It's usually stocked in grocery stores in the same section as soy sauce. I suggest reduced sodium soy in this recipe as it keeps the dish from being too salty.
1 1/2 pounds fresh asparagus (untrimmed)
1 1/2 tablespoons sesame seeds
1 1/2 tablespoons toasted sesame oil
2 teaspoons reduced-sodium soy sauce or regular soy sauce
Coarse ground gourmet-blend (pink, black, and green) peppercorns for garnish, optional
Break off and discard the tough ends from the asparagus spears; only the tenderest 5 to 6 inches of the spear tops should be used. Cut the trimmed asparagus spears on a diagonal into 1 1/2-inch pieces.
In a 12-inch or similar nonstick skillet over medium-high heat, toast the sesame seeds, stirring constantly, until they just begin to turn light brown. Watch carefully and immediately turn them out onto paper toweling. In the same skillet, heat the oil to hot but not smoking. Add the asparagus pieces, and adjust the heat so they cook rapidly but don't burn. Cook, stirring 2 minutes or until the pieces are crisp-tender when tested with a fork. Add the soy sauce; cook, stirring, about 1 minute longer. Sprinkle some sesame seeds over top. Add a sprinkling of coarsely ground multi-blend peppercorns, if desired. Serve the remaining seeds separately at the table so diners can add more to taste. Makes 4 servings.