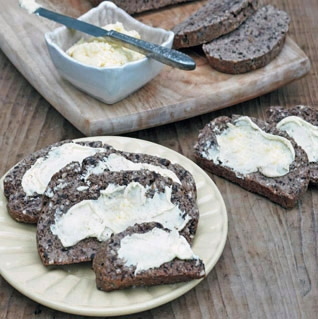 Happy April Fool's Day! To celebrate the occasion, I made a recipe especially for you!
What do bread and butter and sliced salami have to do with April 1, you wonder? Well, I engaged in a bit of visual culinary trickery and hope it worked! These are not really bread and butter or cold cuts in my pictures at all. The bread slices are actually very tasty tromp d'oeil biscotti-like cookies "buttered" with frosting. The sausage slices are cookies, too. Were you fooled?
I first got the idea for these trick-the-eye cookies when I lived in Europe many years ago. One of my German cookbooks featured some very realistic looking "Wurst Platzchen," or faux sliced sausage cookies similar to those shown in the image below.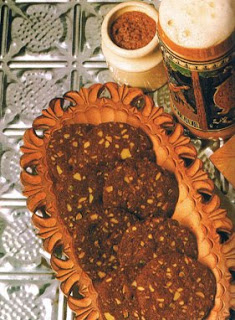 I liked those cookies so much I created my own version and featured them in my International Cookie Cookbook. The cleverly propped photo, taken by Dennis Gottleib, created exactly the fun, fool-the-eye effect we hoped to achieve. (And it wasn't even hard to do!)
My Faux Brown Bread and Butter Cookies are easy to create and look even more realistic. And they are always a hit with families with kids because they just love being able to add their own "butter," to their bread. (This new recipe will be in a cookbook I'm finishing up now. A special April Fool's Day greeting goes to Justin Schwartz, my editor at Wiley.)
If you're interested in another unusual, visually interesting cookie, check out David Lebovitz's Rosemary Cookies with Tomato Jam. Or check out my Iced Maple Leaf Cookies, which are painted to mimic autumn maple leaves.

Faux Brown Bread & Butter Cookies
My buttered brown bread slices are, essentially, lightly flavored anise, orange, and chocolate biscotti. The simple orange "butter" icing adds a nice touch to the not-too-sweet cookies, as well as completing the amusing trompe l'oeil effect.
Serves:
35 to 40 5-inch brown bread cookie slices
Ingredients
1 cup (about 5½ ounces) whole, lightly toasted and hulled hazelnuts
1 cup chopped (about 6 ounces) 60 to 70 percent cacao chocolate
¼ cup American-style or Dutched unsweetened cocoa powder
2¾ cups unbleached all-purpose white flour, divided, plus more if needed
4 tablespoons (1/2 stick) unsalted butter, slightly softened
1 cup granulated sugar
Finely grated zest (orange part of skin) of 2 large oranges
1 tablespoon whole anise seeds (or fennel seeds), divided
2 teaspoons baking powder
¼ teaspoon salt
3 large eggs, at room temperature and beaten with a fork, divided
Instructions
Baking Preliminaries: Position a rack in the middle of the oven; preheat to 325 degrees F. Line a very large baking sheet with baking parchment.
Chop the nuts in a food processor until fairly finely ground. Transfer to a large bowl. Process the chocolate and cocoa until the chocolate is finely ground. Stir the chocolate mixture and a generous half of the flour (no need to measure) into the ground nuts.
In the processor, combine the butter, sugar, orange zest, half the anise seeds, the baking powder, and salt until well blended. Add in all but 2 tablespoons eggs to the processor; reserve the two tablespoons egg to garnish the loaves. Process the butter mixture until well blended, stopping and scraping down the bowl sides as needed. Stir the mixture into the nut-flour mixture. Vigorously stir the remaining flour into the dough just until evenly incorporated. If the dough is too soft or sticky to handle, let it stand 5 to 10 minutes to firm up slightly; if still too soft, knead in a little more flour. If the dough is too crumbly to hold together, knead in a little water.
With greased hands, divide the dough in half. Working on parchment, shape each half into an 8- by 3-inch, domed loaf; they should look more or less like loaves of dark bread. Space the loaves on the parchment-lined baking sheet as far apart as possible. Using a pastry brush (or a paper towel) lightly but evenly brush the loaves with the remaining egg mixture. Immediately sprinkle them with the remaining anise seeds.
Bake (middle rack) for 35 to 40 minutes or until a toothpick inserted in the center comes out clean; it's normal for the loaves to crack a bit. Set them aside until cooled, then refrigerate until well chilled. On a cutting board, cut each loaf crosswise into ¼-inch thick slices using a large, serrated knife or large, sharp chef's knife. Lay the slices flat, slightly separated, on a parchment-lined baking sheet. (Or use two sheets, if necessary.) Meanwhile reheat the oven to 325 degrees F.
Bake the slices (middle rack) until toasted and just slightly darker, but not at all burned, about 15 to 18 minutes. Turn off the oven and let the slices stand in it until cooled completely, at least 45 minutes. These will keep, airtight, for up to 10 days; or freeze, airtight, for up to 2 months.
Faux Butter Frosting:
Beat together 1 tablespoon slightly softened butter, ¾ cup unsifted powdered sugar, and enough orange juice to create a stiff, barely spreadable consistency. If desired add a drop of yellow food color for a brighter butter color. Set out the "butter" and let dinners ready their own "bread," or if desired ice the cookies ahead. (Store them flat, in a single layer.)
If you've got your own favorite trompe l'oeil recipe to show off, feel free to tell me about it and provide a hotlink in the comments below.