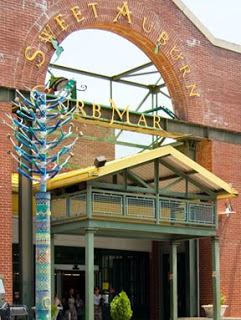 Last week I and several hundred other food bloggers in Atlanta for
BlogHer Food, 2011
, took a break from the non-stop networking and titillating sessions on search engine optimization, blog branding, and Internet ethics, and descended on the city's historic Sweet Auburn Curb Market.
"It's really a worthwhile place to visit," said my bus seatmate and journalist friend, Susan Puckett, as we pulled up in front of the bustling municipal farmers' market. And Susan should know—she was on the food section staff of the Atlanta Journal-Constitution newspaper for many years.
As we scrambled off the bus, I and a dozen others immediately queued up at the barbeque truck out front. How could we not try Atlanta's version of one of the South's most famous dishes?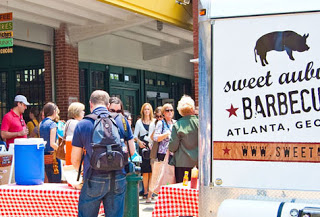 With apologies to all Georgians, I have to say that while my pork 'que sandwich was okay, it wasn't worth writing home to my hubby about. Born and raised in Wilmington, North Carolina, he introduced me to the best barbeque his hometown had to offer when we were newlyweds. That succulent, vinegar- and -red pepper dressed pit-roasted pork sent me to hog heaven, and we bought and ate it whenever we visited his family. Frankly, I've never found that the less distinctively-seasoned barbeques (euphemism for bland) of other regions could measure up to the signature zippy North Carolina-style since. But I keep trying 'em just to check!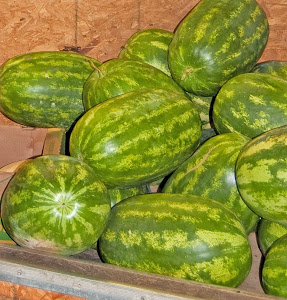 Though the publicly-owned Sweet Auburn Curb Market is in the city's most famous black neighborhood (Martin Luther King's boyhood home is an important landmark here), both the fare and purveyors today are multicultural. Yes, you'll find the prototypical fresh collards, watermelons, chitins and soul food, but you'll also see Ciao Boca, Broadway Asian Buffet, Bell Street Burritos, and numerous other vendors and eateries of various ethnic persuasions.
That's David Leite, of Leite's Culinaria (and my co-panelist on a culinary writing workshop the day before) visiting one of the Sweet Auburn stalls.
Once inside, Susan and I cooled off with light, fizzy strawberry-lime spritzers that were perfect for the typically humid Atlanta late spring day. Since she was local and I can get fresh veggies of all sorts where I live in Maryland, we passed by the beautiful greengrocer stalls. But some of the attendees stocked up on items to take home. David Lebovitz bought two huge bags of kale and stuffed them in his suitcase to take back to France. I doubt Paris customs inspectors would have liked that!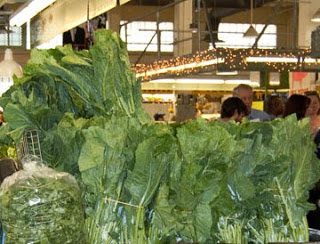 I was wondering about the history and odd name of the market, so did a little investigating. In 1918, after a fire cleared the land, it was established in a huge tent in the thriving black district along what residents fondly dubbed "sweet" Auburn Street. Giving inner city Atlantans assess to farmers and their garden fresh products, it was an immediate hit. A permanent brick and concrete building replaced the tent in1924, but due to segregation only white customers were permitted inside. Blacks shopped from separate stalls set up along the curb—community leaders decided to reference this in the market's modern name. (The photo below is courtesy of the Market's website.)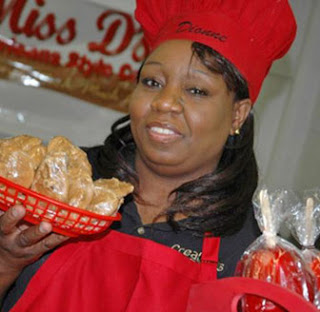 If you're a foodie visiting Atlanta, do take in the market. I plan on a more leisurely look-see next time I'm in town. I'll probably go for some ham hocks instead of the pork barbeque.