You know what inspired these cookies from my latest book, Simply Sensational Cookies, don't you!? The painted daisies, black-eyed-Susans and cone flowers that flourish in spring and summer are so cheerful and pretty, they make perfect models for eye-catching seasonal cookies.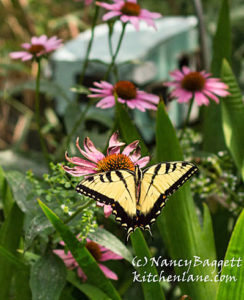 I made these to take to a birthday bash. My sister and niece were throwing themselves a joint 60-30 birthday party last spring, and, of course, I had to contribute. Later this month, I'm going to take some daisy cookies to a shower, too.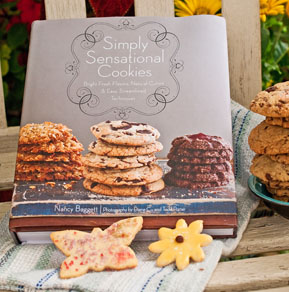 In keeping with my current interest in minimizing the use of food dyes in pastry decorations, I've gone totally dye-free in this icing recipe. The golden black-eyed-Susan icing takes its color from orange juice concentrate instead of water; the pink cone flower icing is tinted with cranberry juice concentrate. You can certainly add a drop or two of synthetic food dyes for a brighter shade, but I prefer to go completely au naturel and use either fruit juices or purchased botanical colors . For more info/resources/options for how and why you might want to decorate the"au naturel" way, you'll find a whole big chapter with beautiful photos in my book, or for another post on my site, go here.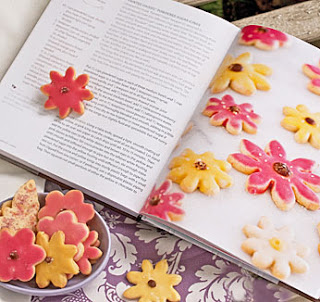 BTW, the icing for dark centers  or eyes of the cookies is readied by stirring in a little cocoa powder into the mixture. Also, I have a particular way that works best for prefer rolling out dough for sugar cookies like these; check out my short, fun how-to video here.
It's best to use any not-too-sweet, not-too puffy sugar cookie dough you like for these; try my recipe here. If you don't have a daisy cutter, it's fine to use a simpler petal or flower cutter, which is not only easier to find but also easier to work with. Notice that the cookie pic below left shows both shapes.

Au Naturel Dye-Free Daisy Cookie Icing
I like this icing because it avoids food dyes, but is easy, spreads smoothly, and has a slight sheen. For another au naturel icing that gives you green shades, check out my
green tea icing recipe here
. The recipe makes enough to decorate at least 3 dozen 2¾ to 3-inch cookies. Since it is sweet, add just enough to cover each cookie; don't pile it on. The recipe calls for meringue powder or egg white powder. Wilton makes a meringue powder usually stocked with cake decorating supplies. Some supermarket baking sections include dry egg white powder. If you can't find either, you may leave it out.
Serves:
enough to decorate at least 3 dozen 2¾ to 3-inch cookies
Ingredients
3½ cups powdered sugar, divided, plus more as needed
3½ teaspoons meringue powder or egg white powder, divided
1 teaspoon light corn syrup, divided
1 teaspoon vanilla extract, divided
1 to 1½ tablespoons thawed orange juice concentrate, plus more if needed
1 to 1½ tablespoons thawed cranberry juice concentrate, plus more if needed
1 to 2 teaspoons unsweetened cocoa powder, plus more if needed
Turbinado sugar or white crystal sugar for optional garnish
Instructions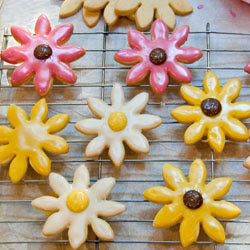 Stir together 1 cup powdered sugar and 1 teaspoon meringue powder in each of three bowls, then stir together ½ cup powdered sugar ½ teaspoon meringue powder and cocoa powder in a smaller fourth bowl. Add ½ teaspoon each corn syrup and ¼ teaspoon vanilla to each bowl. To the first bowl, add 1 to 1½ tablespoons thawed orange juice concentrate; to the second bowl, add 1 to 1½ tablespoons cranberry juice concentrate, to the third 1 to 1½ tablespoons water. Stir each icing until thoroughly blended and smooth, adding in little more juice or water if too dry to mix together. To the fourth bowl, stir in just enough water to create a spreading consistency. Add more powdered sugar if needed to stiffen the icings to a slightly fluid and spreadable, but not runny consistency.
To decorate the cookies: Using a table knife, spread a light, smooth coating of white, yellow, or pink icing over the cookies until all are decorated. Let stand until set, about 15-20 minutes. Put the cocoa and yellow icings into sturdy baggies with a small hole clipped from one corner; or if preferred, use a disposable plastic piping bag. Then squeeze out small portions of either the yellow or chocolate to form "eyes" in center tops of the cookies as shown at left. Immediately sprinkle a little coarse sugar over the "eyes" to add texture, if desired.
Let the cookies stand at least 2 hours until the icing sets. Then pack, airtight, preferably in one layer or with wax paper between the layers. They will keep for 10 days. Or freeze up to 1 month.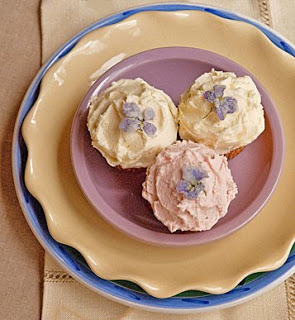 For my food-color-free buttercream frosting recipe,
go here
.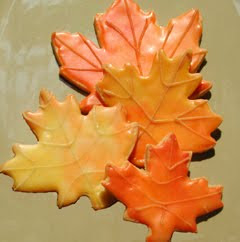 For another seasonal cookie decorating idea; check out my autumn painted leaf cookies here.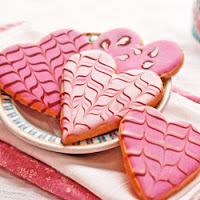 Or my eye-catching, dye-free Valentine's cookies here.