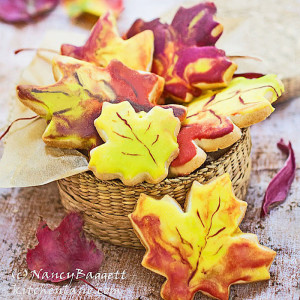 It's great fun making autumn-themed iced leaf sugar cookies for Halloween, Thanksgiving, and other fall events. In fact painted leaf cookies are really edible art.  As you might gather if you look carefully at the pics here, I collect leaf cutters and have several dozens. Besides maple, I especially like oak shapes, but also enjoy the plainer, ovalish birch or beech leaves, too. And, to accompany the leaves, I often ready pumpkin cookies, so have about a dozen of those as well.
If you need to start with tips on rolling and cutting out cookie dough, check out my popular how-to Youtube video here.   And if you need a really good, basic, all-purpose rolled sugar cookie dough that tastes great and is easy to work with, go here.
Of course, once I've got the cookies cut out and baked, I can get to the best part–"painting" them with icing in realistic eye-catching colors. The results really are dramatic as you can see here!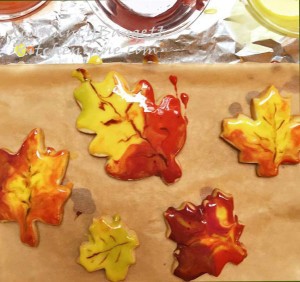 And good news– the technique is easy! For the mottled, natural look presented here, several colors of  the icings were dolloped on each cookie, then just spread out and marbled together with a knife or a paint brush. You can even skip the piping of the leaf veins if you like. In the pics at the top I just added the veining with a toothpick. Notice too, that depending on what colors of icing you mix up and the cutters selected, you can get various unique looks for your cookies.  The icing recipe I used for decorating my painted leaf cookies is here.
Note that all my cookies are created with natural, botanical colors, not synthetic food dyes. I feature some "au naturel" decorating techniques in my latest cookie cookbook Simply Sensational Cookies, which is pictured below. You can get more details or order it for a very good price here. For more pics and posts on naturally beautiful decorating using only botanical colors, go here.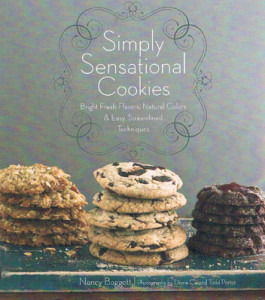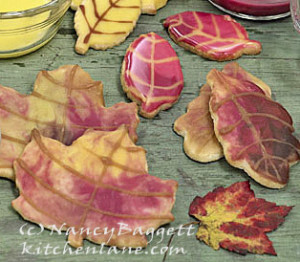 You'll also find some especially pretty pumpkin sugar cookies, plus some packaging ideas here. (For pretty decorating ideas for another season, see my eye-catching iced Valentine's Day cookies here & here .) Or, see my very unusual, au natural "painted daisy" sugar cookies here.  I also have one particular way I think works BEST for rolling out cookie dough; I show it in a short, fun video that has been very popular on Youtube-here. Then I give you some handy tips on cutting out cookies so the shapes are very attractive in a follow-up video here.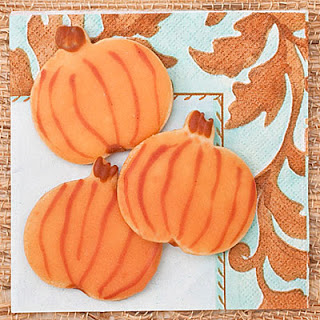 Iced Cut-Out Pumpkin Cookies
A good approach for creating edible art leaf cookies is to make a powdered sugar icing in a whole palette of autumn colors—reds, bronzes, yellows, and several greens, etc. The more shades, the more natural the look will be. I got my inspiration for my painted leaf sugar cookies from the real leaves just drifting in my yard now. The painting part is easy and fun for even kids to do. To see the kids' cookie painting party we had click here.
The cookies make lovely table decorations and super gifts. For giving, pack them individually or in eye-catching color-coordinated groups in clear plastic bags. Some more painted pumpkin cookies including some packaged for giving here. 
Happy Baking!
Should you be interested in other holiday cookies that don't need to be rolled and cut out, check out my iced pumpkin cookies here and my cranberry white chocolate drop cookies here.