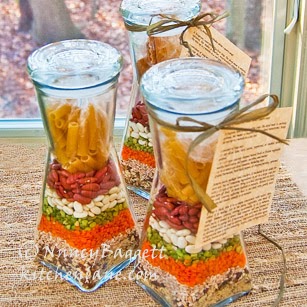 Sunday afternoon was a golden one, with the leaves still falling and the sun bright and warm. I spent a leisurely hour preparing some kitchen gifts for the holidays. It was a good feeling to see my pretty minestrone soup kits sitting there on the porch finished and ready to go.
Perhaps making kitchen gifts is so gratifying to me because I grew up in farming country. Gifts from the home kitchen rather than bought items were the main way families remembered one another during the holidays. Many folks liked to drop by friends' and relatives' homes every year with a treat they'd put up during the summer preserving season. A family friend, Mrs. Miller, always gave us a jar of big, chunky sour pickles, and Aunt Roberta presented us with her famous allspice- and mustard seed-sparked green tomato slices. (Which I still make on the rare occasion I can get enough green tomatoes.)
Other peeps dispensed baked goods: A lady my parents played bridge with gave us a loaf of banana bread, which she invariably presented prettily tied up in a red and green plaid bow. We reciprocated with a jar of raspberry jam, or a tin of rolled sugar cookies, or sometimes my mother's fondant-stuffed dates.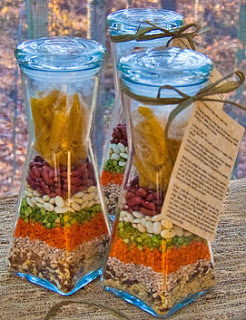 The kitchen gifts habit I learned long ago stuck. No matter how many presents I buy, I don't really feel ready for the holidays till I prepare a variety of kitchen treats to give out. Originally, I made rolled sugar cookies but over the years I've updated my repertoire to include candies (lately, peppermint bark), spiced nuts, chutneys, herb vinegars, this layered soup mix, and my chocolate-chip-cranberry bar cookie mix. (I don't do jam because my sister gives it.)
The soup kit recipe makes a thoughtful and healthful present for any cool weather occasion, especially for those who can't eat or don't care for sweets. (If you scroll down you can see the finished soup.)  I gave a jar to my Thanksgiving hostess several years ago, and have also  made up kits for Christmas gifts. The recipe was featured in the Washington Post food section several years ago and was a big hit! If you pack yours in an attractive jar or canister as I have here, that can be part of the gift, too. (Or if you're on a budget, use recycled large mayo jars or canning jars.)
Minestrone Soup Mix
(Makes 1 jar of mix and yields about 2 quarts soup)
This attractive gift mix enables the recipient to make a very savory and hearty pot of homemade minestrone with minimal effort and supplies. In fact, served along with a bread or salad, it can make a fine, no-fuss supper.
Tip: If you hunt up gluten-free bouillon granules and pasta, the mix can be suitable for those with wheat allergies. You can also sub vegetable bouillon granules for a vegan version of the kit.
Tip: For a lower sodium soup, I suggest using 1 tablespoon plus 1 teaspoon regular bouillon granules and 1 tablespoon very low sodium bouillon granules.
Layer the mix ingredients in a clear glass, acrylic, or plastic jar or canister with a volume of 1-pint (16-ounces) or 1/2-liter or slightly more. If only larger containers are on hand, you can improvise by filling any empty space at the top with a plastic bag full of soup crackers. Or, if the container used is a little too small, attach the package of pasta to the outside of the jar instead of in its top. Don't forget to provide the recipe instructions along with the mix.
2 tablespoons plus 1 teaspoon good-quality beef bouillon granules
3 tablespoons minced dried onions
3 tablespoons coarsely chopped dried (not oil-packed) sun-dried tomatoes or chopped freeze-dried tomatoes or dried sweet pepper pieces or dried chives (or a combination)
1 1/4 teaspoons dried oregano leaves
1 teaspoon dried marjoram leaves or dried thyme leaves
1/2 teaspoon dried minced garlic or garlic powder (not garlic salt)
Scant 1/8 teaspoon hot red pepper flakes or 1/4 teaspoon ground black pepper
1/4 cup uncooked pearled barley
1/4 cup uncooked red or brown lentils
1/4 cup uncooked green or yellow split peas
1/4 cup uncooked kidney beans
1/4 cup uncooked cannelloni beans or great northern white beans
1/2 cup uncooked medium-size macaroni, penne, or corkscrew pasta
To make the mix: Combine the bouillon granules, dried onions, dried tomatoes (or sweet peppers), oregano, marjoram, garlic, and pepper on a sheet of heavy duty foil. Using the foil as a funnel, put the mixture into a clean 1 pint or 1/2 liter jar (or similar-size canister or a heavy zip-lock bag). Rap the jar to even the layer. In layers, add the barley, lentils, split peas, kidney beans, then finally, the white beans to the jar, rapping after each addition to even the layers. Pack the pasta separately in a small sturdy plastic bag and close tightly. Tuck it into the top of the jar (or tie around the outside if the jar is full). If the jar or bag will be shipped, pack any headroom with crumpled wax paper. Close tightly.
Ready and include a card or sheet containing the following recipe instructions: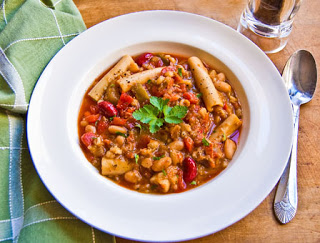 Minestrone (Makes about 2 quarts soup)
A fragrant, nourishing, fuss-free soup. The diced meat is entirely optional, but makes a heartier, meal-in-a-bowl minestrone. Keep the mix up to 3 months in a cool spot.

1 container of Soup mix
1/2 cup diced ham, hard salami, pepperoni, or smoked turkey, optional
1 to 1 1/2 cups coarsely chopped mixed fresh or frozen vegetable medley (such celery, bell pepper, zucchini, and onions)
1 14- to 15 ounce can diced tomatoes, including juice
Grated Parmesan cheese, coarsely ground black pepper, or chopped parsley for garnish, optional
Remove the pasta package (and crackers, if included) and set aside for later use. Put all the remaining ingredients in the jar in a large soup pot with 9 1/2 cups of hot water. Bring to a boil, stirring once or twice, then turn off the heat and let the beans hydrate for 10 minutes. Return to a boil, then cook, covered, adjusting the heat so the pot boils very gently until the beans are just barely tender, usually 50 to 55 minutes.
If the minestrone is thick, thin it to a soupy consistency, then reheat it to boiling. Stir in the pasta, vegetables, and meat (if using). Simmer, covered and stirring occasionally, 10 to 15 minutes longer, until the pasta is cooked al dente. Add tomatoes, salt and pepper to taste; reheat to piping hot. If necessary, thin the minestrone with more hot water to the desired consistency. Pass a bowl of Parmesan for garnishing the soup, if desired. The soup usually thickens upon refrigeration; thin it before reheating. Keeps 3-4 days refrigerated or 2 months frozen in an airtight container.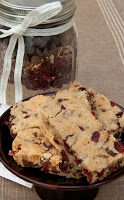 Click here for my cranberry-chocolate bars-in-jars gift mix.
Or how about a nearly foolproof rocky road fudge here?