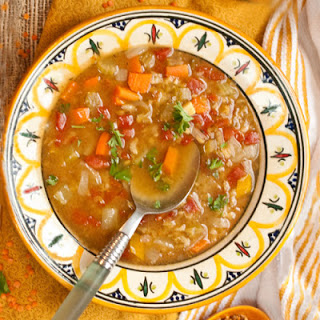 If you, too, made a vow to eat better or lose weight this year, this hearty, wholesome curried lentil soup, from my coauthored book, The 2 Day a Week Diet Cookbook, may be a big help. Aside from being low-cal yet hearty, it definitely achieves some of the goals most of us are setting for ourselves these days—to eat more veggies, whole grains (in this case, brown rice), and fiber, and less meat and fat.
Furthermore, it's delish: I recently took it to a book signing and everyone raved about how good it was.  Every single smidge disappeared. In fact a number of guests were so excited about this curried lentil soup, they decided to buy the book. By the way, The 2 Day a Week Diet Cookbook has won lots of praise for tasty recipes, and has garnered  nearly all five star rave reviews on Amazon.
Whether or not you are following the 2 day a week diet (learn more here), or any weight loss diet, this soup is really handy. With a pot of it stashed in the fridge you can conveniently pull it out and heat up a fuss-free, calorie-wise, meal-in-a-bowl. And it guarantees that some of the nutritious veggies, fiber, and whole grains are routinely in your menu.


Despite the fact that it's low in fat, the wholesome curried lentil soup has an enticing full-bodied vegetable and curry flavor.  Nobody ever misses meat at all.  And the soup is gluten-free and is also vegan if you use vegetable broth rather than chicken broth.
In case you aren't familiar with the 2 Day a Week Diet (aka the 5-2 diet or Fast Diet), it's becoming the rage because scientific studies have shown that more people lose weight on it than they do on the traditional 24-7 diets. In creating the recipes for The 2 Day a Week Diet Cookbook, my co-author and I, and our husbands, all lost weight.  (The book has 75 carefully-crafted recipes and 50 photos.)
Also, we all agree that since we diet only 2 days a week, it is the easiest  weight loss plan we've ever followed.  It involves our eating 500 calories a day (the guys get 600) on 2 diet days, then just normally the other days of the week. Since this soup is only 160 calories for a very generous 1 2/3 cup serving, it fits very nicely into our 2 Day a Week Diet budget.
Hearty Curried Lentil, Brown Rice-Vegetable Soup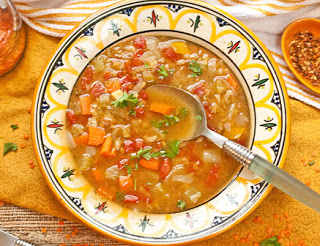 This soup recipe not only satisfies key nutritional goals, but it goes together quickly, cooks in about 30 minutes, and is extremely economical. Plus, it smells wonderful as it cooks, keeps well, and, if you use vegetable broth, is fine for serving vegetarians. It's just one of 15 varied, tasty, calorie-wise soups in The 2 Day a Week Diet Cookbook, including Home-style Chicken-Rice Soup and Clam chowder.
Makes 4 160-calorie servings, about 1 2/3 cups each.
A generous bowl of this soup makes a great lunch served as is, but it can also be rounded out with some crackers and cheese. Garnishing the bowls with a dollop of plain yogurt is another easy way to boost the protein in the meal.
To streamline prepping tasks as much as possible, cut the vegetables into 1 1/2-inch chunks, then pulse until them in a processor until roughly chopped. Though the recipe calls 1/2 cup each of the onion, celery and carrot, feel free to use more or less depending on what you have on hand. Sweet peppers have a lot of vitamin C and add pleasing flavor, but they can be left out, if desired. If you don't have red lentils, the more commonplace brown or greens ones can be substituted; they'll just take 10 to 15 minutes longer to cook through.
If possible use reduced-sodium broth in the recipe; since many curry powders contain salt, the soup can actually come out too salty if regular broth is used. In a pinch, substitute broth made by reconstituting bouillon powder or cubes. I find that using half low-sodium and half regular bouillon powder produces a broth with about the right degree of saltiness.
Tip: For a healthful muffin to go with this soup, check out my Applesauce Muffins here.
1 1/2 teaspoon olive oil
3/4 cup each coarsely chopped onion and celery
1/2 cup each chopped sweet red or green pepper and carrots
6 cups fat-free reduced-sodium chicken broth or vegetable broth
1/4 cup each uncooked red lentils and uncooked long-grain brown rice
2 to 3 teaspoons mild to medium hot curry powder (your preference)
1 teaspoon dried thyme leaves
3/4 teaspoon ground cardamom or 1 teaspoon ground allspice
1/8 to 1/4 teaspoon ground hot red pepper flakes, optional
1 14.5-ounce can diced or chopped tomatoes, including juice
2 tablespoons chopped cilantro or parsley for garnish, optional
Combine the oil, onion, celery, sweet pepper if using in a 4-quart pot. Cook over medium heat, stirring, until they are soft and beginning to brown, about 5 minutes.
Add the broth, lentils, rice, and the herbs and spices to the pot. Bring to a boil over medium heat, stirring well. Adjust the heat so the mixture boils gently; cover and cook, stirring occasionally, until the lentils and rice are almost tender, about 20 to 25 minutes; take a taste to check.
Stir in the tomatoes and their juice, and, if the soup is thick, enough hot water to thin it to a soup consistency. Bring back to a boil; taste and add salt if necessary. Serve in soup plates, garnished with fresh cilantro, if desired.
Keeps, covered and refrigerated for up to 4 days. May be frozen for up to 2 weeks.
For another sample recipes from The 2 Day a Week Diet Cookbook, try the recipe shown at right,  Mexican-Style Vegetable Soup here. (It has only 110 calories per 2 cup serving!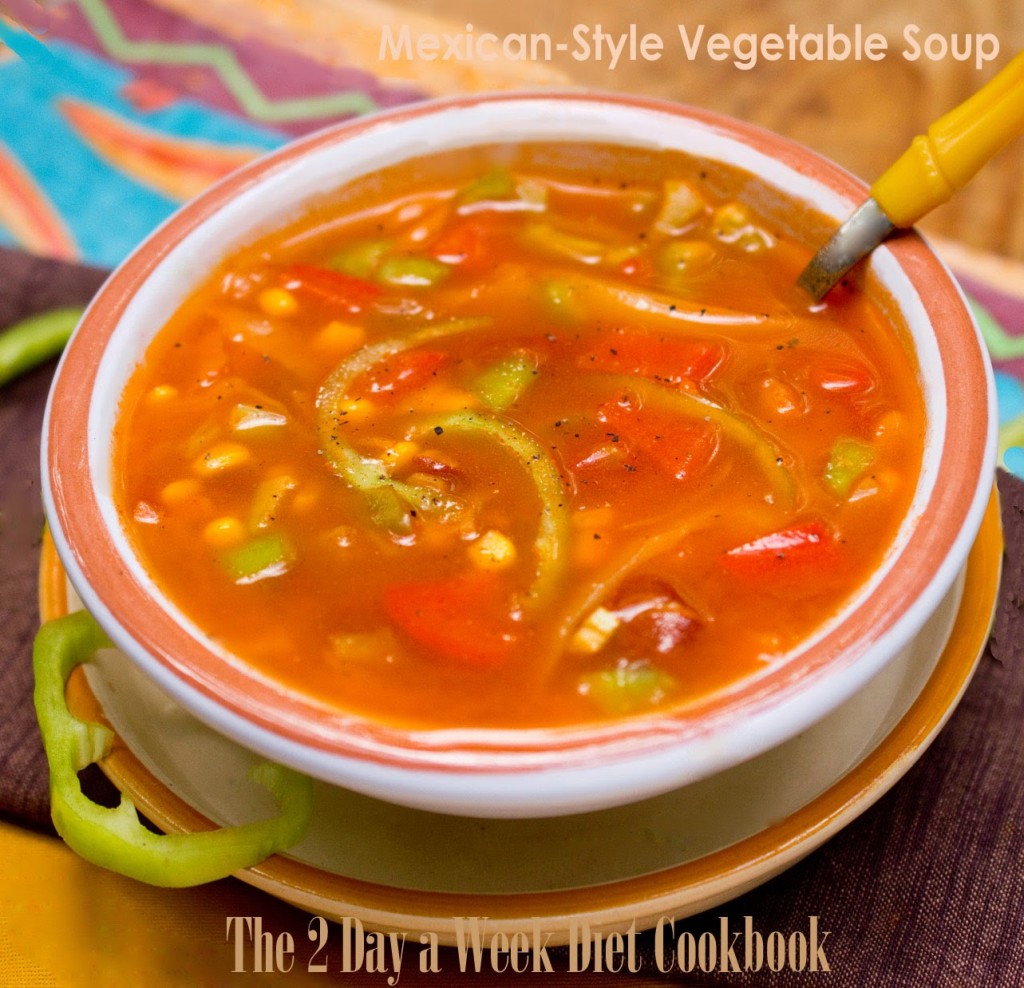 Try my savory autumn bisque here. Another tempting soup, the minestrone pictured below is here.