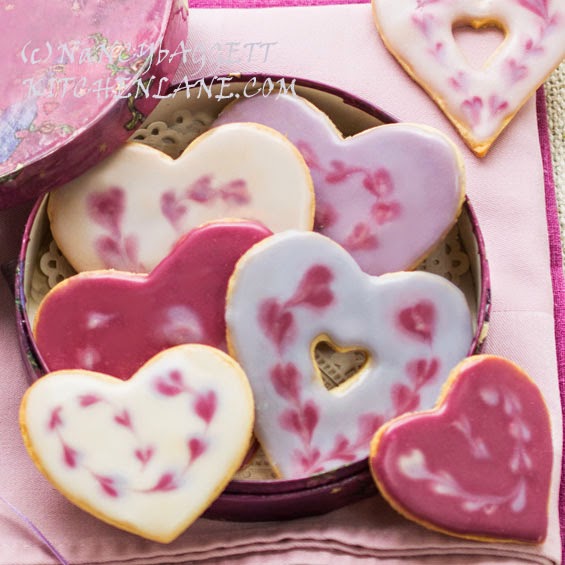 Over the past decade I've been exploring how to minimize the use of synthetic food dyes in my pastry decorating. In fact, all the icings pictured here were tinted with botanical dyes.
If you are inspired and want to buy natural colors immediately, Whole Foods now carries the Color Garden brand; the colors are attractive and work well in the icing recipe provided below. The only problem is that the colors tend to fade and blur over time, so the cookies need to be eaten in a day or two or stashed in the freezer until needed. The Color Garden brand was used on the cookies at right above and at the very bottom. (BTW, I have a really good/easy way
to roll out my cookie doughs; see it in the short, fun video here.)
The rest of the cookies shown below are decorated using natural dyes from the Chocolate Craft Colors "Natural Colors" line, available from a few retailers and on the Internet here. As you can see, all the cookies are pretty, but the shades are a little different from the colors produced by the petrochemical-based brands. I actually like their look better, especially on Valentine's Day cookies, because they are softer and seem more romantic.
I first got interested in "au natural" decorating when I developed an allergy to the usual red dyes in lipsticks. My lips burned, then peeled every time I applied lipstick; eventually I couldn't use the standard cosmetic counter brands at all.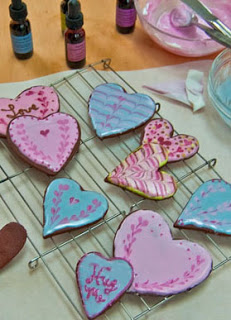 After researching lipstick dyes and various related allergies, I eventually decided to limit not just red synthetic colorants, but all the government approved FD & C (Food, Drug & Cosmetic Act) food dyes, including the familiar little 4-bottle food color sets stocked in grocery stores for home bakers.
Typically, these sets include mixtures containing FD&C red 40, red 3, yellow 5 (aka tartrazine), and blue 1: All of these are synthetic petrochemical colorants , and all have shown at least some evidence of being irritants or allergens in certain people. Red 40 and the particularly troubling tartrazine (both in a chemical class called azo dyes) are often considered the most suspect and have been banned from use in foods in some countries.
Another disturbing ingredient in the "regular" food dyes is propylene glycol. The unfamiliar name on the label may not ring any alarm bells because people often don't know what this chemical is—it's the main ingredient in some kinds of antifreeze! (Propylene glycol is used to keep the liquid dyes flowing smoothly.) I decided the various additives just weren't worth the risks and vowed to find some naturally beautiful alternatives.
Initially, I began substituting the colors readily available in the form of fruit juices from the supermarkets. In many cases, these produce not only a beautiful look, but they contribute appealing flavor to frostings and icings. Cranberry juice and orange juice have been particularly handy; check out my
buttercream frosting recipe here
and my
"painted daisies" sugar cookies here.
Lately, I've been trying out various "au naturel" botanically-based commercial food color products. Although different companies have their own unique formulas, they all rely on plant pigments—such as red from beets, purple and blue from red cabbage, orange from annatto, yellow from turmeric, and, in one instance, an intense, unusual bright blue from hydrangea blooms.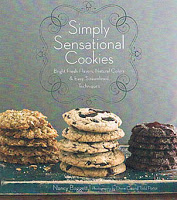 As you can see from the Valentine's cookies, the results from these dyes can be very pretty, and they will likely satisfy all but the most finicky home pastry decorator. Note that while the Valentine's cookies here feature pastels, you can also purchase holiday red and green and even botanically based sprinkles from Chocolate Craft Colors as are shown in the photo below and in
more photos in the post here
.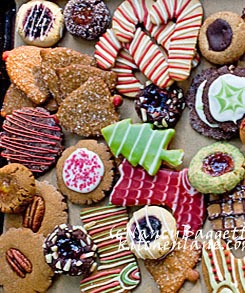 If you're interested in how to create designs featuring little hearts like those shown in the romantic shot above, the step-by-step pics and directions are here.) Incidentally, my Simply Sensational Cookies book–which makes a fine holiday gift– features all kinds of "au naturel" decorating ideas. Watch a quick fun demo video, or see my Pinterest board featuring pictures from it here.
The botanically-based liquid colors are a little different from their synthetic counterparts in a number of ways. Here are some basics you need to know about natural plant dyes:
>They are usually not as shelf stable as the synthetic food colorants and will fade over time; most manufacturers recommend that they be kept refrigerated. Also, tint your icings, buttercreams , and such a little brighter than the final shade you want, because they lose a little intensity as the finished baked goods stand. Finally, when the natural colors are swirled together as on the heart cookies, they tend to bleed together during standing. To keep them looking picture perfect freeze them and bring them back to room temperature right before you plan to serve them.
>They are sensitive to heat so are best for tinting fillings, frostings and other enhancements normally applied after baking or to raw doughs that are baked briefly and/or at low temperature.
>Au naturel dyes don't come in every conceivable color. Ones that precisely duplicate Christmas green and red are hard to find, but IMHO these are overused and a bit garish anyway. The typical botanically-based greens and reds are plenty festive and have a fresher, more natural look.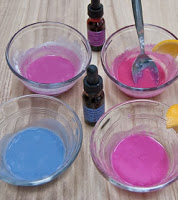 > Some botanical food dyes change color in the presence of acid. Blue shades, for example, often turn reddish. One easy solution is to avoid adding lemon juice and other high acidic ingredients to fillings and frostings when using botanical dyes.
Another is simply see what happens when you add lemon juice to a small amount of tinted frosting —sometimes the shade is beautiful, not to mention totally unique. For example, the blue icing shown at far left in the pic turns pink (shown right), while the purple (back left) turns a slightly brighter, pink-orange shade (back right).
Yes, these issues mean that switching to botanical dyes isn't always just a matter of swapping out the typical supermarket colors. Which is partly why even though the au naturel alternatives on the market are plenty attractive and are much safer, the food industry doesn't want to bother with them. But I'm told by folks in the natural foods business that many large mainstream companies have plans in place to switch to the botanical colorants when the public or the government demands that we stop eating the iffy petrochemical additives.
The Color Garden dyes comes in little plastic packets in
boxes as shown here
: The multi-pack box contains 1 each of red, blue, yellow and orange; the other boxes contain four packets of the same shade. The Natural Colors 6-bottle set from
Chocolate Craft Colors
comes in ½-ounce bottles with a nifty dropper-style tip. The colors include berry red, yellow, orange, green, blue and purple.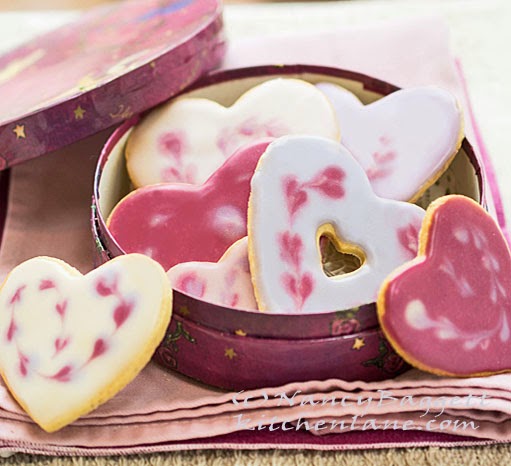 I'm thrilled to have shifted to "naturally beautiful" decorating. It means I can enjoy cookie baking and decorating with my grandchildren and serve up eye-catching baked goods to my family without wondering about potential risks.
Powdered Sugar Icing for Botanical Dyes
If you are using botanical dyes make piped or "marbled" cookies, you need to use an icing that includes dried egg white powder or meringue powder, like the recipe here. It will help set these more fragile colors and keep them from fading, blurring together, and becoming splotchy during storage. Egg white powder is
sometimes stocked in the baking section of supermarkets; meringue powder is often found with Wilton
baking/cake decorating supplies in discount department and craft stores.


Don't omit the corn syrup from the recipe, as it increases spreadability and
enables the icing to flow more smoothly and evenly. If you
prefer to avoid high-fructose corn syrup, use the Karo brand, which is
free of high-fructose corn syrup.

Tip: Be sure never to replace the
water called for with lemon or orange juice or any other other acidic
ingredients. Even small amounts will react with the pigments in the
natural dyes and cause their colors to change or fade in unpredictable
ways.
1 1-pound box
or 3 cups powdered sugar, if lumpy sift after measuring
1 1/2 tablespoons commercial dried egg white power or meringue
powder
1 teaspoon light corn syrup
1 teaspoon vanilla extract, or 1/2 teaspoon almond extract or lemon extract
4 to 6 tablespoons water, as needed
Drops of botanical food colors, as desired
In a large bowl thoroughly mix together the powdered sugar
and egg white powder or meringue powder. Add the
corn syrup, vanilla (or other extract), and 4 1/2 tablespoons water. Stir
them in, gradually adding
more water as necessary for the desired consistency. For piping, the
consistency should be stiff enough that the icing holds its shape but
can be piped through pastry tips. For spreading, the icing should have a
fluid but not runny consistency. Divide
the icing among up to 5 or 6 smaller bowls for cookie icings and stir
in food colors as desired. Keep covered with plastic wrap when not being
used so they don't dry out.
Use immediately or store them in the refrigerator for up to 4 or 5 days. Stir well and bring to room temperature before using.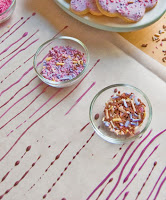 If you're interested in making your own homemade sprinkles with botanical (or regular) food colors, go here. For recipes using green tea and fruit juices to tint icings, as shown left, go here.