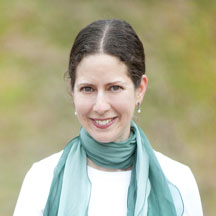 Recently I began writing a series of blogger profiles to spotlight food bloggers whose work I greatly admire. Like you, I'm always interested to get to know the people behind each blog a little better. Plus, I'm eager to hear their tips for standing out and succeeding in what is an ever more crowded food blogging world.
This month I'm excited to introduce you to
Cheryl Sternman Rule
of the very popular blog,"
5 Second Rule
." I'd already planned to interview her
before
her blog was awarded the "Best Food Blog of 2012," by the International Association of Culinary Professionals, and fortunately, she wasn't too busy to find time to share some information about herself and her work with me. She is a graduate of the Cambridge School of Culinary Arts, has worked in a commercial bakery, and served as both a professional recipe tester and developer. Cheryl also holds a Bachelor of Arts degree from Haverford College and a Master's degree in education from Harvard University.
She describes her career as "a happy mess, a colossal grab bag of experiences whose contents, while colorful and lively, were disconnected from one another in every conceivable way." Prior to entering the culinary field, she was a researcher at Harvard, where she co-authored a three-part book series on higher education. She also spent two years working for the U.S. Department of Justice in Washington, DC and two years as a Peace Corps Volunteer in Eritrea, East Africa.
Besides hosting her award-winning blog, Cheryl has written about food for Cooking Light, Sunset, Body + Soul, Health, Vegetarian Times, Edible San Francisco, Culinate.com, The Kitchn, Nourish Network, and Serious Eats; and in several books published by the American Heart Association and the EatingWell Media Group. Cheryl also served as a contributing editor at Eating Well Magazine and a daily food news blogger at iVillage.
Like many successful bloggers, Cheryl is aware of some of the reasons people enjoy her blog–for example, that she covers a wide range of interesting topics. And often that she starts from an unexpected, even quirky perspective. One such post in this vein that she mentioned is called "
I Want My Children to Eat Za'atar
," A more recent zany post that I really enjoyed was called, "
To Each Her Role
." It begins as follows:
"Does a beet ever wish it were a pea?
Does it wake up, stuck in the hard ground, and long for the kiss of the midday sun? Does it curse the grapes on the vine, the pumpkins in the patch, the plums on the tree and wonder if it deserves more? Different? Better?
Perhaps. Or perhaps it's just grateful for the dank earth, for the calm, unbroken solitude."
Not only did this story surprise me–I'd never, ever contemplated veggie inter-species rivalry–but it made me silently giggle at the thought. Is the sweet potato orange with envy that the plain old Idaho is everybody's fave? Does the asparagus spear look down on the green bean? I don't know, but it strikes me as a funny notion.
As for the humor element, Cheryl says she doesn't care to dwell on this aspect of her writing: "I always think it's weird when someone
whom others find funny explains how they try to be funny. It seems arrogant and
presumptuous for me to address it myself (because there are probably many people
who DON'T find me funny!)." One thing I've noticed is that Cheryl often uses personification and to great effect.
Here's what she has to say on other aspects of her blogging:
Why did you start your blog? Has the experience been what you expected?
I started 5 Second Rule in 2008. At the time, I remember thinking I was way too late to the game to ever gain any meaningful traction. Over time, though, I started to focus less and less on where my blog was positioned and more and more on making it a meaningful place for people to spend a few minutes of their time. The experience is much more than I ever anticipated. The blog has become my most joyful and reflective space in which to create.
What you think is most special/unique about your blog?
I think the mix of content, and the lack of predictability from post to post, are pretty unique. I completely reject the common advice to focus on a particular niche and, instead, I go wherever the wind blows me. I think my readers like not knowing what they'll find when the page loads in.
What would those who follow your blog be most surprised to learn about it or you?
I always turn the wrong way off elevators but I pick up new languages very easily. Also, I got carded when trying to get into an R-rated movie when I was 27.
What are the greatest satisfactions you get from hosting your blog? Being playful and contemplative, and having it count as work.
Do you have any secrets to success or advice you could share with other food bloggers?
Don't listen to too much advice from people like me. It's not that we can't learn from one other — we can, of course, and I love both learning from more experienced bloggers and teaching those newer to the fold. But I do think we can be fooled into thinking there's a secret handshake; there's not.
Writing is a craft, and an art, and a discipline, and I believe blogging can be those things as well. How you choose to exercise your craft, express your art, or practice your discipline are within your control. That's the beauty of it. Drink in what others say, reflect on it, process it, but always, always forge your own path in the end.
Do you have a clear-cut plan for topics and work on them ahead or is the process more spontaneous and organic?
I generally cook what I want, when I want, and I photograph it only if it's especially pretty. I never have any clue about whether or how it will turn into a blog post. It's only after I stare at a picture for a few hours or a few days that I figure out whether I have anything meaningful to say about it. Some times I do, and then it's a post. Often I don't, and then it's not. I don't post just to post.
How does your background or experience influence your blog?
My background is eclectic, and 5 Second Rule is eclectic, too. We are one, and sometimes we make out.
For my interview with Jamie Schler of "Life's a Feast," go here.
For my interview with Dianne Jacob of "Will Write for Food," go here.