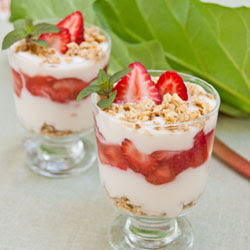 There's high excitement on my personal gardening front: I just harvested this season's first rhubarb from my yard! Now those five stalks might not impress most folks, but I've been waiting for my two plants to mature for several years, so am very ready to reap what was sown. (Since we live in a suburban community, we aren't supposed to have a real vegetable garden, so I just tucked my rhubarb plants in among some big-leafed hostas!)
Well, to be completely accurate I'm reaping what was rooted, since my rhubarb plants started from gnarly clumps called crowns, not seeds. Unless you have extraordinary patience and a penchant for garden puttering, crowns are a better choice. Even so, expect about a three year wait (yikes!) before your crop amounts to more than a few stalks! (Tip: They will grow a little faster if fertilized now and then.)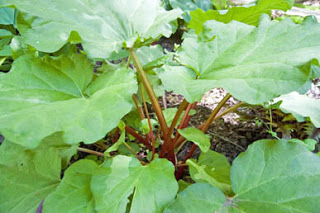 Most sources say the rhubarb stalks should be at least 1/2 inch diameter and 10 inches long before they are pulled. (Those at left are not quite big enough; those below right are about 1/2-inch.) Yes, that's right–you're supposed to pull the stalks away from the crown, not cut them. (Look closely at the ends of the two stalks shown below.)
And, even after the plants mature, the basic rule is that to avoid over-stressing the plants, be sure not harvest more than one-third of the stalks from any one crown. This can cause them to die back and not produce again till the coming year.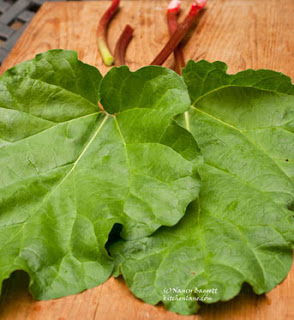 I rushed out and turned my first bounty into the simple, but so-pretty and delectable yogurt parfaits. I ate one for lunch after taking some pics, but in fact they are designed to serve for a festive breakfast or brunch. I promise they'll be a hit! (The rhubarb-strawberry duo is always spectacular; try it in this irresistible freezer jam as well.)



Vanilla Yogurt Parfaits with Rhubarb-Strawberry Compote
If you haven't ever seen rhubarb stalks with their leaves still attached, there's a reason. They contain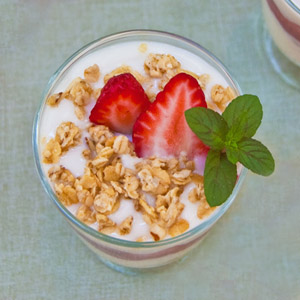 oxalic acid, which in large quantities will make you sick. So, the first step, which greengrocers normally perform for you, is to trim off the leafy parts and throw them away. That is unless they'll be featured in a photograph!
3 to 4 tablespoons granulated sugar
1 teaspoon
cornstarch
1 1/2 cups
1/2 inch pieces rhubarb
1 tablespoon
water
1 1/2 cups
coarsely sliced strawberries
2 to 3 cups
vanilla-flavored sweetened yogurt
1 to 2 cups
honey or almond granola
3 to 4 sprigs
fresh mint, for optional garnish
3 to 4 small whole sliced
strawberries, for optional garnish
Thoroughly stir together the sugar and cornstarch in a medium non-reactive saucepan. Stir in the rhubarb and water and bring the mixture to a boil, stirring, over medium heat. Cook, stirring, until the mixture thickens and turns clear and the rhubarb is barely tender when tested with a fork, about 3 to 4 minutes. Stir in the strawberries and cook, stirring, until they are evenly incorporated and just start to soften, about 1 1/2 minutes longer. Set aside until cool, or cover and refrigerate up to 24 hours, until needed.

Using parfait glasses or other clear dishes or individual bowls, neatly layer the ingredients as shown or as desired. Top with strawberry slices and mint, if desired. May be made an hour or two ahead, then refrigerated, if desired. (Don't store much longer, as the layers will begin to bleed together.)