For me, the simple words "spring garden" bring to mind many impatiently
awaited pleasures: Perennials like primroses, jonquils, hostas and ferns suddenly
springing to life and unfurling from a stark, seemingly barren
landscape. Bright sun, a warm breeze, and scents of earth, mulch, and
tender herbs beckoning whenever I step outdoors. The soothing rustling
sound of newly-leafed maples and oaks and twittering of
returning bluebirds reminding me that another cycle of growing and
renewal has begun.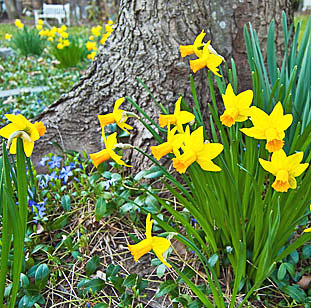 There is a predictable, yet still exciting order of appearance of the
flowering plants that pop up. First crocuses, daffodils, and violets,
then primroses, trilliums, azaleas, and wood hyacinths appear. Soon, we'll be on to the bigger, bolder bloomers, like peonies, irises and finally, my beautiful blue hydrangea.
The quiet
seasonal drama that unfolds here always makes me feel refreshed and
invigorated, expecially after too many hours at a computer screen or stove. My neighbor's white bench, shown in the very back of the pic at left is a fine spot to sit, soak up the beauty and breathe in the fresh air.