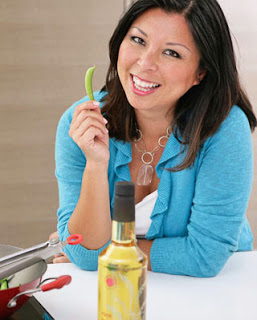 As part of my ongoing series of posts called "Secrets to Successful Food Blogging," I'm thrilled to spotlight one of my favorite bloggers–Jaden Hair. Unless you live in an extremely remote corner of the food blogosphere, you are almost certainly already familiar with this exuberant and pretty young dynamo and her mega-blog, Steamy Kitchen.
In case you haven't met her in person, Jaden has a cheery disposition, enthusiastic, can-do attitude, and, apparently, boundless energy. Enough energy to not only host and maintain her enormously popular, award-winning Steamy Kitchen blog, but to write several food columns, make regular chef appearances on television and radio shows, frequently speak at conferences, and maintain a major presence in social media. She has, for example, about 120,000 Twitter followers!
Oh, yes, and she is raising a young family (pictured at the bottom) and has authored The Steamy Kitchen Cookbook. Not only did she create the recipes, but learned food photography so she could take the pictures for it. (Naturally, she has other book projects in mind.)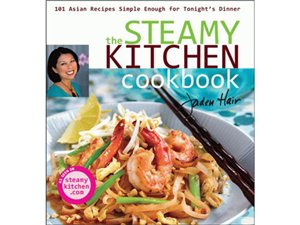 Jaden and I met several years ago during a flight to a blogging conference in San Francisco. I'm happy to confide that she is every bit as friendly in person as the photo above suggests. I noticed her blogging in the seat next to me, realized that we were already Twitter friends, and struck up a conversation. We have kept in touch and talked shop at conferences ever since.
Here's what Jaden had to say when I asked her to account for the enormous popularity of Steamy Kitchen: "Every time I create a recipe and post, I'm always asking myself, 'Is this the very best recipe about Pork Belly Buns (or whatever the recipe is) online?'
I think that single question is what makes Steamy Kitchen so popular. I always strive to publish the very best post, whether it's through humor, photography, step by step photos or easiest recipe. My audience obviously loves my Asian recipes, but the majority of them also enjoy simple methods and good solid shortcuts. The Pork Belly Buns (pictured below) are especially great because I provide a real shortcut for the buns – a tip from my Mom!"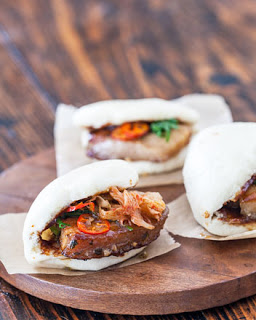 Q: Why did you start your blog? Has the experience been what you expected?
A: I started the blog just to document the recipes that my Mom would dictate to me over the phone. She lived in California and I had just moved to Florida, so our communication was always over the phone, talking about recipes.
(Here was one of my very first posts: it was about chinese-long-beans.)
When I first signed up for WordPress, never in my wildest dreams did I think Steamy Kitchen would become our family business. However, about 3 months into the blog, I realized that this was my calling. I enjoyed blogging, creating recipes, talking about food and being part of this amazing online community so much that I decided to find a way to make blogging a full time "job."
Q: What are the most helpful discoveries you made as you gained experience that improved your blog or changed your approach?
A: The first discovery that I made was community is everything. I try to attend every single food blogging event and be an active member in nurturing our community. You'll always see me introducing new bloggers to each other, giving advice in every way possible and creating local gatherings. Community also extends online – Twitter, Facebook, Instagram, Pinterest – there are so many ways to participate!
Probably the most important discovery was that authentic generosity is the heart and soul of blogging. Giving to give (not to get) and loving the process of giving is everything. This applies to friendship, community, the recipes I create, the information I provide for each recipe or post, communication with readers and mentoring bloggers.

Q: Do you have any secrets to success or advice you could share with other food bloggers?
A: I think what I said above–generosity of spirit,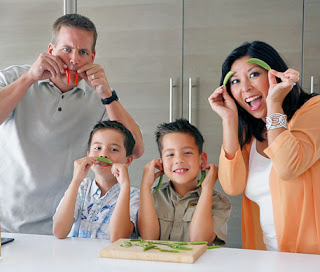 along with always creating the very best that I can– has everything to do with the success of the blog.
Steamy Kitchen is truly a family business. My husband is the web developer (or what he describes as the ".com" of the business) and my boys have equal say in what we do, posts that we write. They even help me quite a bit in the kitchen. We've made this an entire family affair and I'd love to see more bloggers do the same.


Q: Any interesting insights to share about how you write, come up with recipes, test, photograph, etc.?
A: My
boys sometimes have a hankering for a certain dish and so I'll create a
recipe and post around that. I'm very spontaneous and organic. I'll
cook throughout the week and on Mondays, I have a chef assistant that
comes to my home We spend all day re-cooking the top dishes of the week
before and we'll test and refine the recipes. ###
You might also like to read my interviews with Life's a Feast's Jamie Schler, or 5-Second Rule's Cheryl Sternman Rule, or perhaps Will Write for Food's Dianne Jacobs. Each one has her own fascinating insights to share on how to create a successful food blog.