Bananas and bran are a great combination taste- and health-wise, but I've been wondering how bananas feel about being linked with such a lowly, orthopedic-shoe sort of product. Though these tropical fruits have been popular in America since they were first introduced in the mid-19th century (by 1890, 13 million bunches were being imported annually), they have always, like Rodney Dangerfield, yearned for more respect. And being associated with bran certainly won't help their cause.
Of course, a more intrinsic problem is the banana's slightly silly, sing-song name: Ba-Na-Na just sounds like something meant for chimps, or for mashing up and feeding to babies, or for using in a denigrating expression such as "going bananas." While it seems grossly unfair, merely due to more impressive-sounding monikers, passion fruits and nectarines would never be treated this way.
The banana's shape is another fundamental barrier to being taken seriously. Yes, a bunch is called a hand, and the individual fruits do look vaguely like large fingers. But, unfortunately, they also bear enough resemblance to an unmentionable human body part to regularly elicit snickers and smirks.
As a consequence, ever since their arrival in America, bananas have been a target of assorted lame, lowbrow jokes and gags. Like the trip, slap, and double take, a slip on a banana peel was a favorite Vaudeville shtick; you can see a fairly typical example from a Laurel and Hardy film here. (Note that bananas themselves are not the only ones failing to see humor in the peel pratfall: Several turn-of-the-century publications, including Harper's Weekly, warned readers that discarding banana peels on public walkways could lead to broken limbs.)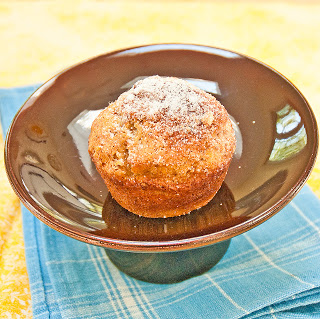 Another of the many American comics who have had fun at the banana's expense was Harry Steppe, whose trademark slapstick routine featured three comics flummoxed over how to share two bananas. A well-circulated publicity photo shows him with a banana in one hand and two sticking out of his shirt pocket. I'm sure huffy bananas everywhere are asking what's funny about that!
These often dissed fruits have had a few moments in the sun though. Of the hundreds and hundreds of various sundaes created during America's soda fountain era, the banana split is the only one besides the hot fudge sundae that has endured. Created by a Latrobe, Pennsylvania, soda fountain clerk in 1904, the banana split is still in demand in ice cream parlors today. (Perhaps to spare feelings I shouldn't mention this, but I've always thought that the split banana doesn't actually contribute much besides visual interest.)
But the banana's proudest achievement has got to be being gussied up in Bananas Foster, a fancy-smancy dessert created in 1951 at the famous Brennan's Restaurant in New Orleans. (The now-signature dish was named for Richard Foster, a friend and frequent customer of the owner.) Bananas Foster is now internationally acclaimed, and the restaurant flambés thirty-five thousand pounds of the fruit annually to meet customer demand. Detractors take note—that's a whole lot of both bananas and pizazz!
Best Banana-Bran Muffins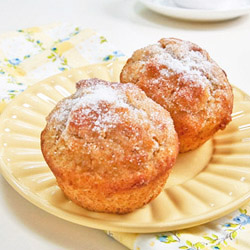 Yes, pairing bananas with our old roughage friend, bran, seems far more prosaic than igniting them with rum. But this comfy, home-style combo is so appealing, and so healthful, and such a superb way to salvage overripe bananas, that I like it just as much as Bananas Foster (well almost). Due to the bananas, the muffins are moist, aromatic and just sweet enough to please even a picky child or snooty adult. Containing fruit, protein, fiber, and carbs, they are a fine solution for those too rushed to sit down for a full breakfast.
Dare I say it? These are guaranteed to make you go—well, you know!
1 cup all-purpose white flour
3/4 cup whole wheat flour
2/3 cup granulated sugar, plus 1 1/2 tablespoons for garnish
2 1/2 teaspoons baking powder
1 teaspoon salt
1 cup 100 percent bran flakes cereal
1 1/4 cups mashed over-ripe banana (2- 3 large)
1/3 cup plain nonfat or low-fat yogurt
1/3 cup corn oil, canola oil or other flavorless, low-saturated fat vegetable oil
2 large eggs, or 6 tablespoons liquid egg substitute (such as egg beaters)
2 teaspoons vanilla extract
Preheat oven to 425 degrees F. Grease 12 standard-sized muffin tin cups or coat with non-stick spray. (Or, use paper muffin cup liners, if desired.)
Thoroughly stir together the flours, 2/3 cup sugar, baking powder, and salt, and bran flakes in a food processor. Process until the bran flakes are in very fine bits, then turn out the dry ingredients into a deep medium bowl.
Combine the banana, yogurt, oil, eggs, and vanilla in the processor and process until completely smooth. Stir the banana mixture to flour mixture, mixing gently just until dry ingredients are evenly moistened and incorporated; don't over-mix or the batter may toughen.
Using a 1/4-cup measure or large spoon, immediately divide the batter among 12 muffin cups; the cups should be fairly full. Sprinkle the muffin tops with the reserved 1 1/2 tablespoons sugar, dividing it equally among them.
Bake in the middle third of the oven for 15 to 18 minutes or until the muffins are tinged with brown on top and springy to the touch; a toothpick inserted into the thickest part should come out clean. Cool on wire rack 3 or 4 minutes; if no paper liners were used, gently run a knife around cups and remove muffins from their cups. Let stand until cooled. They are best when fresh, but can be kept airtight for several days. They may also be frozen, airtight, for up to several weeks and thawed as needed. Makes 12 standard-sized muffins.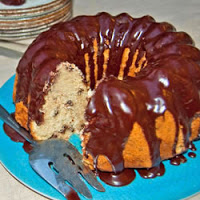 Got bananas but hungry for a more decadent treat–how about banana bundt cake?
Or perhaps you're interested in a banana split?