If you're like me, one of your favorite pastimes is to peek into the kitchens of serious cooks. So you can image how excited I was to get a look this week at Julia Child's kitchen in part of the newly revamped Smithsonian exhibit. (Stories on my visits to the Food and Wine and Saveur test kitchens are here and here.)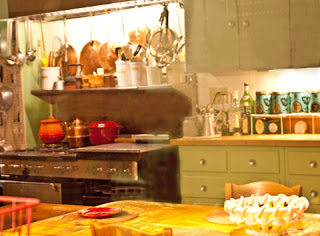 I was at the Smithsonian Institution with a group of food journalists, and we were fortunate to have plenty of time to take photographs and ask the curators questions. They mentioned that as soon as they heard the news that Julia was retiring and leaving Cambridge, they immediately called her to see if they could move her kitchen to the National Museum of American History. "She really thought we were a bit crazy," curator Rayna Green recalls, but after we went to visit and explained it all, she was on board."
One
fact that probably won't be surprising if you really examine the pics here;
her kitchen (which was reassembled to look just as it did in her home in
Cambridge) is crammed with about 900 items! I was actually
surprised the number wasn't higher, but then remembered that the refrigerator and cupboards in the Smithsonian replica are, of course, bare!
One change in the revamped exhibit is that the windows in the shot at right are new. These were added to allow visitors to see into the kitchen from all sides. If you look through the window to the wall outside the kitchen, you can see a large photo of Julia by her stove. It's a great pic of her, so I've provided a larger version of it below.
The only current drawback to photographing the kitchen interior from the outside is that all the windows are covered with very reflective, flexible plastic, and the light inside is uneven in spots. These produced the glare, bright color, and slight distortions in the images posted here.
I was personally thrilled to notice that in the pic at left, Julia's counter contains a cobalt blue KitchenAid mixer. My countertop contains a similar model in exactly the same color and of similar vintage. (Now pausing for a moment to savor the swell of pride and feeling of kinship with her!) I actually knew her; for my memories go here.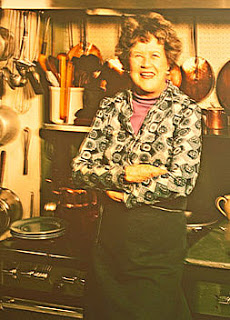 If you are a Julia fan, or even just a connoisseur of real cooks' kitchens, I think you'll love visiting this permanent exhibit. When it was first installed Julia taped a comment noting that she would be happy if her work or kitchen encouraged anyone to make a career in the culinary field. You can hear her speak in that inimitable, lilting voice here. Note that the kitchen is not currently available due to work on the rest of the new exhibit. Called "Food: Transforming the American Table-1950 to 2000," the exhibit will reopen on Nov. 20, 2012.
If you're curious about my kitchen, you can see it here. (No, it doesn't look a bit like Julia's!) I'm decorating cookies from my new Simply Sensational Cookies book in the shot shown at left. (Those colors are all-natural–from fruit and berries, btw.)