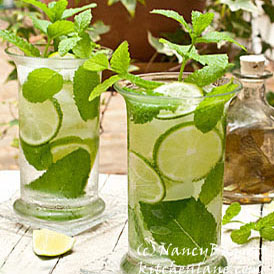 Let's talk mojitos. Better yet, let's make mojitos!
Memorial Day, a major American kickoff to summer, is coming up and there is no better thirst quencher around than this zesty, breezy Latin-style cocktail. I've heard the name may come from the Spanish verb mojar, meaning to celebrate by drinking. Another possible origin–from the noun, mojo, meaning the art of casting spells. (The amazing lime and mint scents wafting up during the photo shoot were certainly casting a spell over me!) Either explanation sounds plausible (and tempting), so take your pick.
Featuring fresh lime, a zippy, vibrant mint, smooth, crisp white rum, and a splash of sparkling water, mojitos cool you down in a way that sweeter, more concentrated cocktails never do.   If you wish to cut back on the rum for a less potent potable, that's fine. You can even leave out the rum completely and create perfectly gorgeous and glorious virgin mojitos for the teetotalers or kids in your crowd. (Think sparkling limeade spiked with mint!)
It's not rocket science, but here are a couple of dos and don'ts on creating truly memorable mojitos: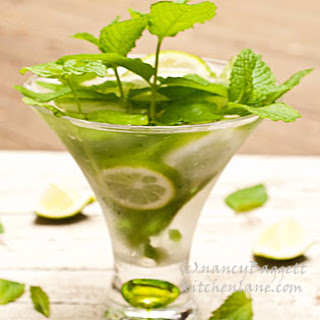 Use only a good quality white rum (experts often recommend Bacardi light), which amplifies rather than competes with the lime and mint flavors and also lends a silvery tinge. Dark rums taste too strong and muddy the refreshing sea-green shade.
Use fresh lime juice and slices. For truly refreshing mojitos don't even think about subbing the premixed stuff. And don't be tempted to tuck the lime slices or mint into your brew until shortly before serving. Steeping the slices for long periods can cause them to turn drinks bitter; steeping the mint will cause its color to turn dull.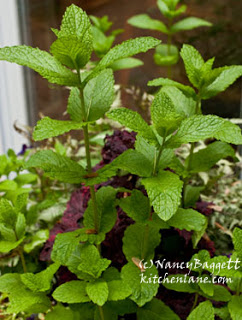 Use a very fragrant, pungent variety of mint for mojitos. I've tried a number of different kinds (tough job, but somebody needed to do it), and the amped up spearmint, Mentha spicata, is definitely the best choice. The last two years I found it in several specialty garden centers under the name Kentucky Colonel and Mint Julep. It is thriving in the pot handily placed on my deck right outside the kitchen (shown here)–for easy picking and mojito making, of course! If you must buy from a supermarket, choose the most aromatic, bright
green spearmint you can find. Skip any offerings that seem meek or grassy, or your drinks may be, too.
Should you decided to hunt up and plant this especially mojito-worthy variety, note that it's now sold in regular old Lowe's, labeled Sweet Mint, with the Mentha spicata listing underneath. (Just to confuse matters, if you happen to live in the Miami area, I'm told you may find another, totally different plant called Sweet Mint, aka Hierba Buena, which is the one found in authentic Cuban mojitos.) Plant Mentha spicata (actually any mint you don't want taking over the yard) in a winter-tolerant pot (such as resin or styrofoam), and it will very likely pop up automatically every year.
Memorable Mojitos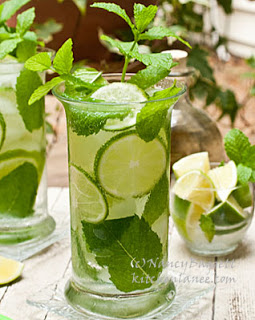 It's best to mix mojitos as bartenders do, one at a time. If you plan to make a number of them, squeeze and strain the lime juice a day ahead, keeping it covered and well chilled until needed. You can also harvest the mint sprigs and leaves in advance; wash, pat dry and refrigerate in plastic bags. Ditto the lime slices used for garnishing the cocktails, and the wedges to be set out for those who like to make adjustments and want their mojitos extra tart.
Also be sure to have plenty of ice on hand. Many bartenders call for crushed ice, but I like cubes better. IMHO, crushed ice melts too fast and makes for watery mojitos.
If you don't have the simple syrup bartenders and serious home "mixologists" keep around, just stir together equal parts warm water and granulated sugar until it completely dissolves. Once the mixture cools to room temperature, sub it one-for-one for the simple syrup. You don't really need a muddler either; an iced tea spoon will work nearly as well. By the way, bartenders say it's best not to "over muddle;" the object is to mix and bruise the leaves slightly, not rip them to shreds.
For the best mojitos: I like to punch up my rum by infusing it with a few mint sprigs several days ahead; see the bottle at right below and in the pic at the very top. Note that the mint leaves will discolor during steeping so they shouldn't be added to your drinks. I also prefer to add a clear lime-flavored sparkling water rather than the club soda most mixologists use.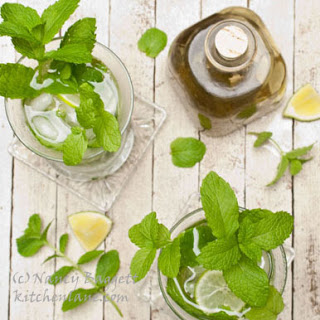 For each mojito:
Set out a 12-ounce (or similar) tumbler or other suitable clear glass. Add the
juice of a freshly squeezed and strained small lime (or 1 1/2 tablespoons previously prepared fresh juice) and
1 to 1 1/2 ounces (2 to 3 tablespoons) light rum. Add 1 to 1 1/2 tablespoons simple syrup to taste, 2 to 4 mint leaves, and a lime slice.
Muddle until the leaves and lime slice are just slightly bruised; don't overdo it. Fill the glass with ice cubes, tucking in more mint and lime slices in as you go. Fill the glass with chilled
club soda or lime-flavored sparkling water.  Stir lightly. Garnish with lime slices and mint springs; serve immediately. Makes 1 generous mojito.
Looking for more lime to cool off with? Try this
minted lime sorbet
.  Or, if you're in the mood for lemon instead, check out my straight-from-Salerno, Italy
limoncello recipe
.