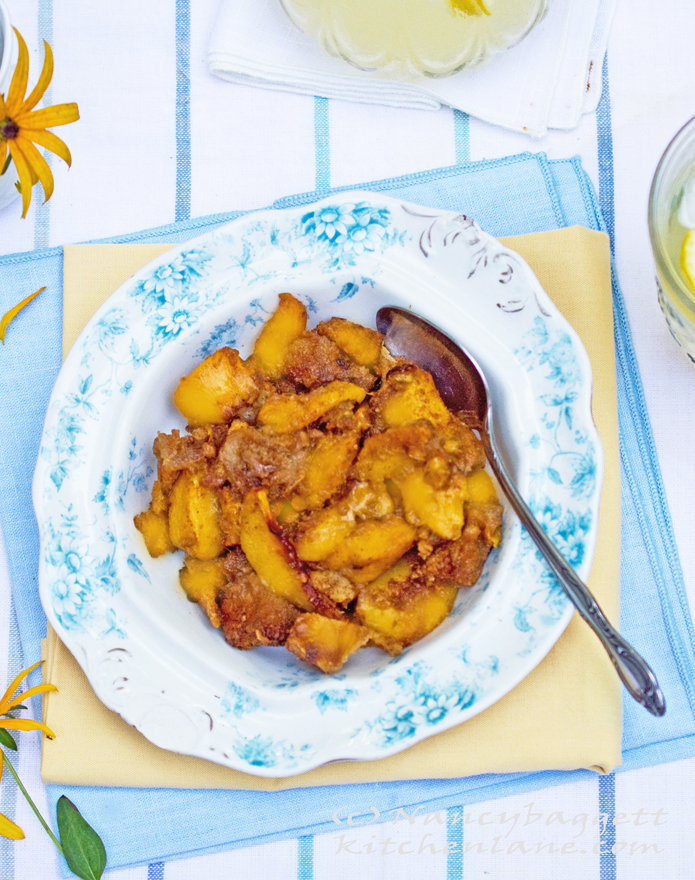 In honor of  the glorious peaches that tempted me at the local farmers' market, I just made a peach brown Betty. It's so good I'm going to make another one as soon as it's gone–like tomorrow! (BWT, the peaches, pictured below, were called "Glowing Star;" a perfect name, don't you think?)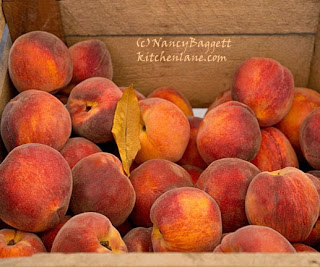 In case you aren't familiar with the comforting old-fashioned
American dessert called peach brown "Betty," it's somewhat similar to a peach cobbler or a crisp. But instead of being topped with a dough or oatand sugar mixture, a peach Betty calls for buttered bread cubes or crumbs.
Since American housewives of the past were routinely exhorted to be frugal, the brown Betty was likely the result of an enterprising 19th century homemaker wanting to use up leftover bread. Her creation served the same purpose as traditional bread puddings for prior generations, but offered the added budget advantage of not requiring eggs or milk.  Apple Betties were the first to be readied, but peach brown Betties soon became popular as well.


In his mammoth reference work The Oxford Companion to Food Alan Davidson describes the Betty as follows:
"A North American baked pudding, consisting of alternating layers of sugared and spiced fruit and buttered breadcrumbs. A little fruit juice is used to moisten the whole, and it is baked until browned and crisp on top. Although various other fruits can be used, apple brown Betty is the favorite. …." Davidson adds, erroneously, that the name brown Betty first appeared in 1864. (In fact, a Betty appears in an American cookbook in 1857.)  He  mentioned that the Yale Literary Magazine listed it with tea, coffee, and pies as things to be given up during 'training'." (Noting the capitalization of the word "Betty," he speculates that it might be a proper name. He's not alone in wondering if someone named Betty created the dish, but so far nobody has come up with any proof.)

Actually, brown Betties were on American tables by at least the late 1850s. The first apple brown Betty recipe that has turned up appeared in Eliza Leslie's Miss Leslie's New Cookery Book, (p. 455), published in Philadelphia in 1857. My modern peach brown Betty below takes its inspiration from her recipe, which is provided just below:
A Brown Betty.–Pare, core, and slice thin some fine juicy
apples. Cover with the apples the bottom of a large deep white-ware dish. Sweeten them well with plenty of brown sugar; adding grated lemon or orange peel. Strew over them a thick layer of bread-crumbs, and add to the crumbs a very few bits of fresh butter. The put in another layer of cut apples and sugar, followed by a second layer of bread-crumbs and butter. Next more apples and sugar; then more bread-crumbs and butter; repeat this till the dish is full, finishing it with bread-crumbs. Bake it till the apples are entirely done and quite soft. Send it to table hot. It will be improved (if in the country at cider-making season) by adding to each layer of apples a very little sweet, unfermented cider, fresh from the press. .."
Best Peach Brown Betty
Yes, this recipe looks simple, even plain, but modestly I have say I think it's the best Betty I've ever created or eaten. One secret is to use a goodly amount of butter and day-old good cinnamon swirl or cinnamon raisin bread–not the plain, stale white bread early cooks usually called for.

Also, to lend more crispness (the classic versions like Mrs. Leslie's are on the soft, even soggy side), I pop the butter and bread cubes in the oven and toast them while the peaches are being readied. Finally, I take the liberty of baking in a fairly shallow dish, which further encourages crisping and browning of the peach Betty.
Tip: IMHO, peaches make a more succulent Betty than apples, but you could ready an apple Betty if desired. In this case the apples will require 10 to 15 extra minutes to bake through, so you'll defininitely need to cover the Betty with foil at the end to prevent the top from over-browning. Check the apples in the center for doneness by poking them with the tines of a fork.
5 tablespoons unsalted butter, cut into chunks
Pinch of salt
5 ½ cups coarsely diced (1/2-inch cubes) cinnamon swirl or cinnamon raisin white or multigrain bread cubes (including crusts, if desired)
2/3 to ¾ cup packed light or dark brown sugar (or use a little more for very tart peaches)
1 teaspoon ground cinnamon
5 cups peeled and coarsely sliced ripe, flavorful yellow peaches (about 6 to 8 medium size)
1/3 cup orange juice
Preheat oven to 400 degrees F. Put the butter and salt a 9- by 13-inch (or similar) baking dish and place in the oven until the butter melts. Stir the bread cubes into the butter. Return to the oven and bake until the bread begins to brown and crisp, about 10 to 15 minutes.
Meanwhile, thoroughly stir together the brown sugar and cinnamon in a large bowl.  Stir the toasted bread cube mixture into the brown sugar mixture until well blended. Spread half the bread mixture in the baking dish. Spoon the peaches over the toasted bread cube layer. Stir the two together until blended. Drizzle the orange juice over the top Sprinkle the remaining bread mixture over the top, patting down just slightly.
Lower the heat to 375. Bake the betty (middle rack) for 25 to 35 minutes, or until mixture is bubbly and nicely browned all over. (If it begins to brown rapidly cover with foil the last 10 to 15 minutes. Transfer to a cooling rack. Serve warm or at room temperature, plain, or with cream, whipped cream or a dollop of ice cream. Store, refrigerated, for up to 3 days; warm up before serving.  Makes 6 to 8 servings.
Another home-style peach dessert you may like–peach crumb cake. 
Or perhaps a blueberry-apple crumble or an apple crisp suits your mood.