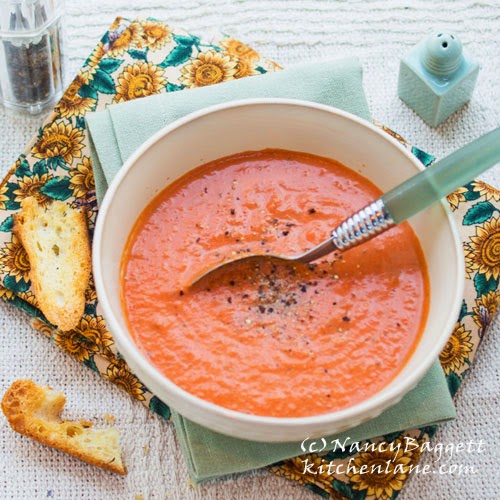 This morning it snowed–again! And it's cold and windy. Again! I am completely winter weary and, when stepping outside, I despair of yet another icy layer to be shoveled. So, instead I'm making a fine winter tomato soup. (Yes, it's possible, but there are some secrets to success!)
Normally, to stave off cabin fever this time of year, I go out and roam the yard to enjoy my favorite harbingers of spring. The green tops of both snow drops (shown right below) and daffodils are usually poking up through the earth by now, reassuring me that, yes, the first perennials survived and will be brightening the garden soon. But it's been too cold to go out much at all.
Desperate for warm weather, I've turned to the seductive images in the new seed catalogs and my own photo files. The pics of plump, gorgeous tomatoes have  gotten me imagining the ones shown below from the farmers' market last summer  ;I'm yearning for some now.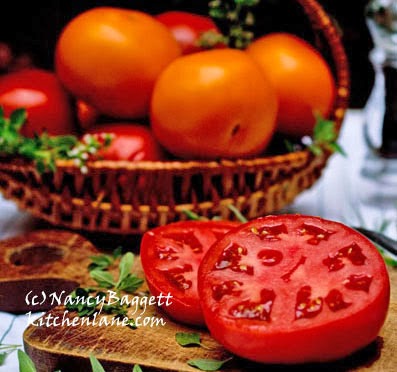 Last week I actually bought some supermarket hothouse tomatoes still on their stems, hoping against hope that they could stand in for fresh garden tomatoes in a simple, heart-warming tomato soup. They did not! My soup was colorful but tasted blah– no depth of flavor and little fragrance.
My hunger for an honest, earnest homemade tomato soup actually intensified with the failure, so I pressed on.  Two tries later I discovered a few secrets and came up with this version, which features quality canned tomatoes (of all things!). Finally, my yearnings have been satisfied, and I think I can make it through to summer. I hope the recipe will help tide you over, too.
 Fine Winter Tomato  Soup
I was pretty astonished to discover how flavorful and fragrant a very simple tomato soup made with canned tomatoes could be. The secret is choosing high-quality, vibrant-tasting canned tomatoes and roasting them with some herbs and vegetables to concentrate their juices and bring out their sweetness. This approach yielded a much more savory result than using fresh hothouse tomatoes: sad to say, these were watery and insipid and definitely not worth the trouble.)
 The canned tomatoes were also less expensive and more convenient—I just cracked open the cans, drained off the juice, and popped the peeled whole tomatoes into the oven dish.  BTW, the smell of the tomatoes, onion, and garlic roasting with a little olive oil is just fabulous!
 Tip: I like some sweet red sweet pepper in the soup, but you can skip it if you wish. Another possibility if you're dieting–leave out the cream completely. The soup will still be very good.
2 medium onions, peeled and halved
1/2 small cored and seeded red sweet pepper, optional
2 large garlic cloves, peeled
1 1/2 tablespoons olive oil
2 28-ounce cans whole peeled tomatoes in puree
1/8 teaspoon each ground allspice and freshly ground black pepper
1 to 2 pinches hot red pepper flakes, optional
1 1/2 tablespoons granulated sugar
1 to 2 teaspoons balsamic vinegar, to taste
1/4 cup heavy cream (or unsweetened coconut milk for a vegan recipe)
Preheat the oven to 400 degrees F. Spray a 9 by 13-inch glass baking dish with non-stick spray. (This helps keep the tomato juices and vegetables from burning onto the dish sides.) Add the onions, sweet pepper (if using) and garlic to the dish.
 Drizzle the olive oil over the vegetables, then stir until they are coated with it. Thoroughly drain the tomatoes through a sieve, reserving the juices. Add the drained tomatoes, allspice, black pepper,
and  hot pepper flakes (if using) to the dish, stirring until they are coated with the oil.  Sprinkle the sugar over top; don't stir.
Place the dish on the middle oven rack. Roast, stirring two or three times, for 50 to 60 minutes, until the tomatoes have cooked down, the onions are soft and browned, and the vegetables are extremely fragrant.  Let cool slightly. Peel the skin from the sweet pepper and discard. If any onion pieces look burned or dry, discard them.
Scrape out the tomato mixture into a blender or food processor. Add the reserved juice from the canned tomatoes. (If the blender or is small, blend or process only half the mixture, then repeat.) Blend or process until completely smooth; in a processor this may take 3 or 4 minutes.
Put the blended mixture in a medium-sized non-reactive pot. Stir in the cream and balsamic vinegar to taste. For a slightly thinner soup, stir in a little water. Heat the soup to piping hot, but not boiling, stirring occasionally. Taste and add salt, if desired. Serve immediately or cover and refrigerate for later use. Soup keeps, covered and refrigerated, for up to 5 days
Makes about 1 quart soup.
Other warming soups you may like: Basil-Pesto-Bean (left) here, or Spicy Fish Chowder (right), or Minestrone (below) here.