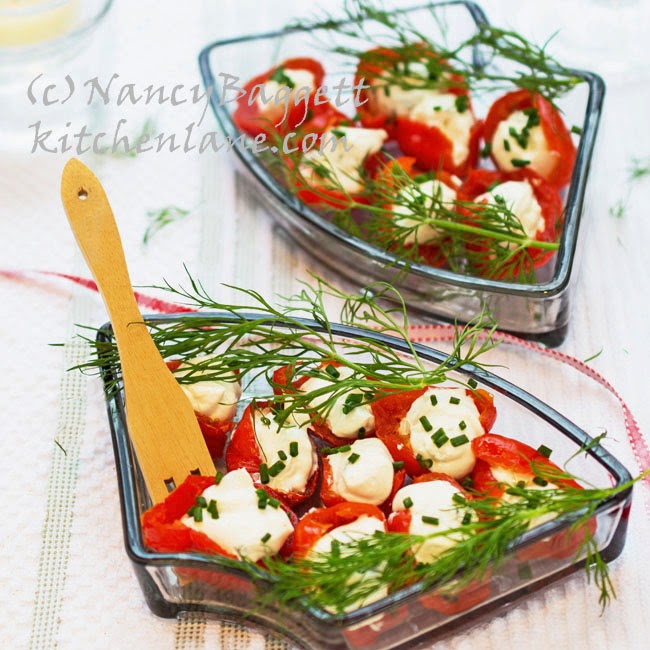 If you are one of the few still unacquainted with the Peppadew pepper, let me bring you up to speed. You are missing out on a treat! It's a brand of sweet piquanté peppers said to be discovered in early 1993 and introduced to market later that same decade. Olive bars in supermarkets often include Peppadew peppers, and many upscale grocery stores carry jars of them as well.
The bright, festive look makes these peppadew appetizers  perfect party fare–they are an especially good choice if you're hosting gluten-free or vegetarian guests. I'm actually serving the ones pictured here to company tomorrow. (They can be made well ahead so are convenient for entertaining.)
Peppadews have a mild but distinctive and tempting sweet pepper flavor and glorious naturally bright color.  You have  the option of peppadews that come "mild" (pleasant bit of heat) or "hot, " (very!) so do check the label. Another plus–like many peppers, Peppadews are loaded with vitamins A and C and other healthful nutrients, yet are low in calories. Of course, when the pepper halves are plumped up with a cream cheese filling and turned into enticing-looking appetizers (as shown here), they no longer qualify as diet food!
The story is that a South African businessman-farmer discovered the Peppadew in the garden of his  Eastern Cape holiday home. It's said that he spotted a 6-foot high bush laden with small bright red fruit about the size of large cherry tomatoes. I'm a little skeptical about the tale because I wonder how any farmer (or his gardener) failed to notice a plant in the yard until it was 6-feet tall and bearing brightly colored fruit! Every farmer and gardener I know (including me) tunes in to possible weeds right away!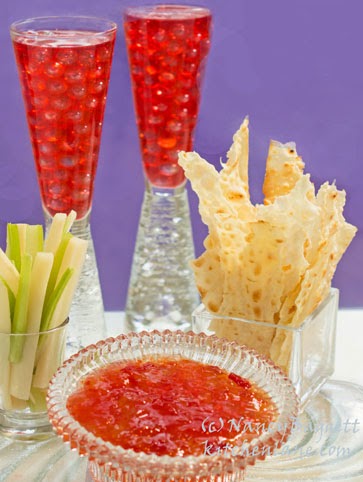 At any rate, the commercial potential of the particular pepper variety was quickly recognized, and this culivar of Capsicum baccatum was given the trademarked brand name that combines the words 'pepper' and 'dew.' The jarred pickled peppers have been a hit "as is" or stuffed, and they are also now used in a number of pepper sauces, relishes and other condiments.
I like to ready a quick, tempting homemade pepper jelly by coarsely chopping Peppadews, then processing them in a food processor with reduced sugar apple jelly. (A ratio of 1 cup jelly to 1/2 to 2/3 cups well-drained diced peppers works well.) For a little more zip I add a couple dashes of hot pepper sauce and lemon juice to taste. The pepper jelly makes a nice light dip for cut-up vegetables and chips, as well as a delicious topper for a cream cheese ball or block.
The cultivation of the Peppadew plants is carefully controlled and restricted to prevent competing products from coming on the market, although a New Jersey farm was recently authorized to grow another related variety, Peppadew Goldew. The Golddews I tasted at a gourmet foods show several years ago were not as piquant as the red ones but otherwise similar in flavor.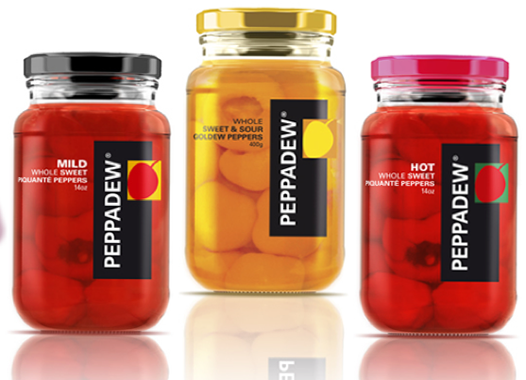 According to the Hippy Seed Company in Australia, the red Peppadew is in fact similar to a Malawi Piquante Pepper found in the south eastern African country of Malawi. The company's site, which sells the Malawi Piquante seeds, says the plants get about 6 feet tall in a pot and are "awesome" producers. For more info on the Malawi pepper and to see what it
looks like fresh you can watch a little YouTube video.
If you can't find bottled Peppadews, Trader Joe's carries a similar-looking pickled pepper from Mexico; these are labeled  Peri Peri Pepper Drops.
These, too, are about the size of a cherry tomato but, be forewarned, they are usually zippier than the mild red Peppadews. They are pickled with peri peri spice (African Bird's Eye Pepper) which is what gives them their kick.
Herbed Cream Cheese Stuffed Peppadew Halves
I've seen recipes that called for stuffing whole Peppadews and serving them, but really they are too big to comfortably eat this way. Instead, I suggest simply halving them vertically so they form little "bowls." These are not only easier and less piggy to eat, but are easier to prepare.
The quickest way to fill the pepper halves is to put the cream cheese mixture into a sturdy plastic baggie; close the top tightly; then snip off one bottom corner of the bag. Use the bag as you would a piping bag, squeezing some of the cream cheese out the opening into each little pepper bowl. I like to use a light hand when adding the filling, but feel free to be generous for richer appetizers.
Tip: If you can't find fresh dillweed, just omit it from the recipe; the dried is too bland to make a good substitute. The fresh chives are essential to the dish.
8-ounce soft tub-style cream cheese or light cream cheese, at room temperature
1 tablespoon chopped fresh chives, plus more for garnish
2 teaspoons chopped fresh dillweed, plus sprigs for garnish, optional
1/8 teaspoon onion salt or garlic salt
About 15 to 20 Peppadew peppers, halved vertically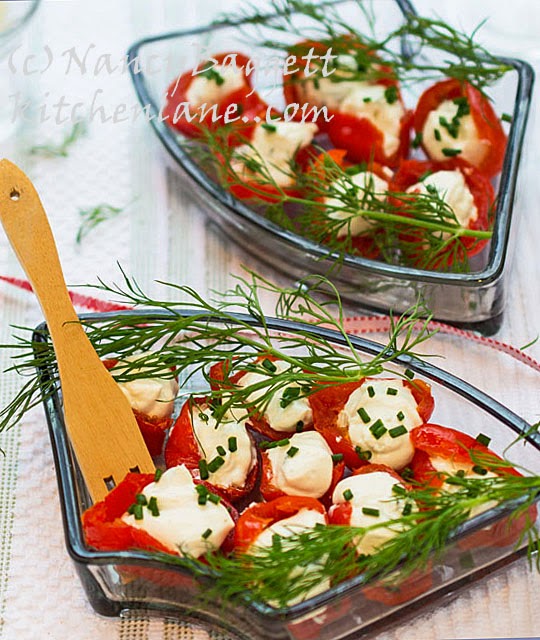 Combine the cream cheese with chives, dillweed (if using) and salt until evenly mixed. Set aside so the flavors can mingle for at least 15 minutes and longer if desired.
Meanwhile, drain the peppers and pat them dry on paper towels. Put the filling in a sturdy baggie, then use it like a pastry bag to pipe portions into the pepper halves. Arrange them on a serving tray and garnish with chopped chives and dillweed (if using). Serve immediately or, if desired, cover and refrigerate the peppers for up to 24 hours.Makes 30 to 40 appetizer servings.
Another appetizer you may like, crostini with sun-dried tomato spread is here.