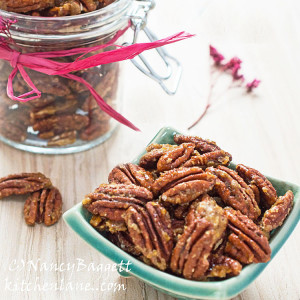 You know how sometimes at a gathering one particular dish is so irresistible that peeps keep hovering around scarfing and quickly empty the whole bowl? Well, these easy gourmet caramelized sugar & spice nuts are like that. People go, um, yes, nuts for 'em!
Not only can nobody eat just one of these highly munchable crispy-crunchy-nutty-sugary-salty treats, but most people can't even stop with a single handful!  They are that good.  (I just had to stop writing this post and go fetch my second helping of the caramelized sugar & spice pecans shown before continuing here!)
Other pluses as party fare–these goodies are suitable for gluten-free, vegetarian, and vegan guests, and they are equally nice with drinks, or on a snack or dessert table, or on a fruit or cheese tray. Of course, they can also be readied completely ahead.
And happily, these particular caramelized sugar & spice nuts are incredibly quick and easy to make, even for a novice cook. It calls for quickly melting the sugar in a skillet, shown here.
A large number of  recipes for sugared and seasoned nuts is in circulation, and they call for a surprising variety of methods and ingredients. After trying a lot of them, I think this one is definitely the best. It takes less work and time and fewer ingredients, yet the nuts are just as tasty, maybe even more so. Since this recipe requires no egg whites (many versions do), the nuts can be served to vegans and those allergic to eggs.
If you're looking for simple but memorable party treat, do consider these. I made two batches for Christmas and they were inhaled! I'm hosting a crowd this weekend and am preparing two batches of the caramelized sugar & spice pecan halves, and one batch each with walnuts and cashews. Due to their distinctive sweet nuttiness pecans are the fave of both my hubs and me, so we're hoping some will be leftover. But we also find the caramelized sugar & spice cashews and walnuts pretty addictive–and I don't even like plain walnuts and am ho-hum about cashews.
A couple of tips for success: To ensure these caramelized sugar & spice nuts look attractive and roast evenly, use halves, not broken-up pieces. And you must use a large non-stick skillet, preferably one with a metal or phenolic handle so it can go directly from the stove-top into the oven. (If you lack a non-stick skillet with a heatproof handle, line a rimmed baking sheet with foil, then turn out the sugar-coated nuts onto it to finish the oven roasting.)

Caramelized Sugar & Spice Nuts--Fab Party Fare
Simple yet extraordinarily tasty describes these can't-eat-just-one treats. Serve them as cocktail or party nibbles, or on a dessert, fruit, or cheese tray. You can also package them prettily for a fine holiday or hostess gift. You can salt the nuts lightly just to bring out their flavor, or for a noticeably salty-sweet taste, garnish them with more sea salt after coating them with the caramelized sugar. Note that if you happen to have dried culinary lavender buds on hand you can create even more flavorful caramelized pecans or other nuts. Yes, the lavender is optional, but it is just delectable if you're readying pecans.
Ingredients
¾ cup granulated sugar ( or ¾ cup granulated sugar ground in a processor with 1 teaspoon dried culinary buds lavender buds)
¼ to ½ teaspoon each ground allspice and ground cinnamon, to taste
⅛ teaspoon fine flake sea salt, plus optional generous ¼ teaspoon more for garnish if desired
2 to 3 pinches ground cayenne pepper, optional
3 cups unsalted pecans, walnuts , cashew halves, or large peanuts
Instructions
Preheat the oven to 325 degrees F.
Stir together the sugar, allspice, cinnamon, ⅛ teaspoon sea salt, and cayenne pepper, if using, in a 12- to 13- inch stove-top and oven-proof skillet over medium-high heat. Stir constantly until the sugar starts to melt, usually in 2 minutes. Continuously stir and scrape the sugar into a pool until most is melted; do not touch or splash it as it is extremely hot.
Add the nuts into the melting sugar, stirring until they are all lightly coated all over, about 2 minutes. If at any point the pan smokes or the sugar smells burned lift the pan from the burner, stirring off the heat for a few seconds, then continue.
Remove the skillet from the heat. Sprinkle the garnishing salt over the nuts, if using, stirring to distribute evenly.
Immediately transfer the skillet to the middle oven rack. Roast the nuts, stopping and stirring every 3 or 4 minutes, until nicely browned and fragrant, but not burned, about 8 to 10 minutes.
Remove from the oven. With table forks separate any clumps of nuts; don't touch as they are extremely hot. Let the nuts cool completely, then break up any clumps with your hands.
Pack airtight. Store in a cool dry spot up to 2 weeks or refrigerate up to a month. Serve at room temperature. Makes about 3½ cups caramelized sugar & spice nuts.
Other party recipes you may like: 
Stuffed Peppadew Peppers,
Mulled Spiced Wine,
or
Cranberry Mimosas.