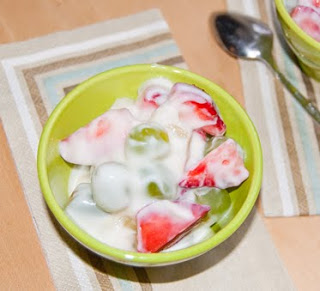 This colorful, sprightly fruit salad can serve as a simple side dish, or if you family is health-conscious, a light and wholesome dessert. It takes advantage of strawberries, plus fresh pineapple chunks and green grapes.
Usually, the pineapple and yogurt are sweet enough that the salad doesn't require additional sugar. However, if you wish, stir in a teaspoon or two of clover honey after the strawberries are added. (For another equally healthful and easy fruit dish check out my microwave "baked" apples.)
Tip: To shorten preparation time, purchase the pineapple chunks and strawberries from a salad bar.

Fresh Berry, Fruit and Yogurt Salad
Ingredients
1 cup nonfat or lowfat vanilla yogurt
⅛ teaspoon vanilla extract
1 cup pineapple chunks, preferably fresh
1 cup seedless green or purple grapes, or a combination
1 cup coarsely sliced strawberries
Instructions
In a medium non-reactive bowl stir together the yogurt and vanilla until blended. Add the pineapple chunks and grapes, stirring until evenly incorporated. Refrigerate for at least 15 minutes and up to 24 hours if desired.
Just before serving, stir in the strawberries.