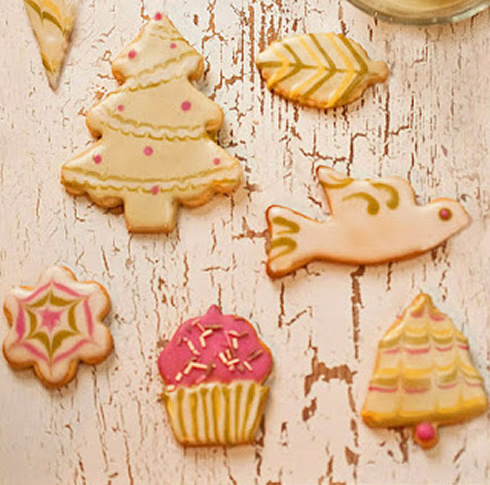 Everybody loves cookies, so it's no wonder the custom of gathering to swap (and sample!) favorite cookies has become a popular holiday event in America. Sometimes a cookie exchange features numerous guests and considerable fanfare.  But the most traditional kind of cookie swap–my favorite–is a very small communal baking party in which several friends or relatives actually prepare their cookies together and then divide up what they baked.  (My mother, grandmother, aunt, and I used to have a cookie swap almost every year after Thanksgiving.) Best held in a fairly spacious kitchen, the old-fashioned cookie swap turns what can be a big task into a fun day of baking and bonding.
What ever the type of cookie swap, here are some tips to make sure all the ingredients for a truly Yuley  are in place: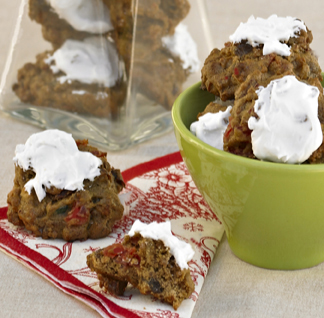 * Invite guests well in advance, and tell them what's expected. They need to know if they will be swapping the actual recipes. And do mention that as a matter of fairness everybody should bring "from scratch" cookies. For those who seem concerned about this, offer them one of your own tried and true recipes–or one from my All-American Cookie Book!
* If the cookies are being made ahead rather than at the get-together, specify how many each guest should bring. For a group of less than six, each person might supply enough to swap a dozen with everyone else attending. For a larger group, it's simpler to ask everyone bring six dozen–plus extra for sampling. Then, if there are eight guests, each receives 9 cookies of every kind; if there are twelve guests, each receives 6 of every kind, and so on. If you are having a communal bake-a-thon remind participants to bring the ingredients needed (and maybe a baking sheet or two) for readying their own recipe.
* Remember to provide plenty of cookie take-home containers for your guests. Sturdy decorative paper plates and foil to cover or cellophane bags and wired ribbon for twist ties are inexpensive and serviceable, yet festive-looking. Have several containers per guest so the spicy cookies and mild butter cookies can be kept separate (otherwise, the mild ones will start tasting spicy) and crispy ones and gooey ones kept separate (otherwise the crisp ones will lose their snap).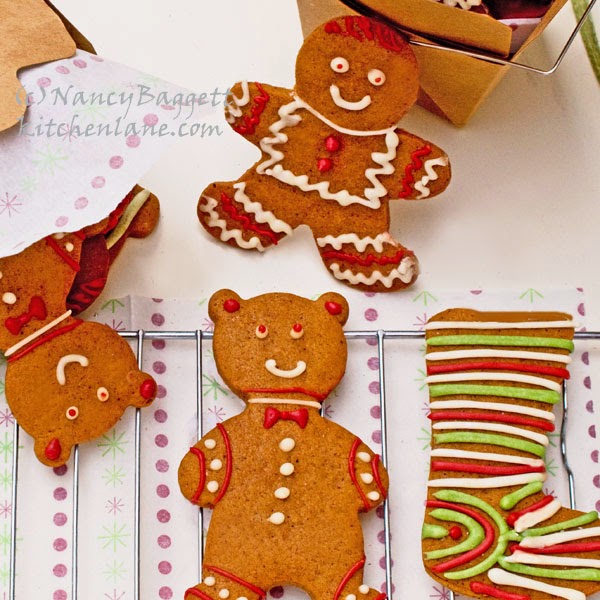 * To make the actual cookie exchanging more memorable, ask guests to point out their own cookie contribution and tell where they got the recipe or why they like it.
You'll find the snow-capped fruitcake cookies (shown above), called Mom's Lebkuchen, here.
Or, check out these gluten-free Swiss chocolate holiday cookies, called Basel Brunsli here.