Nancy Baggett, 7 Steps to Tastier Food Writing © 2011
The following was a handout I provided during a food writing workshop David Leite and I presented at a BlogHer Food conference in Atlanta in May, 2011.
Seven Steps to Tastier Food Writing
1. Dive right into your story.
Stories are usually much more compelling when you plunge instead of wade in. Some editors routinely lop off writers' first few sentences before the story gets rolling to ensure a lively start. You can do this with your own work.
Here, the tale begins post-eviction, with the subject out on a stoop with his suitcases but without his precious freezer full of corn dogs. Notice how the colorful, vivid simile, the husband as a "bowling ball with legs" helps zip up the prose. And notice how much is packed into two paragraphs.
"June 1988. I stood on the front porch of my friend Patty's Arlington, Texas, home with suitcases in hand, not unlike Felix Unger in the opening credits of "The Odd Fellow." Like him, I was being thrown out–not out of a tiny Upper East Side classic six–but rather a sprawling six-bedroom casa, complete with pool, three-car garage, automatic sprinkler system, and, what I would miss most, a freezer full of corn dogs. As Patty's husband–a bowling ball with legs who had skin like tobacco-colored crepe paper–put it, I was an "unnecessary risk."
Patty and her husband, Dan, were getting divorced. While he was shacking up with his dental assistant, I was living non-conjugally with his wife and three kids after I had, for the nth time, denounced New York City. The greater Dallas area was my new home, I told myself, and I embraced it with all the excitement and innocence of Kennedy in 1963."
David Leite, "Savior on a Stick," (http://goo.gl/fyYFi ) Leite's Culinaria
2. Use strong, active verbs to power your sentences.
Using strong, active verbs is among the most important steps to take to write more compelling prose. Notice that the following story also starts right in the middle of the action and is loaded with active verbs, like run, roil, whips, signals, and scramble. (For a handy list of culinary verbs, go to http://goo.gl/8cXvC .)
"Under heavy fire, we run for the chopper. Grey clouds roil overhead as the wind whips our faces. The ground man signals us to scramble in, but then stops and waves for us to turn around. As we do, we're blinded by white flashes.
We're not being fired at though … The shotgun blasts are automatic "bird bangers" to scare birds away from the fields of Niagara grapevines around us.
This isn't Bahgdad, but it is war."
Natalie MacLean, "Flying High," http://goo.gl/UoxIv password-dames Natdecants
3. Choose topics you're passionate about.
Passion is great insurance against ho-hum prose. Write about a dish you'd either love or hate to eat; a restaurant or ingredient you either adore or avoid like the plague; or a food memory that makes you smile or cringe.
Notice how the first sample uses parallel construction to add drama to a reminiscence. Notice that the alliteration in "tenderize the tough tissue," "porker appendages," and "dead ringers for really rank pickled tennis shoes," lightens the tone of the second example, a rant.
"Corn is a science, maybe even an art. Pick it too soon and you waste it because there will not be enough on the cob to shave off even with the sharpest, oldest butcher knife, and people who grew up poor cannot live with themselves if they waste food. Pick it too late and all it's fit for is hogs. But pick it just right, Lord God Almighty, and it's a reason to live."
Rick Bragg, "Dinner Rites," Food & Wine Magazine
"Pigs' feet should be declared unfit for human consumption. I'll start simply by mentioning that though human and dog feet can reek, they're roses compared to hogs' feet on the funkiness scale. To mask the noxious odor and tenderize the tough tissue of these porker appendages, people usually boil them in a strong vinegar brine, but this is as helpful as dousing the living creatures with perfume. Moreover, the boiling yields a gelatinous texture and ghastly, pungent odor that lurks in the house and continues to punch you in the nose for days. …. I would probably starve if I had nothing to eat but these dead ringers for really rank pickled tennis shoes."
Nancy Baggett, "Everything I Don't Like," http://
goo.gl/bNxRV
Kitchenlane
4. Be sure to actually describe the food you're writing about.
Analyze and convey how the food not only tastes, but smells, feels on the tongue, and sounds when munched. Avoid generic words like delicious or mouthwatering, and find fresh, specific, telling details. Warning: If you need two or three adjectives, a better one may exist.
"Caviar has always had a hold on me. It is a mysterious ingredient, almost otherworldy; the individual eggs look like jewels from an alien planet. Caviar tastes briny and vaguely floral, and the textural surprise of the pop in your mouth has led more than one writer to liken it to pop rocks for adults."
Hank Shaw, How to Make Caviar http://goo.gl/zGtHd Hunter, Angler, Gardener, Cook
I'm not a huge fan of hot drinks in glasses and it always seems so counter-intuitive to serve a hot drink in a glass without a handle but it seems most places are insistent on serving lattes like this…The pate comes out first as requested and it comes with caper berries and five generous slices of toasted Sonoma ciabatta bread and a sweet jellied top. The actual texture of the pate is firm, like fridge hardened ganache, perhaps too firm but the flavour is excellent without any bitterness and the overly firm texture is forgiven with the lovely flavour." Lorraine Elliott, Not Quite Nigella
5. Write like yourself; never try to write like somebody else.
Get comfortable expressing what you think and revealing at least some of who you are.
Notice how the writers sound completely different from one another, and how their tone, approach and subject matter reflect who they are.
"When I go to flea markets or stop by a neighborhood garage sale, I always find myself rummaging through weathered cardboard boxes looking for cookie cutters. Vintage ones, distinctive ones. You might imagine I have drawers full of them, but that's not actually true. I have two small shoe-box sized containers of cookie cutters. That's it. It doesn't actually feel like a lot to someone who loves to roll and stamp cookies as much as I do, but the good ones are hard to come by. Beyond shape, I have a fondness for metal cutters with sharp edges, and good structure. Shapes that can cut cleanly through a currant or dried cranberry if need be." Heidi Swanson, 101 Cookbooks
"I never stopped trying to find excellent food. I searched. I asked. If you think it's hard to find somebody in an airport who will give you an honest answer as to why your flight is delayed, try to find somebody who can cook an honest meal. By the end of my quest, I had consumed exactly five food items—not five meals—that tasted pretty good…. Starbucks's coffee was consistently good, but its croissants were right up there with the very worst airport food, much of which involved bread.So terrible is the bread, in fact, that I devised a theory, admittedly hard to prove, that the air in airports somehow mimics the air in microwave ovens, which turns conventional breadstuffs (and probably the people who eat them) rubbery and dry…." Alan Richman, "Food in Review—Mission Impossible," GQ
"Last week, I attended tomato school.
Sitting in a room at a packing plant near Immokalee in southwest Florida with about 50 migrant laborers, I learned that I had a right to earn a minimum wage of $7.25 an hour, could take regular breaks in a shady area provided by the farm—including a lunch break. I was told exactly what constituted a full bucket of tomatoes when I was working on a "piece," or per-bucket basis. For some of my work, I would get an extra penny per pound for the tomatoes I picked—which amounted to a 50-percent raise…." Barry Estabrook, Politics of the Plate
6. Develop the habit of always editing your work, if possible after letting it get cold.
Tempting prose is like good stock—clear, strong, rich, and full of flavor. Too many extra prepositional phrases, adjectives and adverbs, and passive voice constructions water it down the same way too much water dilutes broth. Go through and routinely, ruthlessly prune away excess verbiage, redundancies, and passive constructions; your writing will instantly be more powerful and appealing.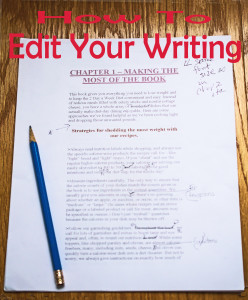 Redundant, passive: We were peeved and put out by the chef.
More concise, active construction: The chef peeved us.
Wordy: I'm hoping that the restaurant will be a success.
More concise and direct: I hope the restaurant succeeds.
Ho-hum adjective choice: The peppers were far too spicy. Better: The peppers were incendiary. Better: The peppers seared my tongue.

"SIN is in, gastronomically speaking. Which is why I found myself pulling up to Nueske's Hillcrest Farm, about 65 miles west of Green Bay, at midmorning one crystalline day in January, with the car's digital thermometer stuck at 5 implacable degrees below zero I was there in pursuit of postgraduate studies in bacon. " Johnny Apple, "The Smoky Trail to a Great Bacon," NYTimes
7. Try using literary devices to liven your writing.
You can blog and communicate successfully without ever employing any of the commonly-used literary devices. But if you want to stretch, grow, and write prose that sings and makes readers smile, take advantage of the same devices these writing samples feature: hyperbole, foreshadowing, alliteration, assonance, similes, metaphors, personification, parallelism, puns and other plays on words.
For inspiration, find and read some fine food writing samples. The Best Food Writing series, edited by Holly Hughes, and posts by award winning bloggers are a good place to start.
Readers note: I've added an additional, important step 8 to help you; click here.

Tastier Food Writing—Practice Exercise
Practice Exercise: Finding or strengthening your voice. 
Sit down and write as freely and spontaneously as possible for 5 minutes. Immediately put the sample away for at least a week. Then read it, asking yourself the following:
Is your writing: literary, funny, poetic, friendly, factual, quirky, long-winded, flowery–what? Does it sound like you? If not, analyze why not. Are you too cautious, over-polite, politically correct, formal, unfocused, or wishy-washy? Notice what you like and what rings true, and what you don't like and want to correct or avoid. Use these insights to make changes and improvements whenever you edit your writing in the future. ###