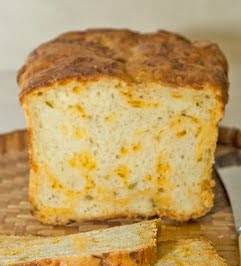 If "no-knead" makes you think only of the rustic white "pot" bread that appeared in the New York Times several years ago, you may be surprised that some no-knead breads don't require a pot at all! My Cheese and Chiles bread (pic here, recipe below) is one the "kneadless," breads in my Kneadlessly Simple book that requires no baking pot. And the best news–it comes out delightfully crusty. (It is a fab choice to serve with chili btw!)
Leit'es Culinaria Testers' Choice (Jennifer Piercy) says about the recipe: "This bread was awesome! I haven't always had the best luck with no-knead breads, but this one turned out great, with a good crust and crumb. Easy to make and easy to customize. Highly recommended."
A number of other breads in my
Kneadlessly Simple
cookbook are also readied in loaf pans and come out looking like traditionally made sandwich-style loaves. But make no mistake–they are not made the "traditional" kneading way!
First, directions simply call for stirring all the dry ingredients, including the yeast, together in a big bowl. Next, cold water (yes, that's right, ice cold!) is mixed in with a spoon just until a stirrable, but stiff dough forms. Then, the bowl just sits there over many hours, during which time the bubbling yeast actually kneads the dough very thoroughly. The next step is to stir down the dough, adding in the cheese or any other extras, called for. Finally, the dough gets turned out into the loaf pan until it rises again and is ready to bake.
The advantages of the Kneadlessly Simple method over the "traditional" approach:
> The dough gets mixed in and rises in a single bowl, greatly minimizing clean-up.
> All kneading is skipped, eliminating the usual effort and counter-top mess.
> The long, slow "self-kneading" process not only produces great texture but develops rich flavor normally only found in true artisan loaves.
> You don't need to know how to knead, shape dough, or worry about "proofing" the yeast.
> You don't need to stick around waiting for the rising to complete; while the dough "does its thing" for 12 to 18 hours, you can go off to bed, or to work, or to play.
> The long rising time is very flexible, allowing you to actually "hold" the dough for significant periods and fit it in when you're available.
If you haven't the expertise or the time to spend fiddling with dough all day, this method will probably seem like a godsend. I'll admit, though, that if you actually prefer the old-fashioned way of setting aside a day and completing your bread straight through from start to finish, this may not really suit your style. Kneadlessly Simple breads take almost no effort or baking skill, but they do require a long, slow, unhurried rise. It's the secret to their exceptionally good texture and taste.
In a survey conducted for Fleischmann's yeast of their customers who had tried a sampling of my Kneadlessly Simple recipes, nearly 90 percent said they were "very satisfied," or "satisfied," and a whopping 97.9 percent said they would use the recipes again. So, while my kneadless method isn't for everybody, it comes pretty close. BTW, the Cheddar & Chiles bread, below, was one the breads made by those surveyed. (Check out another of my kneadless loaf pan recipes from the book, an easy oat bread. Or see my Peasant Style Pot Bread that's similar to the one that appeared in the New York Times.)
Cheddar & Chiles Bread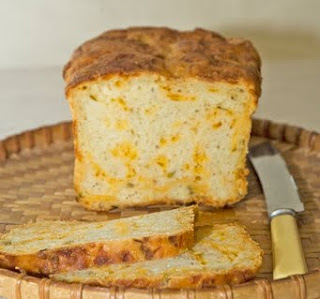 Instead of introducing this bread myself, I'm going to let a tester from the Leite's Culinaria site do the talking for me. I'd be embarrassed to praise it so highly myself, but am perfectly happy to share other folks' rave reviews!
Leite's Culinaria Testers' Choice (Duane DeMello) says: This loaf of bread was without exception the best I have ever made. I took the long route of ten hours in the fridge, followed by a 15-hour cool rise. For the second rise, I went for 20 hours in the fridge. The result was a dough standing 3/4 of an inch above the top of the loaf pan. Upon baking, it rose another 3/4 inch, finishing with beautiful overhanging edges on each side. The taste was superb and the crunchiness of the crust, on all sides, likewise, was wonderful.
3 1/2 cups (17.5 ounces) unbleached white bread flour, plus more as needed
1 tablespoon granulated sugar
1 3/4 teaspoons table salt
1 teaspoon instant, fast-rising, or bread machine yeast
2 tablespoons corn oil, canola oil, or other flavorless vegetable oil, plus extra for coating dough top and baking pan
1 2/3 cups ice water, plus more if needed
8 ounces (3 lightly packed cups) coarsely grated very sharp cheddar cheese
1/2 cup very well-drained and patted dry chopped canned green chiles
First rise: In a large bowl, thoroughly stir together the flour, sugar, salt and yeast. In another bowl or measuring cup, whisk the oil into the water. Thoroughly stir the mixture into the bowl with the flour, scraping down the sides until the ingredients are thoroughly blended. If the mixture is too dry to incorporate all the flour, a bit at a time, stir in just enough more ice water to blend the ingredients; don't over-moisten, as the dough should be stiff enough to hold its shape. If necessary, stir in enough more flour to stiffen it.
Brush or spray the top with oil. Cover the bowl with plastic wrap. If desired, for best flavor or for convenience, you can refrigerate the dough for 3 to 10 hours; this is optional. Then let rise at cool room temperature for 15 to 20 hours; this is required.
Second rise: Vigorously stir the dough, gradually sprinkling over and incorporating the cheese and chiles. Fold them in very thoroughly to ensure they are evenly distributed. If necessary, thoroughly stir in enough more flour to yield a very stiff dough. Invert the dough into a well-greased 9 x 5-inch loaf pan. Evenly brush or spray the dough top with oil. Using well-oiled kitchen shears or a serrated knife, make a [1/4]-inch deep slash lengthwise down the center of the loaf. Cover the pan with nonstick spray-coated plastic wrap.
Let rise using any of these methods: for a 11/2- to 21/2-hour regular rise, let stand at warm room temperature; for a 1- to 2-hour accelerated rise, let stand in a turned-off microwave along with 1 cup of boiling-hot water; or for an extended rise, refrigerate for 4 to 24 hours, then set out at room temperature. Continue the rise until the dough nears the plastic. Remove it and continue until the dough reaches 1/2 inch above the pan rim.
Baking Preliminaries: 15 minutes before baking time, place a rack in the lower third of the oven; preheat to 425 degree F.
Baking: Bake for 30 to 40 minutes, or until the top is nicely browned. Cover the top with foil and continue baking 20 to 30 minutes longer, or until a skewer inserted in the thickest part comes out with just a few particles clinging to the bottom (or until the center registers 203 to 204 degrees F on an instant-read thermometer). Then bake for 5 minutes more to be sure the center is done. Cool in the pan on a wire rack for 10 minutes. Turn out the loaf onto the rack; cool thoroughly.
Yield: 1 large loaf, about 12 to 14 slices each.
Serving and Storing: Cool thoroughly before slicing or storing. Store air tight in plastic or aluminum foil. The bread will keep at room temperature for 2 to 3 days, and may be frozen, airtight, for up to 2 months.