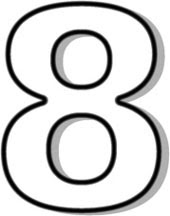 Today, I have the same feeling as when I discover I've given a recipe with a dropped ingredient to a tester. Except it's magnified 50 times because I omitted a major writing tip in a handout given to dozens of people!
Last Friday, at the Atlanta BlogHer Food conference, David Leite and I presented a workshop called "
Seven Steps to Tastier Culinary Prose."
Actually, I'd mulled long and hard over those steps to be sure they covered everything folks most needed to know. At the session, the audience was extremely receptive, and seemed happy with what we said.
It wasn't until Sunday night, back at home in my bed and drifting off, that I realized there was an eighth step and I'd missed the boat. Not a dinghy either, but a big honking tanker! We had, in fact, touched on the subject in step 5 where we advised writers to get comfortable expressing their views and revealing some of who they are.
Trouble was, we never suggested how to do this. Yes, some writers just naturally loosen up and let fly at the keyboard, but many others choke, hedge, and hide behind their too cautiously crafted words. It's a habit that costs dearly, because it snuffs out one of the food writer's most valuable assets—personal voice. (This is just the writerly term for an individual's persona in print.)
Today's readers, especially blog readers, want to visualize and connect with the writer, to have him or her open up, share and come to life. If they want just the facts they'll read the newspaper—and we all know the state of newspaper circulation these days!
So, here's step 8 in case you're still timid in print and striving for a stronger, clearer voice. (If you haven't read the seven before it, you might want to
read them first
.)
8. Remember that nobody can see what you're writing until you post it, so at least in your first draft give yourself permission to say exactly what you feel like saying, exactly the way you feel like saying it.
In your first draft let loose and be outlandish, perky, cantankerous, preachy, profane, quirky, heartfelt or whatever feels right to you, because nobody can judge, censor, or be appalled. Try writing like you speak or think, whether it's stacatto or flowing or as twisting and tangled as a tightly wound ball of yarn. Try playing with the words, too—alliteration, rhymes, rhythms, similes, metaphors, hyperbole, and personification all come more easily and naturally if you let sounds, phrases, and meanings tumble and bounce and roll off your mind.
Once you've taken down the unfiltered, unrefined, straight-from-the brain prose, let it sit a few days, then go back and self-edit. Spend time tempering the over-the-top language and ideas, whacking away excess verbiage, and tidying sentences until their meanings are clear. You'll still be you, just more concise and articulate and with a little makeup on.
Here's a writer who's made his living and name by being outrageously opinionated and snarky. And he understands that it's key to his appeal. In an interview he noted that most of life is ho-hum, and nobody really wants to read about that. Here's an except from his story called "Tour De Gall." It's the funniest, nastiest restaurant review I've ever read. Notice how carefully (and disgustingly) he describes the food.
"We order foie gras and snails to start. Foie gras is a L'Ami Louis specialty. After 30 minutes what come are a pair of intimidatingly gross flabs of chilly pâté, with a slight coating of pustular yellow fat. They are dense and stringy, with a web of veins. I doubt they were made on the premises. The liver crumbles under the knife like plumber's putty and tastes faintly of gut-scented butter or pressed liposuction. The fat clings to the roof of my mouth with the oleaginous insistence of dentist's wax. …
I have decided not to go for the famous roast chicken, mainly because I've suffered it before and I'd just been watching a Japanese couple wrestle with one like a manga poltergeist from some Tokyo horror movie, its scaly blue legs stabbing the air. So on to the broiled kidneys. Nothing I have eaten or heard of being eaten here prepared me for the arrival of the veal kidneys en brochette. Somehow the heat had welded them together into a gray, suppurating renal brick. It could be the result of an accident involving rat babies in a nuclear reactor. They don't taste as nice as they sound. …
But still, it's undeniable that L'Ami Louis really is special and apart. It has earned an epic accolade. It is, all things considered, entre nous, the worst restaurant in the world."
Are there any other steps I need to mention? Probably, so feel free to jump in and comment on them here. And check back now and then–I'll be adding suggestions as they pop into my head.
In the meantime, here's a writing excercise that can help you find or strenghten your writing voice
Practice Exercise–Sit down and write as freely and spontaneously as possible for 5 minutes. Immediately put the sample away for at least a week (or until you've forgotten what you wrote). Then read it, asking yourself the following questions.

Is your writing: literary, funny, poetic, friendly, factual, quirky, long-winded, flowery–what? Does it sound like you? If not, analyze why not. Are you too cautious, over-polite, politically correct, formal, unfocused, or wishy-washy? Notice what you like and what rings true, and what you don't like and want to correct or avoid. Use these insights to make changes and improvements whenever you edit your writing in the future.