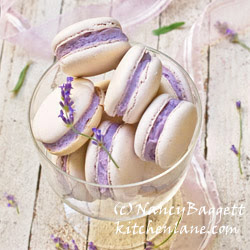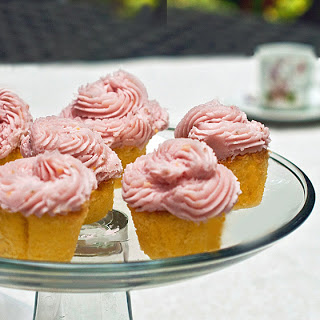 My maternal grandmother, the cake and cookie queen of her bridge club and hospital auxiliary set, knew a thing or two about baking. She also knew a lot about how to create a huge stir when presenting her treats.  (She would have loved the presentation of my lavender buttercream macarons pictured here.)
She was fiercely proud of her baking prowess, and thrilled that her contributions to the annual church bake sale were always spoken for before they reached the display table. (She didn't make fresh lavender buttercream because baking with lavender wasn't in fashion then. But if she'd known about it if she would have for sure!)
One important weapon in my grandmother's never-ending dessert shock and awe campaign was the pedestal plate. She has been gone more than fifty years now, and I can still picture her triumphantly lifting the dome from her crystal pedestal server and blowing us away with her towering, white satin-cloaked Lady Baltimore cake. Just the sight of her billowy, mile-high meringue frosting made my mouth water and my addled brain wonder if I'd suddenly died and gone to heaven! I loved that cake so much, I sometimes requested that she make it (minus the shredded coconut) for my birthday.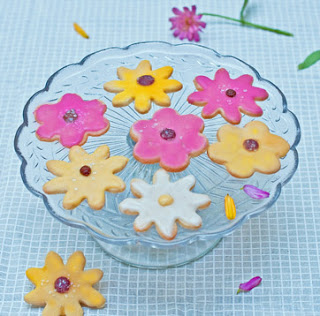 Alas, Nana passed away without ever sharing her dessert presentation secrets with me. She willingly provided her file boxes of cake and cookie recipes, and I even inherited several of her pedestal serving pieces. But she never mentioned how she exploited their power; perhaps, she thought it was obvious—any fool could see that if you put an angel food or orange sponge cake up on a throne it would appear regal and wondrous.
I have to admit, I didn't catch on to this right away. Gradually, I reclaimed Nana's cake stands from the back of the closet, at first using them when recreating her glorious dessert repertoire, then later to add flair to my own creations. I found that they instantly raised the poshness factor; even a humble cake, like the applesauce spice one featured here, seemed fancy perched on a pretty pedestal plate.
Food photographers, stylists and high-end caterers have a lot of presentation tricks up their sleeves, and they all understand pedestal power well. From them I've learned that a pastry buffet with cake stands of varying heights and shapes will have far more pizazz than one set with all low, round plates, and that pedestals can effectively display not only whole cakes and pies, but cupcakes, tartlets, confections, cookies, and French macarons.
These folks have also taught me that cake stands in graduated sizes can be stacked to form an elegant tier, and other items, from fat candlesticks and chic soap dishes to assorted flared goblets and stemmed bowls, can deliver nearly as much drama as actual pedestal plates.(The cupcake stands below left are in fact inverted martini glasses.)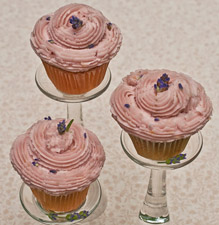 There is one downside (note this word carefully) of the pedestal server, though. It will prove that gravity is not always our friend. On occasion, tallish, top-heavy goodies, such as cupcakes overloaded with icing, will tumble off their platforms, and when they do, they will inevitably land frosting-side down. Furthermore, if nothing hinders their rapid downward progress, when they hit, the icing will flatten and will likely stain the tablecloth too. The good news about the contact with the cloth (as opposed to a floor), is that most people will still retrieve and eat whatever is left of the treat, especially if it's the very last one. 

Fresh Lavender Buttercream Frosting
This slightly unusual, totally delectable buttercream frosting calls for finely pulverized fresh lavender flowers. If you have a mortar and pestle thoroughly grind the blooms to a paste; otherwise mince them as finely as you can.
To add a bit of natural color, I like to incorporate a little thawed cranberry or Concord grape juice concentrate, which will yield either a pink or pinkish-purple hue shown on the cupcakes. For the brighter lavender shade shown on the lavender buttercream-filled lavender French macarons at the top, you can incorporate drops of red and blue food color. I used purchased botanically-based alternatives to the usual petrochemical-based dyes; see my information on brands of natural botanical food
colors
here, and as you can see, they are very pretty indeed.)
For the recipe for the beautiful dye-free daisy cookie icings shown above,
go here
.
To gild the lily, I sometimes garnish the lavender frosting with tiny fresh lavender blooms just before serving. They lend not only color, but a very pleasing little hit of lavender flavor every time you bite into them.
The lavender flavor actually intensifies upon standing, so it's best to ready the buttercream at least a day ahead and let it mellow in the refrigerator. Allow it to warm up slightly before spreading or piping. The recipe may be doubled if you wish.
Serves:
about 1½ cups frosting, enough for topping 12 to 18 mini-cupcakes or 30 small cookies. The recipe can be doubled if you like.
Ingredients
2¾ cups powdered sugar, plus more if needed
1½ teaspoons fresh lavender flower heads (corollas and calyxes, no stems), very finely minced, or pulverized using a mortar and pestle
1 teaspoon finely grated fresh lemon zest (yellow part of the skin)
6 tablespoons unsalted butter, cold and cut into pats
3 to 6 teaspoons frozen (thawed) Concord grape or cranberry juice concentrate, as needed for color (or a tiny dot of blue and red food color mixed with a tablespoon of water)
Lavender blooms for garnish, optional
Instructions
Combine the powdered sugar, lavender, and lemon zest in a food processor. Process 3 or 4 minutes; stop and scrape the bowl sides and bottom to redistribute the contents 3 or 4 times. For smoothest buttercream texture, don't under-process.
Sprinkle the butter over the powdered sugar mixture. Process in on/off pulses just until it is cut in and no clumps of it remain; stop before the mixture starts coming together. Continuing to process, through the feed tube add the fruit juice concentrate or water-food color blend until the mixture is tinted and has a smooth, spreadable consistency. If necessary, gradually add more powdered sugar to stiffen the mixture; however note that it will stiffen a bit as it stands. Thin it with a little more water as necessary.
Place in an airtight, non-reactive storage container and refrigerate for up to 4 days. Let it warm up slightly at room temperature before using. The frosting can also be frozen for up to a month. Allow it to return almost to room temperature and either process or stir well before using.
To spread the frosting: Using a table knife swirl on enough frosting on cookie or cupcake tops to yield a ¼-inch thick layer, or as desired. To pipe the frosting, put it in a pastry bag fitted with a ½-inch diameter open star tip and pipe out single stars, rosettes or as desired. Serve the treats immediately or place in a single layer an airtight container. Store at cool room temperature for up to 3 days or freeze for up to 10 days. Let come to room temperature before serving.
Shortly before serving, garnish with lavender blooms, if desired.
Notes
Tip: While the lavender heads are graceful and full of aroma and flavor, to ensure a creamy-smooth frosting, pluck off and use only the tiny purple flowers, called corollas, and the little bases, or calyxes, they are growing from for garnishing. Reserve the whole heads for infusing berry compotes, fruit punches, sorbets, and ice creams, or for garnishing serving plates. For more on making the most of lavender,
go here
.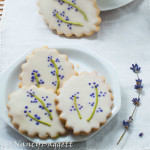 For another pretty lavender cookie recipe (at right), go here.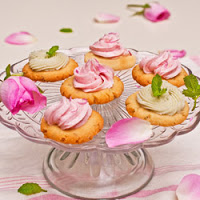 You also might like the additional garnishing and presentation ideas, like using organic rose petals here.