I bet I know what you'll be serving along with your grilled steak, burgers or seafood this Labor Day holiday. The same potato or pasta salads you always serve! Now I'm not suggesting scratching these off the menu entirely. They are classics for a reason. But for those who are dieting, or gluten-free, or are just adventurous eaters who'd like something new, healthful, and utterly delicious once in a while, I urge you to make this bright and zesty dilled carrot-cauliflower salad.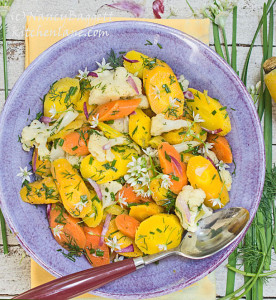 Yes, this salad is eye-catching. But it has so much else to recommend it:  It's easy to prepare, especially if you buy ready-to-use "baby" carrots and cut them on a diagonal as shown. (Don't worry, it will still be pretty without the gourmet yellow carrots  I couldn't resist buying at the farmers' market!)  I also have garlic chives flowering in my yard, so tossed in a few blooms along with the leaves. This is entirely optional, too.
Another advantage of this dilled carrot-caulifower salad is that it can be made ahead and kept in the fridge for several days. Plus, it's full of vitamins C and A and other nutrients, and, unlike most potato and pasta salads is low on salt, fat, and calories.
On big secret to the remarkable savory and refreshing taste of the salad is the inclusion of fresh dillweed and chives, or garlic chives, or chopped green onions. (Don't even consider using dried dillweed or chives–they just won't deliver the flavor or aroma desired.) In case you weren't aware of it, the combo of carrots, cauliflower and dill is just dynamite. I don't understand why it isn't much better known. (For another carrot-dillweed-chives recipe that always wins compliments check out my chilled carrot soup recipe here.)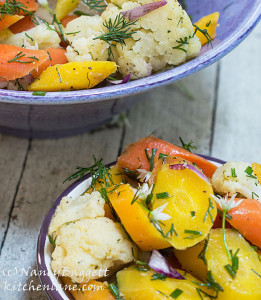 Dilled Carrot & Cauliflower Salad
Tip: If you prefer to use olive oil instead of one of the choices listed just keep in mind that olive oil will solidify in the refrigerator, so the chilled salad will have to be allowed to warm up before serving.
About 1 1/2 pounds (untrimmed) ready-to-use "baby" carrots, or whole regular or "rainbow" carrots
1 cup low-fat chicken broth or vegetable broth
1 handful whole fresh dillweed sprigs (including stems)
1 small handful whole fresh chives or garlic chives
3 cups small cauliflower florets
Salt and freshly ground black pepper, to taste
Dressing
1 to 2 tablespoons sunflower oil, safflower oil, or canola oil
1 tablespoon fresh lemon juice
1/8 teaspoon salt and freshly ground black pepper, or to taste
1 to 3 drops sriracha sauce or hot pepper sauce, optional
3 tablespoons each chopped fresh dillweed (leaves only, no stems) and chives, or green onions, plus more for garnish
Cut the carrots crosswise on a slight diagonal into scant 1/4 inch slices. You need enough to measure out 3 1/2 to 4 cups. Combine the broth and the carrots in a large saucepan over medium-high heat. Lay the herbs over the carrots. Bring to a boil, then adjust the heat so the broth boils gently. Cook, uncovered, until the carrots are just beginning to cook through but are still crisp when tested with a fork, about 6 or 7 minutes. (If the pot begins to boil dry, add a little more water.) Lift off the herbs with a fork or tongs and discard.
Add the cauliflower florets and cook until they are just barely tender, about 2 minutes longer. Turn out the vegetables into a colander set in the sink. Let the vegetables stand until cool, then either refrigerate for later use or toss them in a non-reactive bowl with the dressing.
For the dressing: In a small, deep bowl, whisk together the oil, lemon juice, salt and pepper, sriracha (if using) and the herbs. Toss well with the vegetables. Transfer to a serving dish. Serve immediately, or cover and refrigerate for up to 24 hours. Toss the salad again and let warm up just slightly before serving. Makes 6 to 8 servings.
Another delightful recipe with fresh dill & chives–my quick, g-f, cucumber canapes here.  You might also like my dilled, chilled carrot soup here.