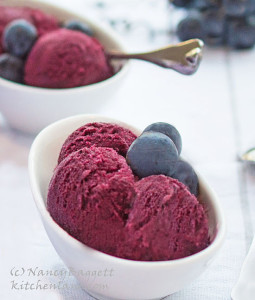 I was very excited to come up with this recipe this fall! I love Concord grapes, but in the past often couldn't think of what to do with them. They were always tempting me at farmers' markets and produce sections in autumn, but, until now, I usually passed they up because making a batch of grape jelly or juice just didn't seem very interesting. And frankly, due to their seeds, Concords aren't fun to eat right off the stems. I do have a fine grape kuchen and grape pie in my repertoire, but the kuchen is a bit of work and the pie a lot of work, so they didn't always fit in my schedule.
But now I turn right to this sorbet recipe, which satisfies all my basic criteria: It is unusual and captures the amazing fresh Concord taste, heady aroma, and color beautifully (considerably better than grape juice or jelly do IMO). And it is quite easy and  convenient to prepare, and can even be readied well ahead.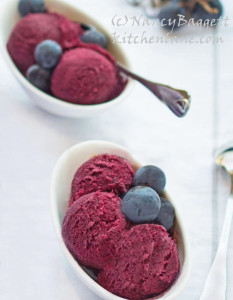 If you, too, like the distinctive taste of Concord grapes, do try this recipe. Beside the deeply gratifying  "grapey" flavor, the sorbet is noticeably smooth, light, and pleasant on the tongue. It's not the least bit icy-gritty the way some homemade frozen treats are. The secret to the good texture is the abundance of a natural substance in Concords (and other fruits in varying amounts) called pectin. The pectin prevents the sorbet from getting rock hard during storage in the freezer as well.
Pectin is best known as gelling or thickening agent, and it does help grape jelly set and become a jelly instead of a sauce. But in this sorbet and other frozen treats, its large molecules also settle in and around all the water molecules and help keep them from joining up together and forming large ice crystals. When ice crystals are kept small, they go undetected in the mouth.
Since Concords are native American grapes first discovered in Concord, Massachusetts, and are still bountiful in the region, I plan to serve my grape sorbet as part of a Thanksgiving meal. I rushed out and bought up several baskets last week and stashed them in the refrigerator, as the American Concord grape season is right now nearly at an end. Here in the mid-Atlantic the harvest is already over; the label on the Concords I purchased indicated that were shipped in from Michigan. The colder climate there means a later ripening crop.
If you'd prefer not to wait till next fall to try this recipe, better act right away. I'd suggest calling ahead to see which stores still have or can get Concord grapes. Some markets told me they weren't expecting any more in until next September.

Concord Grape Sorbet
This is my favorite way to use fresh Concord grapes. The quick, easy cooking captures and holds the zesty-sweet aroma and flavor perfectly. The finished sorbet is beautiful, refreshing and unique.
Ingredients
4 cups stemmed Concord grapes (about 1½ pounds)
Scant 1 cup water
½ to ⅔ cup granulated sugar, to taste
2 tablespoons fresh lemon juice
Instructions
Combine the grapes, water, and sugar in a medium saucepan. Cook over medium-high heat until the grapes begin to release juice, about 4 minutes. Reduce the heat so the grapes boil very gently and cook until they to split apart, 3 to 4 minutes longer. Let stand until cooled just slightly.
Press the mixture through a medium-fine sieve into a large bowl, pressing down to force through as much juice and pulp as possible. Stir the lemon juice into the mixture Refrigerate until thoroughly chilled, at least 3 to 4 hours.
Transfer the mixture to an ice-cream maker, and freeze according to manufacturer's instructions. Transfer to a pre-chilled airtight container, and store in the freezer until ready to serve, up to 2 weeks.
You might also like my
homey Concord grape kuchen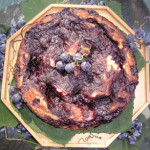 .