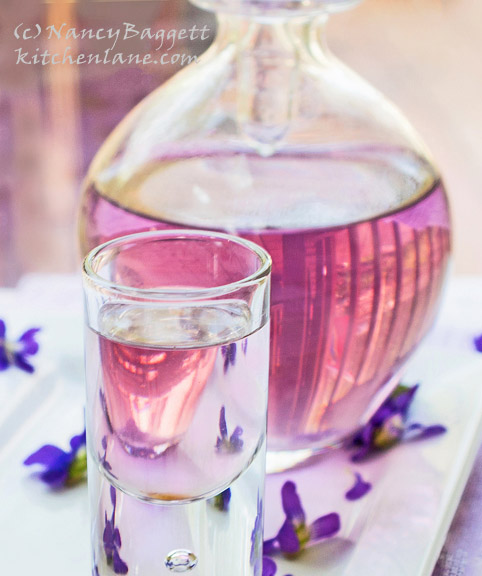 I've been fascinated with spring violets for a long time. As I child I loved picking and making mini-bouquets with four different kinds of native violets. These little beauties just popped up on our Maryland farm and came in purple, white with blue markings, yellow, and cream; see them here. Later, when browsing in antique American cookbooks and herbals, I  was excited to discover that these pretty spring flowers were edible! Initially, I was timid and used them only as garnishes. Then I made a gorgeous violet lemonade, then violet syrup, then a violet vinaigrette. Now, I'm delighted to share my latest recipe–a luscious homemade violet liqueur. (Note that edible violets as well as pansies are in the Violaceae family. The so-called African violets are in a different family, called Saintpaulia, and are NOT edible.)
Actually, violet liqueur recipes are not common in America or American cookbooks. I got my idea for violet liqueur from several old French cookbooks, under the listing "Crème de Violettes." Several commercial liqueurs featuring violets are on the market. Many are made in France, around Toulouse, which calls itself the of violet capital of the nation. The  favored Toulousian commercial variety of violet is known as Parma, said to be introduced into France from Italy. In contrast to our mildly scented  North American violets, Parma and some other European  kinds known as  sweet violets, or Viola odorata, have a very distinctive flavor and pungent-sweet aroma. They stand out in recipes, which is no doubt why they are  more often used in cooking than our mild tasting common blue and purple Viola sororia violets.
I've read that the famous Toulousain violets aren't usually seen out in fields, as  they are carefully cultivated in greenhouses from November to March. But during  February, during the city's Violet Festival, they are available fresh in markets, along with a stunning assortment of other violet products. Like the Duchess of Parma variety I grow (at left), the special Toulousain violets are multi-petaled and so frou-frou  they hardly even look like violets!  (They are darker in color than mine, though. In contrast, most of the sweet violets that can be found growing in Britain or on the Continent are similar in appearance to our typical American violets. They are just lots more fragrant. BTW, both the European sweet violets and American violets come in many shades beside purple.
About 5 years ago I bought some European odorata violets to try  in my shade garden.  The Parma variety is not hardy in my climate and is struggling. But several other kinds are growing, well, like weeds.  In fact, I harvested enough of  a deep purple, heavily scented type called Clive Groves last month to make a small batch of "Crème de Violettes." The blooms are   shown below at right, along with a few magenta blossoms from another sweet variety called Reid's Crimson. Should you wish to try raising some sweet violets yourself, these two, plus the Duchess de Parma and others are available from the Gardens of Grassy Creek here.  Their plants were large and arrived in very good shape.
Making Homemade Violet Liqueur
If you live in an area in the U.S. where European scented violets were planted and have now naturalized, lucky you. Otherwise it's fine to use our common woodland violets to create your liqueur.  In this case, add all the ingredients listed below and make what's called Yvette liqueur. The berries, orange and vanilla bean are needed  to bolster the almost indiscernible taste of the Viola sororia violets. As you can see from the two photos at the top, the violets and berries together lend Yvette liqueur a beautiful pinkish purple color.
The batch of Crème de Violettes shown below was made with only scented violets steeped in vodka and strips of orange peel. The mixture was then strained and blended with the enhanced simple syrup. Here the violets contribute enough flavor and aroma to stand alone. Notice in the pic below that without the berries and fruit acid, the homemade violet liqueur has a slightly deeper purple-blue hue.
You'll find that whether you prepare a classic Crème de Violettes or Yvette liqueur, their color will not be as dark nor hold up in storage as well as that of commercial violet liqueurs. Those are always tinted with a synthetic blue petrochemical dye that is more vivid and stable, though IMO actually a slightly disconcerting shade.
Be forewarned that because these homemade liqueurs aren't brightened with chemical dye, they won't deliver the usual inky blue, or spaceship blue  color to the famous violet Aviation cocktails.  (The lemon in the drinks will turn the natural pigments pinkish red.)  Rather than making Aviations, I  like to go simple and add a splash of violet liqueur to white bubbly or still wine.  The result is a lovely kir with a pleasing rosy glow.

Got Spring Violets? Make Violet Liqueur
Be sure to use ordinary blue or purple woodland violets (Viola sororia) or scented cultivated violets (Viola odorata) in this recipe. Never use the African violets popular as houseplants; they are members of an entirely different plant family, Saintpaulia, and are not edible.
This recipe is designed to work with either the "plain" or scented violets. If you are just picking the unscented violets that come turn up in many American gardens and woods, add in the optional vanilla bean, and berries to boost flavor.
Tip: Be sure thoroughly wash the violets under cool running water before using them. And carefully remove the stems and green parts from the petals. Otherwise the steeped mixture may have a greenish color and vegetal taste--not what you're looking for at all!
Ingredients
1 to 1¼ cups wild purple violet petals or scented violet petals, stems and green parts removed
1 scant cup good quality vodka, preferably one with a mild, neutral flavor
4 1-inch square pieces fresh orange peel, orange part only
1¼-inch piece vanilla bean, optional
2 or 3 each, fresh blackberries and raspberries, crushed, optional
Enhanced Simple Syrup
⅔ cup water stirred together with ⅓ cup commercial violet syrup
⅓ cup granulated sugar
Instructions
Put the violets in a jelly jar or other small heatproof jar. Heat the vodka to hot, but not boiling. Pour the vodka over the violets. Stir in the orange peel, and vanilla bean piece and berries, if using them. Cover with a tightfitting non-reactive lid and set aside in a cool dark spot to steep for at least a week and up to 10 days.

Combine the water and syrup and sugar in a 1-quart saucepan. Bring to a boil over medium-high heat. Adjust the heat so the syrup boils gently, then boil, uncovered, for 5 minutes. Cool slightly, then store the syrup in a very well scrubbed jar in the refrigerator until needed.
Strain the violet-vodka mixture through a fine mesh sieve into a 2 cup measure; press down to force through as much liquid as possible. Add as much simple syrup to the violet mixture as you have violet liquid; try for equal amounts, though this doesn't have to be exact. Stir well, then taste the liqueur, and add a little more enhanced simple syrup if desired. (Keep leftover simple syrup refrigerated and use in cocktails.)
Transfer the liqueur to a well scrubbed glass bottle with a glass or other non-reactive stopper or lid. Be sure it fits very tightly or the alcohol will eventually evaporate from the bottle. Store the liqueur in a cool spot for up to several years. The color will fade a good deal if the liqueur is stored in bright light, but relatively little in a cupboard. Makes about 1½ cups liqueur.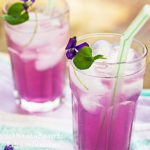 To make a beautiful and healthful violet lemonade go here.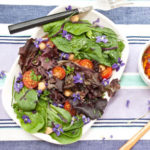 For a violet vinaigrette and salad go here.
For violets turned into a naturally colorful decorating sugar  go here.