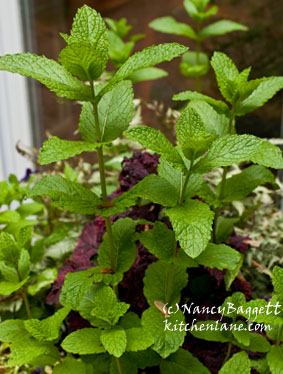 Fresh Ways with Fresh Herbs
(reprinted from The Washington Post)
Special to The Washington Post  By Nancy Baggett
Wednesday, August 26, 2009
I'm always looking for new ways to heighten flavor in dishes, but especially in summer, when spirits and appetites flag. It's the best possible time to pursue light, sprightly tastes and surprising combinations by cooking with fresh herbs. I use them right from my garden and from local farm markets as often and as creatively as I can.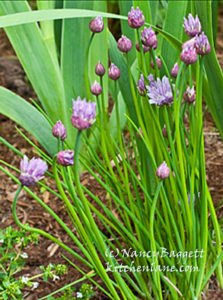 As the best cooks know so well, freherbs provide an array of weapons in the never-ending culinary battle against blandness: Just a few fresh snippets of the right herb can brighten a dish, offset oiliness, add zip, increase complexity, refresh and clear the head.
If you're a newbie, the starting point for tapping into the power of herbs is simply to spend time tasting and smelling an assortment of them. You'll immediately notice, for instance, that rosemary and oregano have an assertive pungency and an invigorating, almost piney scent. Parsley, in contrast, goes low profile with a subtle, clean-green aroma and taste. (If you've always relied on dried parsley as well as the dried versions of basil, cilantro and many other herbs, the fresh forms will be a revelation.) The mints and dill are cooling, which is partly why they appear in mojitos, raitas and cucumber salads. Basil is a complex, aromatic blend of peppery, spicy, bitter and sweet; no wonder it's a key component in pesto, a brilliant recipe for transforming a plain bowl of pasta into a feast.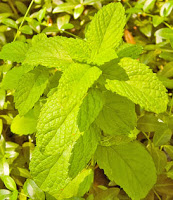 Blue Balsam Mint
Once you get to know each herb's distinctive properties, it's much easier to take advantage of its appeal.
Initially, I gained insights into how to cook with fresh herbs just by trying out traditional pairings: tomatoes with oregano, salmon with dill weed, baked potato and sour cream with chives, beef bourguignon with thyme. The next step was riffing on those combinations: Because oregano enlivened tomato sauces and salsas, I guessed — correctly — that it would be dynamite in a salsa featuring the tomato's cousin, the tomatillo. Because chives perked up baked potatoes, I successfully threw the herb into potato soups and salads, then branched out by tossing chives into other starchy dishes such as breads, crackers and biscuits.
Gradually I've gotten bolder, especially in exploring what has become downright trendy: the use of herbs in sweet baked goods, fruit dishes and desserts. I took a cue from a luscious truffle made by a chocolatier friend and paired chocolate with tarragon and grapefruit in a sorbet. The citrus and anise flavor notes are not only unexpected but utterly addictive. Long ago I'd assumed that lavender was for soaps and sachets but after experimenting, realized its slight zest and sweet spiciness add dimension to cooked blackberry and raspberry sauces and apple compotes. I'd thought that the resinous qualities of rosemary made it better suited to savory than sweet dishes but have found that flour somehow tames it, yielding pleasing cookies and sweet muffins and breads.
Here are some ideas for cooking with some of the the herbs I love most that can usually be found in their fresh form.
Basil: Try it with sauteed spinach, braised broccoli, mild white beans, pasta dishes, mixed vegetable soups, Thai- and Vietnamese-style soups and stir fries, simple fish and chicken entrees, nontraditional oyster stew, tomato and cheese dishes and, of course, pestos and pizzas.
Chives: The loveliest, most versatile "oniony" herb. Use them to enliven cream cheese, cottage cheese, sour cream, yogurt, ricotta, raitas, vegetable dips, compound butters, mustard cream sauces and vinaigrettes. Sprinkle them over cooked veggies and frittatas and in omelets. Stir them into pasta, rice and mixed vegetable salads. Fold them into potato, tomato, root vegetable and creamy onion soups, broths and wherever you need a substitute for the flavor of green onion.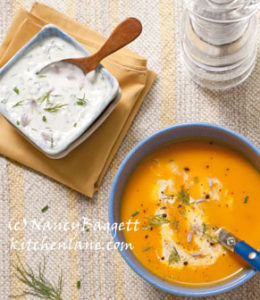 Dill: It has a pleasing presence when accompanying cucumbers, pickles, slaw, potatoes, cauliflower, carrots, beets, summer squash, smoked and fresh salmon, lemony and mustardy salad dressings, briny sauces and deviled eggs. It ratchets up flavor yet soothes and refreshes in raitas, dips, chilled tomato soup, carrot soup (left), muffins, quick breads and savory yeasted loaves.
Oregano: A must in many pasta sauces, salads, salsas, full-bodied meaty soups, minestrones, lasagnas, pizzas, hearty bean dishes, chilis and spanakopita. A nice addition to lamb, pork and, occasionally, beef.
Rosemary: This highly aromatic herb teams beautifully with lemon or orange in cookies, muffins and other sweet baked goods. It brightens up focaccias, breadsticks, rustic boules, stuffings, roasted potatoes, bean and lentil dishes, pork, lamb, beef and even venison.
Tarragon: Use it to spark vinaigrettes, wine vinegar, bearnaise sauce, herb butters, heady mustards and even some tapenades. Good with chicken, turkey, fish, lamb and vegetables. Adds a pleasing anise accent to chocolate ganaches, sauces, buttercreams, ice creams and sorbets.
Thyme: The herb I most often reach for, it brings out the best in mushrooms, beets, cooked tomatoes and nearly all red-wine dishes. Adds depth to stocks, broths and ragouts; vegetable, meat and seafood soups; Indian-style curries, beef stews, gumbos and fricassees. Zips up seafood, lamb, pork, beef, poultry, bread and rice stuffings, corn bread and other dishes too numerous to mention.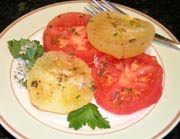 This recipe is a fine way to take advantage of those succulent, peak-of-season tomatoes and herbs that are now in our markets. (I like to use yellow or orange tomatoes along with the red.) It makes a great addition to a barbeque or picnic. Since the tomatoes have so much natural flavor, they don't need a lot of fussing to taste good; a simple dressing yields remarkably savory results. Though this recipe should serve six or seven, don't be surprised if four or five people polish it off!
Tip: To easily peel the tomatoes, core them first. Then, using tongs, submerge them in boiling water for about 1 minute, or until the skins just begin to loosen. Immediately lift them out and let stand until cool enough to handle. The peels will usually slip off easily.
3 tablespoons red wine vinegar
1 ½ tablespoons extra-virgin olive oil
3/4 teaspoon granulated sugar
2 -3 tablespoons chopped fresh chives
1 tablespoon chopped fresh oregano leaves
1/8 teaspoon dry mustard powder
1/4 teaspoon celery salt, or to taste
1/4 teaspoon black pepper, or to taste
6 to 8 flavorful, sun-ripened tomatoes, cored and peeled
Fresh parsley leaves, snipped chives and garlic chive blossoms for garnish, optional
In a 1-cup measure or glass jar, stir together vinegar, oil, sugar, chives, oregano, mustard powder, celery salt, and pepper until dressing is well blended.
Cut cored and peeled tomatoes crosswise into 1/4- to 1/3-inch thick slices. Arrange a layer of slices in a non-reactive platter or bowl. Drizzle some of dressing over the slices. Top slices with another layer of tomatoes, and drizzle with more dressing. Repeat until all slices and dressing are used. Cover and refrigerate for at least 30 minutes and up to several hours before serving. Garnish with more fresh herbs before serving, if desired.
Makes 6 or 7 servings.
Other recipes for fresh herbs you may like:  Mojitos with mint, stuffed peppadew peppers with chives and chive blooms, and carrot caulifower salad with dill and chives.
e: