Do you remember, as I do, Valentine cards featuring cute little girls whipping up sweet treats and delivering "punny" messages like, "Valentine, I'm sweet on you!"?  Yes, they were corny, but, life was a bit cornier then. I doubt that any kid today would  be amused by the groaner punchline  featured at the bottom left card in this post: "I hope the RANGE of your happiness is in my kitchen, VALENTINE." Good grief!
Though I'm sure  the Valentine's card of my childhood were much like these, I hardly noticed the groan-worthy puns. And I never noticed that all the cards of this sort featured only little girls in the kitchen. Nobody seemed sensitive to gender bias issues then; home baking and cooking were still considered "women's work"  and not normal activities for boys.  (In truth, girls and women in mid-20th century America faced a lot of social pressure to assume the happy homemaker/man-pleasing role; see my post on retro baking ads showing blissful home bakers.)
Interestingly, swapping valentines cards with classmates was encouraged when I was in elementary school.  Teachers often set aside a time in class for us to address and exchange our cards. I don't think we had to give out cards to every classmate, and I know we didn't have to sign them, both of which I'm guessing would now be required to avoid hurting or creeping out anyone.
Besides underscoring the gender stereotyping and spotlighting what goodies were topping the sweet tooth list 60 years ago–pies and cookies appear in most of the cards I've seen–these images do spotlight differences in American life then and now. Ethnic diversity, for example, wasn't on anybody's radar. Usually the little girls pictured were white, blonde, and WASPy pretty, perhaps a holdover from the Victorian era when bevies of sweet cherubs routinely adorned valentines. Nowadays, the females featured are as varied as Dora the Explorer, Catwoman, and the Monsters, Inc. "star," Cyclops-like, multi-pigtailed Celia Mae. (For more heritage cards, visit   the vintagevalentinemuseum.com which provided many of these images.)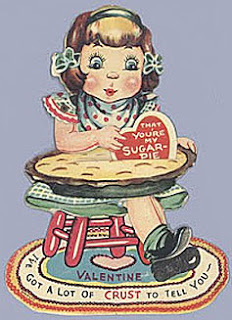 While the messages and visuals on kids' cards  today are still punny, they are often not sweet. While hunting for a card for my grandson, I rejected one showing a raygun-shooting space warrior announcing, "You're a blast, Valentine!" and another with a big-fisted boxer punching the air and pronouncing, "Valentine, you knock me flat!" NOT what I was looking for!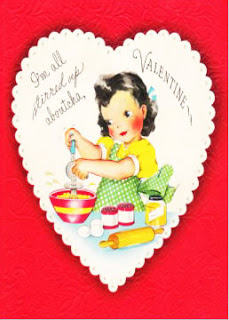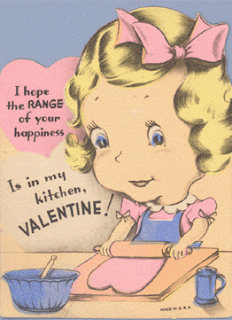 I've heard from a number of folks that their children still exchange cards today in school. Some teachers use the opportunity for handwriting practice or instruction in "socialization." How about your kids?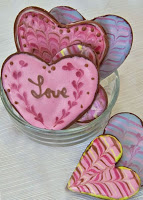 If you are interested in following the traditional custom of making your own Valentine's sweets, check out these pretty heart-shaped cookies shown right or step by step pics showing how to form icing hearts here.
Another possibility–the romantic lavender piped cookies here.