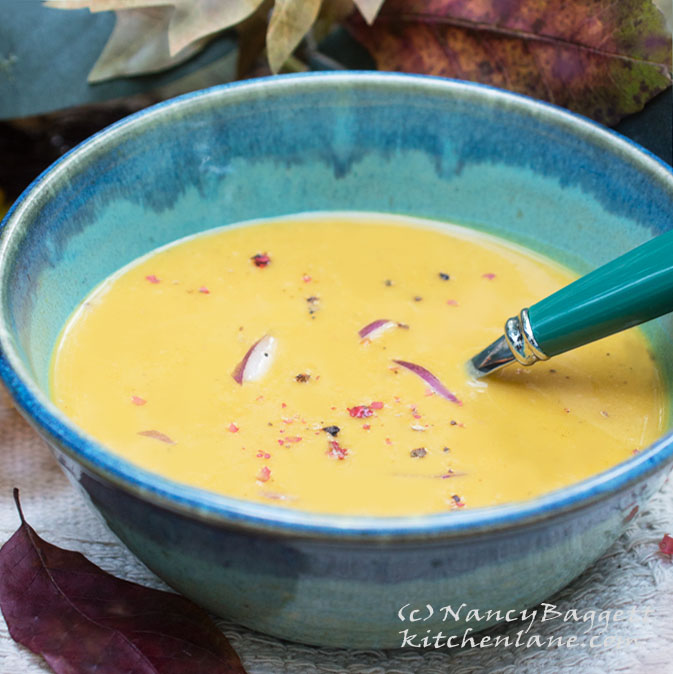 All those who have cooked a dish using a real, fresh-from-the-field pumpkin, raise your hands. Hmm, I don't see many hands up.
I'm guessing that this is because you think that peeling and cutting up fresh pumpkin is a bit of trouble and it takes too long to cook, right? Or maybe that canned pumpkin is just as good anyway?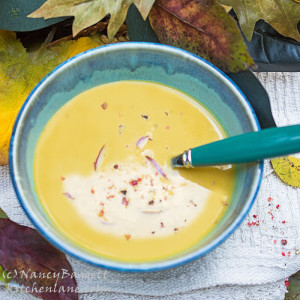 Well, if you use the streamlined prepping method provided here, trimming off the rind and dicing the pumpkin is a breeze. Just  zap large (4-inch squarish) slabs of  the seeded pumpkin 4 or 5 minutes in the microwave, and you can strip away the rind by hand! And  the flesh remaining can then be readily chunked or diced with even a dull knife.  This simplifies making this delectable soup enormously.
As for the taste, in this recipe canned pumpkin is not as good; it's not even acceptable. (For some reason, the canned does suffice nicely in many pumpkin pies.) Though the ingredients in this Fresh Pumpkin and Apple Harvest Soup are fairly simple–nothing exotic, no gluten, no meat, and just a little butter and cream–the flavor is deep and rich and brimming with fresh vegetable goodness. It is certainly worthy of being served as the soup course at a fancy dinner or as part of Thanksgiving dinner (and will win compliments) though I love it for a quick lunch as well. Oh, I must add here that despite it's creamy, full-bodied taste, this soup is light on fat and super nutritious.
Cooking with Fresh Pumpkin–Tips
There are a couple caveats involved for making  my Fresh Pumpkin & Apple Harvest Soup, or any other recipe that calls for fresh pumpkin. You need to buy a pumpkin specifically grown for eating. These are much sweeter tasting and have a decidedly more tender texture than the behemoth carving pumpkins out there. Look for a 4-to 8-pound orange-skinned beauty like the one shown above, or ask for  "sugar" or "pie" pumpkins or perhaps a new eating variety such as Baby Pam,  Autumn Gold and Ghost Rider.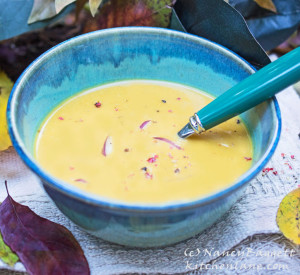 Fresh Pumpkin & Apple Harvest Soup
In an occasional farmers' market, you may also find Dickenson pie pumpkins, which are the kind exclusively used by Libby's in their canned pumpkin product. These, too, are especially sweet and smooth-textured. They are similar in shape to the sugar pumpkins (though slightly more elongated) but grow bigger and have a less vivid orange skin.
A sugar pumpkin will keep well stashed in a cool spot, or even set out on a porch for a few weeks. But once you cut into it, it needs to be refrigerated and used within a week. I usually end up doubling the recipe or even making two double batches at once. They disappear quickly, or can be frozen and reheated if desired.

Fresh Pumpkin & Apple Harvest Soup
The recipe calls for 1½ pounds of sugar pumpkin measured with the seeds removed but the rind still intact. If you don't have a scale, cut off three pieces approximately 4-inches square each; this should yield at least the 2½ cups cubed pumpkin called for.
Serves:
Makes 5 or 6 servings
Ingredients
1½ pounds seeded sugar or pie pumpkin (with rind), cut into 4-inch pieces
½ cup chopped red onion, plus 1 tablespoon shredded or chopped for garnish
1 tablespoon butter
1¼ cups coarsely diced (1/4-inch) peeled sweet-tart cooking apple
2 tablespoons all-purpose flour (or 2 tablespoon cornstarch for a gluten-free recipe)
1 teaspoon medium to hot curry powder
Generous ¼ teaspoon ground allspice
3 cups vegetable broth, divided, plus more if needed
¼ cup heavy cream
½ teaspoon salt
¼ teaspoon freshly ground black, red and green gourmet pepper blend, or regular black pepper, optional
Instructions
Put the pumpkin pieces on a large microwave-safe plate. Cover with a microwave-safe cover or wax paper. Microwave 5 minutes on high power. Test the center of the thickest piece by piercing with a fork. If it is tender, let the pumpkin stand until cool enough to handle; if it is still firm, microwave 1 to 2 minute longer, then set aside to cool. Then peel or pull off the rind and cut the pumpkin flesh into coarse ½-inch cubes. Measure out at least 2½ and up to 2⅔ cups. (Reserve any extra cubes for another purpose.) The pumpkin can be made ahead and refrigerated up to 24 hours, if desired.
In a very large nonreactive saucepan over medium heat, cook the onions, apples and butter, stirring, until the onions are translucent and limp, about 4 minutes. Add the curry powder, allspice, and flour until evenly incorporated (if using cornstarch instead of flour, wait and add it into the food processor with the pumpkin instead). Cook, stirring, 2 minutes longer.
Turn out the onion-apple mixture into a food processor. Add the pumpkin and ½ cup broth. Process, stopping occasionally and scraping down the sides, 4 or 5 minutes, or until the mixture is completely smooth. If it is too thick to process readily, gradually add in more broth.
Wipe out the saucepan and return the processed mixture to it. Stir in the remaining broth. Bring to a boil; cook, stirring occasionally for 5 minutes or until lightly thickened. Thoroughly stir in the cream, salt, and pepper blend and let return just to a boil. If desired, thin the soup with a little more broth. Garnish with thin red onion and more coarsely ground gourmet pepper blend, if desired.
Other pumpkin recipes you might like: My yummy
Pumpkin Bread Pudding is here. 
A fine Pumpkin Bread is here.