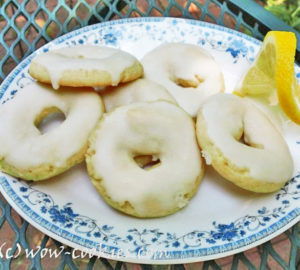 You never know how your life might touch someone. And it can be very surprising and humbling. A few days ago I was googling the names of several of my cookbooks. Suddenly these Lemon Jumbles (pictured at right) from my All-American Cookie Book popped up on a blog post written by a Cleveland woman named Penny Parker. I could hardly believe the following startling piece of information:
"About 10 years ago, a great pastry chef, Nancy Baggett came into my life.  She was on a book tour and was demonstrating cookie baking with recipes from her book,  The All American Cookie Book.  And, my cookie obsession began.  Happily, I'm laying my personal career decision at her feet.  She inspired me to get baking and build a business.  Soon enough, WOW! Cookies! became a fixture in the Cleveland area.  Giving credit where due….Nancy Baggett and her cookies were the start of a great decade of sweet gifting!"
Wow, what a revelation!  Though we'd had fun during the cooking class, I had no idea I'd had a big impact on anyone attending. I simply demonstrated the Lemon Jumbles and several other favorite cookies from the book, provided helpful tips, and chatted about some  of the history and lore of American cookies. I certainly never encouraged or even mentioned the idea of starting a cookie company. In fact, I recall it as a pretty routine day on a book tour. (Though admittedly days on a book tour are NOT all that routine!)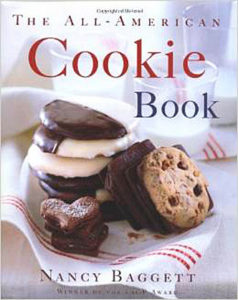 I just had to call up Penny (pictured above left with some of her Wow! Cookies!) and find out more.  It turns out she took my class at a pivotal time in her life. She told me that when I came to Cleveland she had recently stepped down from a long career as the sales and education director of a major Fortune 500 company. She'd decided that retirement just wasn't for her, and was mulling over what to pursue next. After my class, some soul-searching, and a good deal of market research–she went all over Cleveland sampling cookies!– she decided to turn her love of cookies into a business.
Her  goal, she told me, was to create a unique product that used high-quality ingredients and could be delivered fresh, with a home-baked presentation. "I wanted to satisfy the cravings of Cleveland's most discriminating cookie connoisseurs," she said. "Nobody was really selling top quality cookies here then." So, she set about creating a line of cookies that incorporated the same ingredients the home cook would use–farm-fresh eggs, creamery quality butter and milk products, and the highest quality baking flour, oats, and dried fruit.
"Our first business day was March 6, 2006," she says, "and we have been delivering what I promised for ten years now. We make all our cookies and brownies by hand in our own kitchen, and ship them out via the fastest, most reliable, and least expensive options available." The photo at right shows the kitchen during the holiday season where Penny says they baked about 10,000 cookies and almost 5,000 brownies!  The company can be reached here.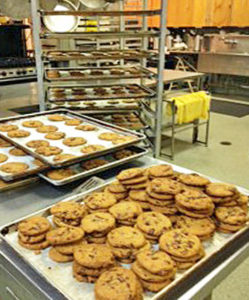 "I give you all the credit!" she said cheerfully as we were about to hang up. "It's really  exciting to talk to you, because you're the reason all this happened." I tried to respond that she had really done it by herself, but she kept insisting.
Like I said, you just never know when your life is going to touch someone. Wow, cookies! Who'd have ever thought it. Penny, I wish you continued success.
Lemon Jumbles
These are crisp, buttery, and lemony. The hand-formed ring-shape is traditional and the name comes from medieval rings called jumbals. This is one of my favorite recipes from The All-American Cookie Book, and one I baked at the Cleveland cooking class Penny Parker attended. She provided the photo of the jumbles shown here.
Ingredients
2¾ cups all-purpose white flour
1 teaspoon cream of tartar
½ teaspoon baking soda
½ teaspoon salt
1 cup (2 sticks) unsalted butter, slightly softened
Scant 1 cup granulated sugar
1 large egg
Generous 1 tablespoon finely grated lemon zest
1 tablespoon fresh lemon juice
1 teaspoon almond extract
Lemon Glaze
1½ cups powdered sugar
1 tablespoon unsalted butter, very warm but not melted
1-2 tablespoons fresh lemon juice, room temp or slightly warm
½ teaspoon corn syrup
2 drops almond extract
Instructions
Preheat the oven to 350°F. Lightly spray several baking sheets with cooking spray and fit with parchment paper. In a large bowl, thoroughly stir together the flour, cream of tartar, baking soda, and salt. Set aside. In another large bowl, with an electric mixer on medium speed, beat together the butter, sugar, egg, lemon zest, lemon juice and almond extract until light and well blended. Beat or stir in the flour mixture until evenly incorporated.
Gather up the dough and shape it into a ball. Cut it into quarters. Shape each quarter into a flat disk. Score each disk into quarters, then cut into 12 wedges. Roll each wedge between your palms and a work surface to form an evenly thick 4½ – 5 inch-long rope. Bring the ends of each rope together and press firmly to create a ring. Place on the baking sheet spacing about 1½ inches apart.
Bake the cookies, one sheet at a time, in the middle third of the oven for 8 – 12 minutes, or until just faintly browned at the edges. Reverse the tray half-way through the baking. Using a spatula, immediately move the cookies to a wire baking rack to cool completely.
To make the glaze: In a small bowl, stir together the powdered sugar, butter, 2-3 teaspoons lemon juice, corn syrup, almond extract and food coloring (if using). Mix until smooth and well blended. If needed thin the mixture with very small amounts of lemon juice to get the perfect glaze consistency. Place waxed paper under wire racks to catch any drips. Dip the tops of each jumble in the glaze and set on the wire racks to dry. It takes about 1 hour for the glaze to set completely! Store in an airtight container for up to 2 weeks or freeze for up to 2 months. Makes 48 cookies.
Here's another of my cookies you may like–
Chocolate Chippers
. Or perhaps my old-fashioned
One-Bowl Oatmeal cookies at right.