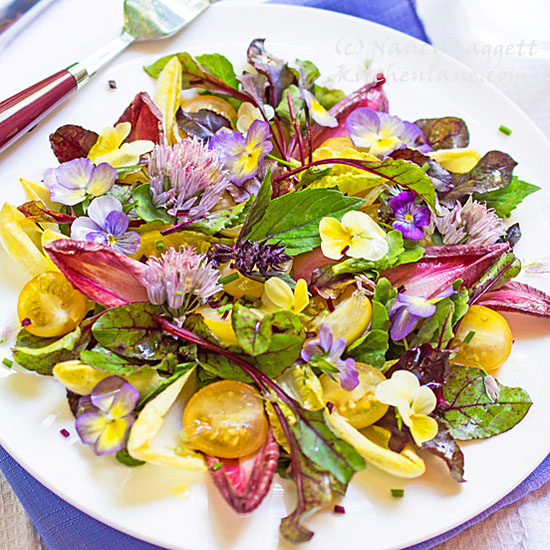 I believe the ancient adage, "First we eat with our eyes." Which is why I've been garnishing dishes with edible flowers and herb blooms from my garden forever. Well, for several decades, anyway. As you can see in the photo above, just strewing over a few chive blossoms and organically grown baby pansies (plus a single purple basil bloom and leaf in the very center) effortlessly transforms a fairly simple plated salad into artful food. Definitely a feast for the eyes!
And a feast for the nose, too, actually. Fresh chive and basil blooms are both extremely aromatic. Their fragrance wafts up from the plate and just sings,"Take a bite." In case you haven't eaten pansies before, they are very mild and just blend in with the greens. They do have a faintly sweet floral aroma that mingles nicely with the stronger herbal scents.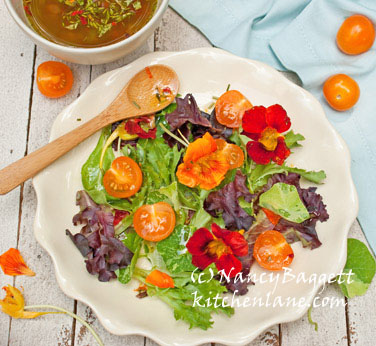 On the other hand, the nasturtiums in the salad at right lend bright color and a zippy watercress taste. I not only garnished the top with nasturtium blooms (and leaves), but incorporated some chopped nasturtiums into the vinaigrette. Plus, I made the dressing with a nasturtium-chive vinegar (below), which has a wonderfully translucent appearance when you first pop the flowers and herb leaves into the bottle. (An old fondue fork works great for this task.
Re the alluring "paperweight" look, note that  in a few days the showstopping color–as well as the flavor–of the flowers leaches out into the vinegar so they lose their bright hues. But in the process they add flavor and tint the vinegar a pretty amber-red shade. (BTW, you can create other nifty vinegars using pansies, purple basil leaves, and other flowers and herbs with the recipe here.)
Which Are the Edible Flowers & Herb Blooms?
If you use only unsprayed or organically-raised plants and wash them well in cool water before using them, edible flowers and herb blooms are in fact quite nutritious. Some, especially the most brightly hued blossoms, contain vitamins A and C, and many have healthful antioxidants. Being able to have a handy source of suitable flowers and herbs on hand to create artful food is one of the many benefits  of tending your own garden. And unlike most vegetables, the perennial edible flowers and herbs come back every year and fit in in any suburban or urban yard. A number of herbs and edible flowers are also contented to grow on decks or balconies in pots. So, it's easy to have on hand and snip some bounty even if you haven't a spot of land.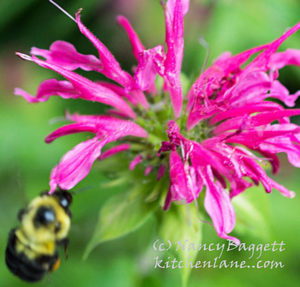 But which flowers and herb blossoms are edible? All the blooms of herb plants are! Some, like the hot pink and red bee balms, aka bergamot (at right), yellow mustard, purple lavender, and blue borage, are bold and showy, but other blooms, like thyme, mint, rosemary, and oregano are small and pale pink or white and mainly useful as subtle, confetti-like sprinkles. See the tiny white garlic chive blooms adorning the  carrot-cauliflower salad  at the very bottom of this post for examples. (In case you're unfamiliar with bee balm, it has a light, pleasant minty character–toss in a few chopped petals of it along with the usual mint to add pizzazz to  your next tabbouleh.)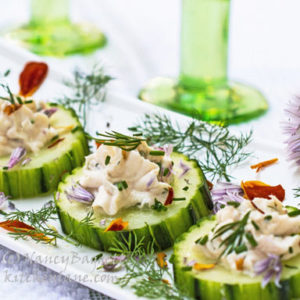 Most herb blooms taste and smell like the leaves of the same plant. So, for example, if you decorate a cheese ball with chive blossoms (shown at the bottom , you'll be adding the same taste that's in the chopped chives themselves. The chopped marigold petals on the cucumber canapes pictured at left also taste as pungent as the marigold foliage smells–which is why I use these flowers in only modest quantities. (Nasturtiums can used in this recipe, too.) BTW, try growing the diminutive yellow and orange pot marigolds; they make especially pretty garnishes for salads and canapes.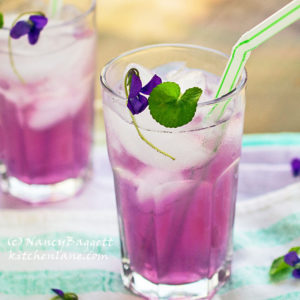 Edible flowers include the following: Calendula, chamomile, chrysanthemums, citrus blossoms, daylilies, marigolds, nasturtiums, pansies and mini-pansies (aka johnny-jump-ups), pinks (aka dianthus),roses, strawberry blooms and woodland violets (not African violets, a totally different inedible species). Some, like roses, have a sweet flavor and scent reminiscent of, yes, rosewater (which is actually made from rose petals), so are delectable in and on desserts. See some pretty decorating ideas for rose petals here.) Others, like marigolds and chrysanthemums, have a powerful peppery kick, and are best suited to dressing up savory dishes and with a light hand. In contrast, due to their gentle flavor, woodland violets and pansies play well with both savory and sweet ingredients and can be used in quantity.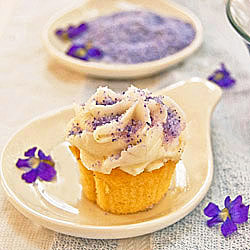 The gorgeous purple color of  the violet lemonade shown above is  completely natural–the acid in the lemon juice turns the inky purple pigments in violets a stunning fuchsia shade. Woodland violets also tint the natural purple decorating sugar shown on the cupcake at left.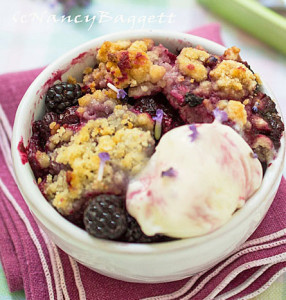 I find many uses  for fresh culinary lavender spikes (as the blossom heads are called) during their blooming  season. The black raspberry cobbler below has fresh lavender buds in it and on it. Ditto the lavender buttercream-decorated cupcakes shown below at right. If you have never tried cooking with lavender, you are missing out. It has a haunting spicy-floral taste that many people (including me) find addictive. Another delish lavender recipe, an easy syrup good for drizzling over fruit or ice cream, is here.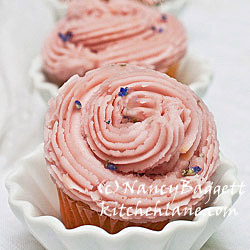 Remember though, that there are many kinds of lavender and you need to choose a culinary variety. The best types for pairing with food are called angustifolia, aka English lavenders; you can also cook with the more famous French hybrid lavenders, but they are less sweet and more resinous. Never try to cook or garnish with Spanish lavenders–they are too pungent and too peppery to eat.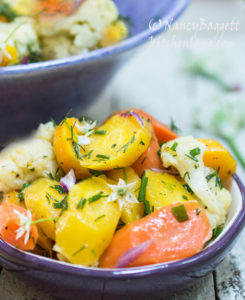 It's great fun to use perennial and annual  edible flowers and herb blooms that appear throughout the growing season to create artful food. Nowadays, lots of high-end chefs are decorating their plates in exactly this manner. And–good news–it doesn't take any fancy chef skills to create edible masterpieces of your own.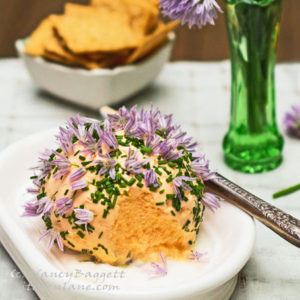 Edible Spring Flowers and Belgian Endive Salad
It's not always easy to find red Belgian endive, but if you can, the leaves add great color and form to a plated salad. Taste-wise, they are indistinguishable from the regular kind. BTW, always use the red variety uncooked. When heated, it loses that bright hue and looks just like regular Belgian endive!
Serves:
Makes 4 servings.
Ingredients
Vinaigrette
½ cup safflower oil, sunflower oil, or canola oil
¼ cup (unseasoned) rice vinegar, or more to taste
1 tablespoon chopped or snipped fresh chives
1 tablespoon chopped fresh basil leaves
½ teaspoon each prepared mustard, preferably Dijon-style and granulated sugar
¼ teaspoon each fine sea salt and black pepper
Salads
2 to 3 cups mixed greens, preferably including baby beet greens, red leaf lettuce and small romaine leaves
2 small heads each white and red Belgian endive (or 4 heads white if necessary)
½ to ¾ cups halved yellow cherry tomatoes
¼ to ⅓ cup fresh picked unsprayed or organic baby pansies
8 whole chive blooms, plus 1 tablespoon snipped fresh chives
4 whole purple basil blooms, optional plus 8 or 12 small basil leaves
1 teaspoon finely chopped beet leaf stems, optional
Instructions
For the vinaigrette: Combine all the ingredients in a jar. Cap tightly; shake well. Let stand at least 15 minutes before serving. Taste and add more vinegar for a zippier dressing. If desired, refrigerate up to several day, then let warm up slightly before using.
For the salads: Arrange the greens, endive leaves and tomatoes on four plates, using the photo as a guide. Just before serving, drizzle the plates lightly with vinaigrette. Garnish the plates with pansies, chive blooms, chopped chives, purple basil blooms (if using), basil leaves, and chopped beet leaf stems (if using). Serve immediately, passing the remainder of the dressing so diners can add more to their liking.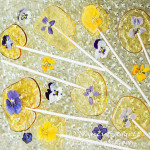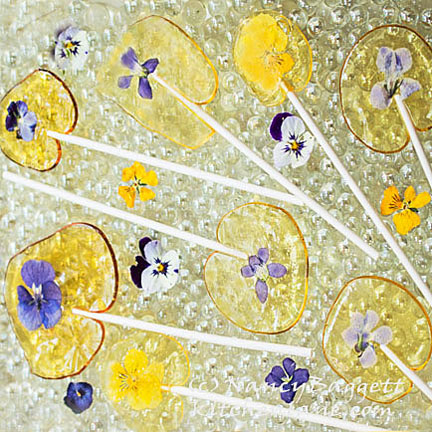 Another recipe you make like:  Lollipops with embedded flowers